---
Some links to products and travel providers on this website will earn Traveling For Miles a commission that helps contribute to the running of the site. Traveling For Miles has partnered with CardRatings for our coverage of credit card products. Traveling For Miles and CardRatings may receive a commission from card issuers. Opinions, reviews, analyses & recommendations are the author's alone and have not been reviewed, endorsed, or approved by any of these entities. For more details please see the disclosures found at the bottom of every page.
---
On overnight flights, I like to board, settle down and get some rest as quickly as possible (especially on flights as short as the New York – London route) so I generally don't eat any of the meals served and my interactions with the crew are pretty limited. That's why what follows isn't going to be anything like a standard flight review and, instead, is just a look inside the Club World (Business Class) cabin of a British Airways 777.
British Airways 777 Club World
This particular British Airways 777 aircraft was a 777-200 which offered a 4-cabin layout on the route I was flying – New York (JFK) to London Heathrow. The Club World cabin is home to 48 seats set out in what is, essentially, a 2-4-2 layout.
The seats on offer are the standard legacy seats that you'll find in most Club World Cabins with a pair of yin-and-yang seats on either side of the cabin with footstools that pull down to help create a bed when the seat is reclined.
There are pairs of seats in the center of the cabin…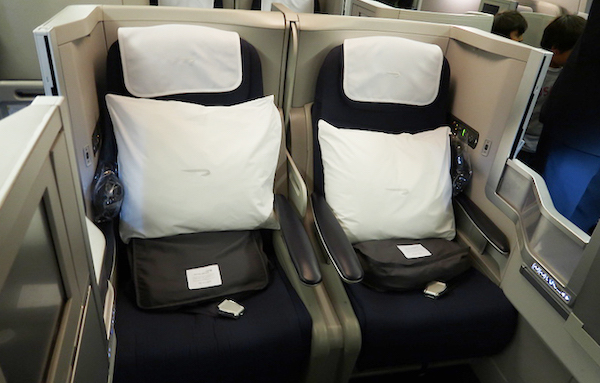 …and one seat either side of the central seats (facing towards the central seats):
The window seats on either side of the aircraft are the most private but also the most confining while the aisle seats offer a bit more space but are also very exposed – they can open up a passenger to being bumped/knocked by other passengers going past and by cabin crew during drinks and meal services.
The central pair of seats is just about acceptable if you're traveling as a couple, but their proximity can make them very uncomfortable if the two people sharing them are not traveling together (there's a divider that can be raised between the two seats but that's not really enough to take away the awkwardness of sitting and sleeping that close to someone you don't know).
For most people, the most awkward aspect of this old fashioned British Airways Business Class seat comes during take-off and landing when the dividers between the seats have to remain in their lowered position.
If you don't know the person in the seat next to you, trying to avoid eye contact when their face is pretty close to your own can be…interesting.
Another drawback to these seats is that there's a very obvious lack of storage for personal items anywhere near the seat. Anything that you'd like to keep close to you during the flight (and that you don't want rolling around the cabin during turbulence) will have to be stored in a drawer found at floor-level.
Annoyingly, this becomes inaccessible once the seat is partially reclined, and, as this is also where this cabin's only power outlets are, it means that a passenger will struggle to plug anything in unless the seat is in an upright position.
The seat controls are built into the side wall and are about as basic and simple to use as they can be…
…but, to give credit where credit is due, they can be used to recline the seat very accurately indeed.
The inflight entertainment screen is another item that's built into the seat's side wall and it can be deployed to face a passenger at head height (for most) when the seat is in an upright position.
The screen is very basic and the touch controls are cumbersome so passengers are almost always better off controlling the entertainment with the antiquated controller that's embedded in the wall immediately next to the seat.
Still, having called the controller antiquated and the touchscreen basic and cumbersome, I should point out one positive aspect of this setup – the screen can be tilted (up and down).
This may not seem like that big of a deal but it can make a big difference to the amount of glare a passenger has to put up with on their screen and how easy the entertainment is to watch…especially when one is lying down.
The tray tables (yet another item that's housed in the seat's side wall) have positive and negative aspects to them.
The positives aspects are that they're a good size (that's a 15″ MacBook in the image above) and that they have a good range of motion that allows them to be brought reasonably close to the seat or pushed reasonably far away. The negative aspect to these tables is that they're flimsy so they have a tendency to flap around during turbulence and when leaned upon.
For Reference
Just for reference (as I don't plan to discuss any of this), here are the menus for this particular flight
Dining
Drinks/Beverages
As far as amenities go, British Airways provides pillows and plush blankets by The White Company…
…and an amenity kit by the same retailer:
There's nothing out of the ordinary in what's offered and the contents are no better and no worse than what most major airlines offer in their Business Class cabins.
Overall
There are two things to note here:
It's well known that the long-serving British Airways Club World seats have been out of date for quite some time – it's why there's so much excitement surrounding the new Club Suite.
The Club World seats on offer on this particular flight were just about as old as Club World seats can be. Numerous other British Airways aircraft (787s, A380s, and some 777s and 747s) offer similar seats but with updated IFE screens & controllers, two USB ports (as well as the universal power outlet) and considerably better cushioning.
The British Airways 777 Club World cabin is a cabin I do my best to avoid if at all possible as it feels like the tightest and most densely packed Business Class cabin in the British Airways long-haul fleet. The seats (both the newer version and the one in this post) lack storage space around them, the window seats can feel very confining while the aisle seats feel very exposed, and the fact that most seats in the cabin do not offer unobstructed access to an aisle is unacceptable for a Business Class cabin offered in 2020.
For passengers used to the Business Class cabins found in aircraft operated by airlines like Qatar Airways, American Airlines, Qantas, Cathay Pacific, and Etihad, the British Airways 777 Club World cabin can be more than a little underwhelming.
In older cabins (such as the one in this post), the equipment is prone to not working, the various controls can feel cumbersome and the seats can feel like they've had most of their padding compressed to the point where the padding is no longer doing its job – it simply doesn't feel like a particularly premium experience.
Overall, the British Airways 777 Club World Cabin is one to avoid if you can…especially if there's any chance that you'll be on an aircraft with seats dating back to the start of the century.