---
Some links to products and travel providers on this website will earn Traveling For Miles a commission that helps contribute to the running of the site – I'm very grateful to anyone who uses these links but their use is entirely optional. The compensation does not impact how and where products appear on this site and does not impact reviews that are published. For more details please see the advertising disclosure found at the bottom of every page. 
---
British Airways has just unveiled the new Club World Suite which it will be introducing into its fleet later this year. I've only had a few minutes to scan through the pictured and watch the video BA have provided but, based on what I've seen, I'm truly astonished – it's a real suite!
Here's what it looks like: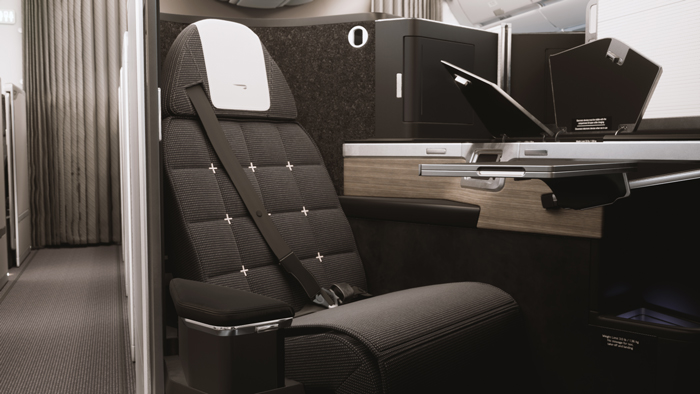 I'm genuinely blown away.
British Airways will be introducing a truly fantastic Business Class seat…and it comes with a door! I never thought I'd see the day…… 🙂
The new Club World Suite will first be installed on BA's new A350-1000 aircraft which Airbus will begin to deliver in June this year and, for anyone wondering what the cabin will look like, here's a seat map the airline has provided:
Yes, that's an all-aisle access 1-2-1 cabin layout (as we were promised) with a total of 56 seats…and that's a big Business Class cabin for an A350.
Per British Airways this is what the new Club World suite and cabin offers:
Personal door
40% more storage than the current Club World seat
A vanity unit with mirror
Wi-Fi
18.5″ IFE screens
HD gate-to-gate entertainment
PC/USB power at every seat
As for the new aircraft…
"The A350 aircraft itself will also promote a feeling of well-being, space and calm due to its reduced noise levels, high ceilings and ambient lighting which is intended to compliment the time of day and outside light.
Customers will leave their flight feeling rested thanks to higher levels of humidity and refreshed air as the cabin pressure is equivalent to an altitude of just 6,000 feet. T
here are also environmental benefits to flying on the state-of the-art A350 as 25 per cent lower fuel burn significantly reduces CO2 emissions.
Here's a video of the new cabin that British Airways has released.
New Club World Suite Roll Out
The first British Airways A350-1000 is expected to be delivered in June and the airline says that's when it will confirm the exact date the aircraft will officially join its fleet.
As BA has done in the past, the first A350-1000 flights will be operated between London and Madrid (in mid-August) and the airline gets its crews accustomed to their new aircraft and the first long-haul flights are set to start on 1 October….which seems like quite a long time from when BA is expected to first take delivery.
Head For Points has reported that the first official long-haul routes will be London – Toronto and London – Dubai.
British Airways is calling the period from October onwards 'Phase 2' of the rollout and it's during Phase 2 that a further three A350-1000s are due to be delivered and two Boeing 777s will be refitted with the new cabin as well.
The beginning of 2020 is when 'Phase 3' will be launched and that the period during which the new Club World Suite will slowly be rolled out across the fleet (let's hope BA is quicker with its rollouts than United!).
Bottom Line
I've been a very harsh critic of British Airways in the past (and the airline has deserved it) but I tip my hat to the airline today as it has caught me completely off guard – I didn't believe for a moment that it would introduce a genuine suite as its new Club World product.
The seat looks fantastic, the detailing looks great, I love the large Business Class cabin and I can't wait to try this out – I'll be doing my best to book myself on to one of the first short-haul flights the aircraft flys and, if I'm lucky, one of the first long-haul flights too.
What do you guys think? Did anyone really think we'd see a suite unveiled today?