---
Some links to products and travel providers on this website will earn Traveling For Miles a commission which helps contribute to the running of the site – I'm very grateful to anyone who uses these links but their use is entirely optional. The compensation does not impact how and where products appear on this site and does not impact reviews that are published. For more details please see the advertising disclosure found at the bottom of every page
---
Summaries and links for all the posts which appeared on Traveling For Miles this week.  There were a couple of days when TFM went dark this week so there were fewer posts than normal….but there were still some interesting posts that are worth pointing out.
This is the week that we saw a new IHG promotion, Radisson selling points with a bonus, the TSA announcing that there will be extra scrutiny on hand baggage heading to the United States, a flash sale from Hilton (which ends tomorrow) and a lot more.
Click on the headlines to read more
Wednesday
IHG Sale & Promotion: 20-30% Off & Up To 5,000 Bonus Points Per Stay
IHG has launched its "Easy Like Summer" promotion in which it's offering a number of incentives to those ready to book travel for stays in the next 3 months (approximately). Three separate incentives are on offer covering discounts on room rates, bonus points and extra savings through IHG's fuel rewards program so there should be something here for everyone.
KLM Launches A "New Economy Class Service Concept"
KLM has announced a few changes to its Economy Class food service and it has chosen to promote these changes as a "new economy class service concept". In reality that's just PR-speak for "we're making a few changes to how we serve meals and what you can expect from the meals" – calling it a "new concept" is a stretch.
FLASH SALE: Up To 20% Off At Hilton Americas (Book By 25 June)
Hilton has launched a flash sale for stays at its properties in the US, Canada and Latin America in which its offering up to 20% off stays booked by Monday 25 June 2018. You'll have to be a Hilton Honors member to get the maximum discount but, as its free to sign up, that shouldn't be an issue for anyone.
TSA Will Start Scrutinizing Powders In Carry-On Baggage En Route To The US
For the past couple of months we've been hearing rumors about possible increased scrutiny on what travelers are packing in their carry-on luggage when flying back to the US. Now looks as if some of those rumors are coming true.
Thursday
You Can't Trust British Airways Staff To Correctly Change Your Frequent Flyer Number
While I've had some very positive recent experiences with British Airways cabin crew I'm continually frustrated by some of the limitations of BA.com, the incompetence of BA's IT department and the inability of BA call centre staff to carry out simple tasks.
Radisson Will Sell You Points With A 50% Bonus
Radisson Rewards is running a sale through 18 July 2018 in which members are being offered a bonus of 50% on all points purchases. A 50% bonus may sound like a reasonable deal but it's important to work out the math and look into the details of the promotion before you decide whether to buy or pass.
Marriott Will Introduce Amazon Alexa To Select Hotels
According to the Financial Times Marriott is partnering with Amazon for the launch of "Alexa for Hospitality" which will give users access to a host of a hotel's amenities with a simple set of vocal commands.
Earn Up to 30,000 Hilton Honors Points Through January 2019 (Targeted)
Right now there's an interesting promotion being emailed out to select Hilton Honors members which allows them to earn up to 30,000 points for stays made at Hilton resorts in the Americas.
SPG Starpoints On Sale With A 35% Discount (Again)
To the surprise of many in the miles & points world (including me) Starwood has launched another points promotion in which it's offering a discount of 35% on purchases of 5,000 points or more. This mirrors an offer we saw back in April and is the best discount Starwood has historically offered on its currency.
Friday
You Can Now Book Etihad Chauffeurs On The Web
Effective immediately, customers can book and manage Etihad's chauffeur services directly through the airline's upgraded mobile optimised website without having to call Etihad's Contact Centre or a travel agent.
American Express Launches The Cash Magnet Cash Back Card….But Is It Any Good?
American Express already offers the Blue Cash Everyday Card and the Blue Cash Preferred Card to compete in the cash back arena so I was surprised to see Amex launch the Cash Magnet Card last week. Still, a new card is a new card and as there's no knowing what Amex may have included in its new product I've taken a closer look at it too see what it offers.
It's Easy To Match To Hilton Diamond Status Right Now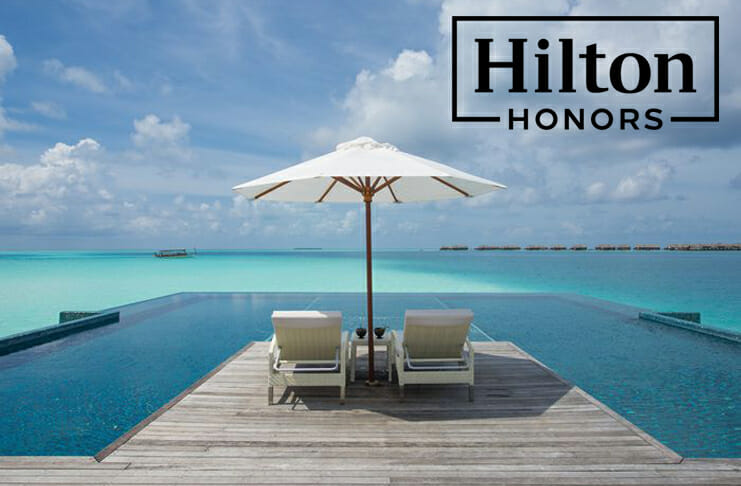 Hilton is currently offering status matches to both its Gold and Diamond levels and the requirements aren't exactly onerous. If you currently have top-tier or mid-tier status with another hotel loyalty program and have made at least one stay in the past 12 months you're eligible for a Hilton status match.
Delta Tightens Up Its Support Animal Policy (Again)
Delta has added a couple of new restrictions to its support animal policy which, when you find out what they are, will probably leave you wondering what some passengers are trying to get away with.
Did You Know That You Can Earn TRIPLE Points With Hilton In July?
For the month of July, all Hilton Honors American Express credit card holders will earn triple points on their Hilton stays rather than just double so, when that's combined with the points accumulated from the credit card spend, there are some great rebates and points hauls available.