---
Some links to products and travel providers on this website will earn Traveling For Miles a commission that helps contribute to the running of the site. Traveling For Miles has partnered with CardRatings for our coverage of credit card products. Traveling For Miles and CardRatings may receive a commission from card issuers. Opinions, reviews, analyses & recommendations are the author's alone and have not been reviewed, endorsed, or approved by any of these entities. For more details please see the disclosures at the bottom of every page.
---
Traveling for Miles was a guest of Hyatt for this 1-night stay at the Hyatt Place London City East. Neither Hyatt nor the property has had any say in the content of this article and neither has had access to this article ahead of publication.
The location
As its name suggests, the Hyatt Place London City East sits just to the east of the City of London – a square mile which is home to the UK's financial center and hidden among the modern skyscrapers, some of the oldest buildings London has to offer.
If you're using public transport to get to the hotel, the closest underground (subway) station is Aldgate East – a 2-minute walk away and served by the District Line and the Hammersmith & City Line.
Guests flying into London's Gatwick Airport can take the "Gatwick Express" train to Victoria Station and there, change to the District Line to Aldgate East station.
Guests flying into London's Heathrow Airport can take the Elizabeth Line direct to Whitechapel Station (service to Whitechapel is expected to commence in November 2022) from where the Hyatt Place London City East is an 8-minute walk.
Aldgate East station has several exits but if you follow the signs leading to the Whitechapel Art Gallery, you'll be a very short walk away from the hotel when you reach street level.
The property's location at the eastern edge of the City means that it's within walking distance of key City landmarks:
Lloyds of London – 14 minutes
Bank – 19 minutes
Within walking distance of several key mainline stations:
Fenchurch Street Station – 12 minutes
Liverpool Street Station – 14 minutes
Cannon Street Station – 23 minutes
Within walking distance of a number of notable London landmarks:
Whitechapel Gallery – 2 minutes
Brick Lane – 10 minutes
Andaz Liverpool Street – 14 minutes
Tower of London – 19 minutes
Tower Bridge – 19 minutes
And a short (10-minute) walk from the Royal London Hospital.
If the weather makes walking an undesirable option (a big risk in London!) or if walking simply isn't your thing, the proximity of Aldgate East and Whitechapel stations makes it very easy for guests to get into key parts of the financial district incredibly quickly.
For guests wishing to visit central London, Westminster (the very heart of the capital) is just 8 stops away from Aldgate East and from there, many of London's must-see attractions are a short walk or a short second underground ride away.
The property
Common areas
You'll find the entrance to the Hyatt Place London City East directly on Whitechapel Road…
…and you'll find the lobby area one level down just inside the front door.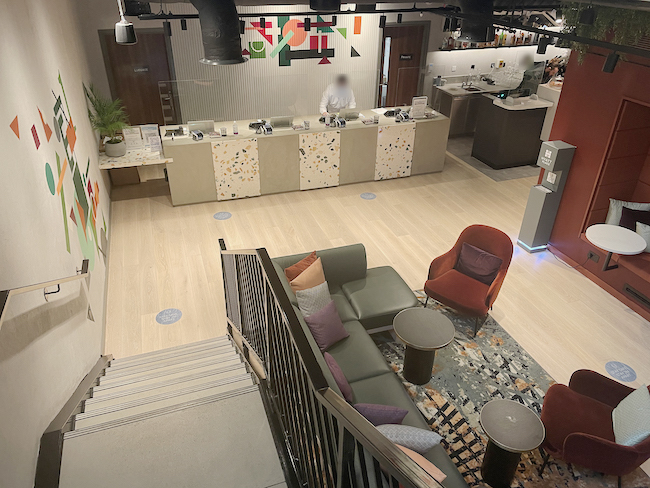 The lobby can be accessed via stairs or elevator…
…and although compact, it still manages to offer a good amount of seating and even a couple of workstations.
Adjacent to the check-in desk is "The Market" – a counter (open 24/7) serving fresh local coffee, food to take away or eat-in, sodas, alcoholic beverages, fruit, and more.
Wherever you turn your gaze, you're almost guaranteed to see a wall adorned with works by local artists for whom the property operates a bursary scheme.
On the whole, how and where a hotel gets its art isn't really something that most of us think about when we visit (and if we're being honest, most of us probably don't really care either) but just as it's nice to find out that a restaurant in your neighborhood is serving locally sourced produce, it's also nice to see a hotel doing its bit to support the people in the area in which it's located.
The rooms
It only takes a quick look at the Hyatt website to see that the Hyatt Place London City East doesn't have a vast selection of room types from which guests can choose, but there should be something to suit most requirements across the property's 9 floors.
1 King Bed (entry-level room)
2 Twin Beds (entry-level room)
1 King Bed with Sofa Bed
1 King Bed High Floor
2 Twin Beds High Floor
1 King Bed High Floor with Balcony
1 King Bed High Floor with Terrace
Standard 1 King Bed (images courtesy of Hyatt) – Click/tap to enlarge
A King Bed High Floor with Balcony Room
A standard "1 King Bed" room occupies approximately 226sqft (21sqm) and a King Bed High Floor with Balcony room (the room that I stayed in) is marginally smaller at approximately 215sqft (20sqm) so there's no getting away from the fact that the rooms are not very big.
Having said that, however, if you're spending most of the day working elsewhere or exploring London, the room's size probably won't really matter. If you're traveling as a couple and are both planning on spending a lot of time in the room, the space may feel a little confined.
Pleasingly (and as we should probably expect in a property as new as this one) there are light controls, power outlets (UK-style), and USB ports on both sides of the bed…
…and more power outlets and USB ports by the small work area.
The first impression given by the work area is that it's a little tight on space but although this work area's location right next to the room's door wasn't exactly ideal (the location of the work area varies from room to room so it's not always by the door), I was surprised to find that a lack of space wasn't really an issue once I sat down.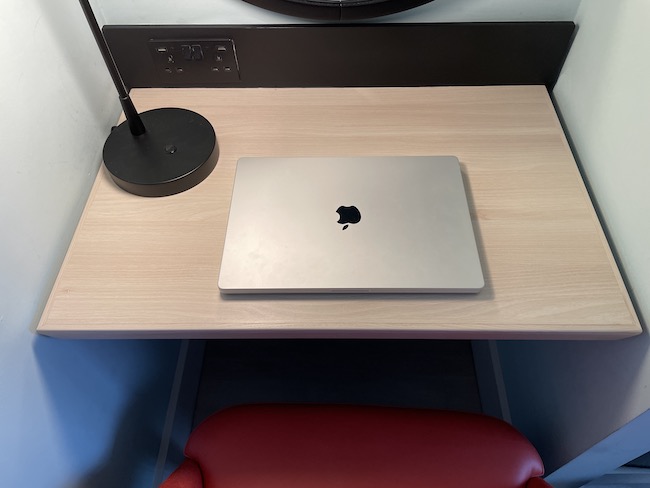 The room offers a single wardrobe with an iron and ironing board…
…and an empty mini-fridge (the best kind!).
Rooms with a balcony or terrace also offer a Nespresso machine, proper size mugs, and tea-making facilities.
Here's how a "King Bed with balcony" room stacks up against an entry-level room:
The bathroom is of a reasonable size and, importantly, the water coming out of the shower is well pressurized.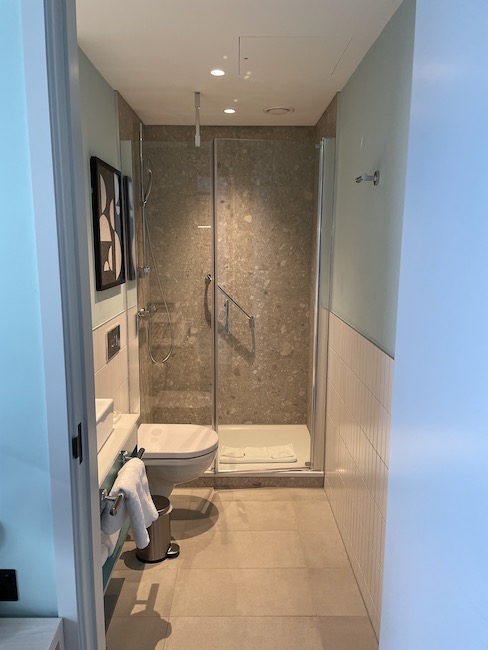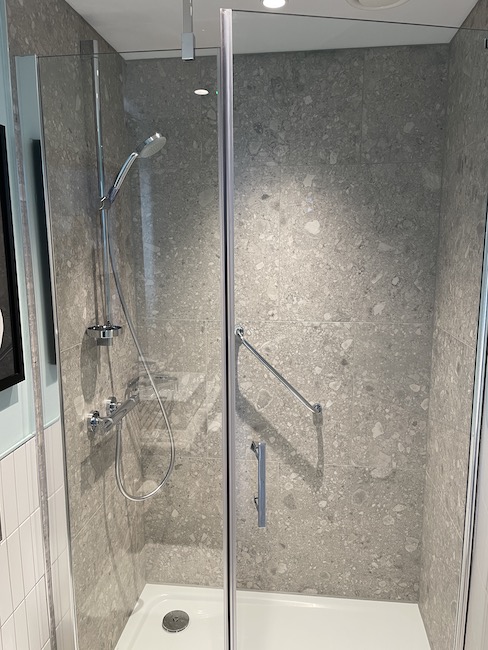 There's a little space by the washbasin for a guest's toiletries…
…and at the time of this visit, the property was still offering individual toiletries by Barney Kenet.
That's just about all there is to say about the interior of the room so all that remains (in this section) is to mention the room's best attribute – the balcony.
The glass door leading to the balcony and the large windows looking out onto it ensure that a lot of light can enter (making the room feel bright and larger than it actually is), and the balcony itself offers a great place to relax when the weather permits.
To the left, the balcony offers views of the City…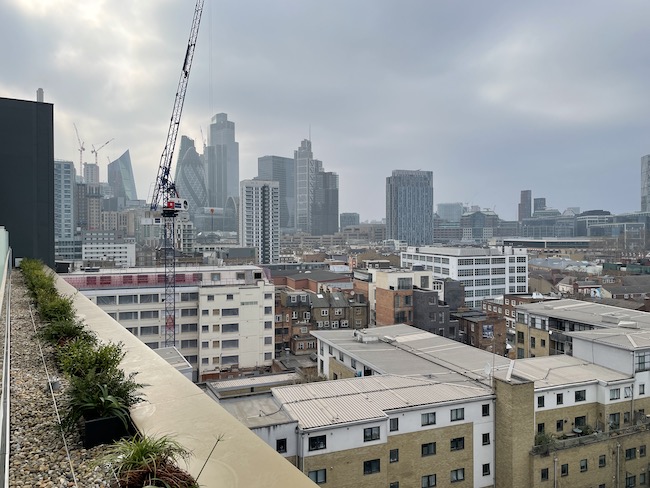 …and because there aren't any high-rise buildings directly behind the property, the views into the distance give a further feeling of space.
On this visit, the weather wasn't particularly good but because it didn't rain, I made sure to make the most of having my own private outdoor space and I loved every moment of it. I cannot recommend it enough. If you're visiting this property and your budget will stretch to it, book a room with a balcony or terrace – you won't regret it.
The gym
The property's gym is on the lower ground floor (the same floor as the lobby area) and while small, the number of machines and free weights on offer should keep most people happy.
The restaurant & dining
Zoom East is the property's restaurant and is located next to the Market at lobby level.
A breakfast buffet* is served here between 07:00 and 10:30 Monday to Friday and between 07:00 and 11:00 on Saturday and Sunday.
On the food side, guest's can choose from a selection of cold cuts and cheeses…
Cereals, pastries and fruit…
Or a standard range of hot options including, eggs, bacon, sausages, etc…
On the drinks side, guests can choose between a selection of juices…
Hot chocolate or a variety of coffees…
Or a selection of teas…
*The buffet comes with an additional charge if not already included in the room rate booked.
Zoom East also opens between 12:00 and 22:00 (daily) for lunch and dinner and this is where the Hyatt Place London City East really starts to differentiate itself from most other select-service properties.
The restaurant's menu changes with the seasons but to give me an idea of the style of dishes that are being served up this is what I was given to try.
Small Plates
Sweet red peppers filled with feta cheese and confit artichoke, olive oil with parsley, rosemary & chili marinade.
Burrata with pistachio relish and music bread (a traditional flatbread from Sardinia).
Goat cheese courgette flower with honey and truffle dressing.
Crispy squid with black ink aioli.
Sharing Mains
Sea bass fillet with San Marzano tomato sauce, caper berries, and black olives.
Meatballs with Mediterranean herbs, tomato & confit garlic sauce, and crispy aubergines.
Aubergine parmigiana with basil pesto.
Sides
Radicchio leaf salad, fennel, orange segments, and grapes.
Courgette fries.
Last but not least…
Dessert
Pistachio tiramisu.
The flavors and textures were fantastic and because this is a "select-service" property, the quality of the meal caught me off guard. This isn't what food at select-service properties is usually like!
It would not be an exaggeration to say that a lot of well-regarded Italian London eateries would do well to match the quality and freshness of these dishes so to have them offered by a select service property in the East End of London was more than a little surprising (it begs the question, why can't more hotels offer up food like this?)
For reference, this was the Zoom East menu the last time I dropped by to see what was being offered (a separate visit).
The bar
Pocketsquare is the bar at the Hyatt Place London City East and is another little gem that the property offers.
Situated on the top floor of the building, Pocketquare is open between 17:00 and 00:00 Monday through Wednesday and between 15:00 and 00:00 Thursday through Saturday (it's closed on Sundays).
You'll find signature cocktails and 'bar bites' on the menu…
…and beers and other drinks behind the bar…
…but more than anything else, it's the outdoor terrace that makes this a great spot to enjoy a drink after a long day in London.
There's something about sitting down with a good drink and a nice view of a city that never gets old for me and after an early start and busy day, I found the Pocketsquare terrace to be the perfect place to relax.
The property's killer selling point
If you're a fan of Hyatt properties, the Hyatt Place London City East has one killer selling point – price.
Not only is this property well located for access to the City and to public transport, but it also offers that access at a considerably lower price point than any of the other (main) London Hyatt properties.
The Andaz Liverpool Street is just 14 minutes' walk away from the Hyatt Place London City East but take a look at how big the price difference between the two can be.
Yes, the standard rooms at the Andaz are larger and the Andaz is a full-service property while the Hyatt Place is not, but if you're in London to explore or to work and don't really need all the frills of a full-service property, do you really need to spend over double what the Hyatt Place is charging?
You could argue that comparing the room rate at a Hyatt Place to the room rate at a full-service property is unfair (and you would be right), but I'm not trying to compare like with like here. I'm simply trying to show how the Hyatt Place London City East can help Hyatt fans save quite a bit of cash in exchange for a little less.
On the same date as the one above, The Churchill is charging £423/night, the Great Scotland Yard is charging £597/night and the yet-to-open Hyatt Regency Blackfriars is charging £352/night and while I'm sure you could make a strong argument to say that all of those properties are higher-end properties than the Hyatt Place London City East, there's no escaping the fact that in comparison, the Hyatt Place looks like a bargain.
To be clear, this isn't an isolated example.
Here's another date on which the Hyatt Place London City East is considerably cheaper than its sister properties.
…and here's a third:
For a Hyatt fan visiting London and only really needing a base from which to explore the city or to go to work, the Hyatt Place London City East can offer significant cost savings and if they happen to have Hyatt Leverage membership (more on that here), the savings can be even greater.
Irrespective of what you may think about select-service properties, it's hard to complain about a £169/$196 room rate at a property as well located as this one!
World of Hyatt
While the Hyatt Place London City East can be a great choice for Hyatt fans looking to save a little cash on their next visit to London, the story when it comes to World of Hyatt Points is less cut and dry.
As a Category 3 property, the Hyatt Place London City East will charge 9,000/12,000/15,000 points per night (off-peak/standard/peak seasons), and while even at 15,000 points per night this would be a reasonable redemption when the property is charging £224/$260 per night…
…the Andaz Liverpool Street at just 8,000 points/night more, looks tempting.
If you're points rich, splashing out a little extra for the Andaz Liverpool Street would probably be the better option.
The elephant in the room
There's a lot to like about the Hyatt Place London City East and it's a property that I'm happy to recommend for a wide variety of reasons, but it would be wrong to close this review without mentioning the area in which the property sits.
East London has been home to various regeneration projects for over 30 years but the regeneration hasn't quite reached the part of Whitechapel Road on which the Hyatt Place sits.
Less than 5 minutes' walk away you'll find modern office buildings sitting side by side with beautifully restored old churches…
…and you'll see the ongoing regeneration works as you walk towards the City…
…but the area immediately around the Hyatt Place (the area between Aldgate East Station and the hotel) isn't quite so refined.
The local shops aren't particularly inviting…
…a few of the local buildings are well overdue for some TLC…
…and overflowing trash cans are not a rarity.
None of this, of course, has anything to do with the property being reviewed, and as someone who had a home in East London for well over a decade, none of this would stop me from visiting, but it's important for readers to know what to expect when they arrive.
This isn't Mayfair, Marylebone, Knightsbridge, or Kensington. This is East London and with that should come an understanding that not everything in the area will be Georgian terraces, boutique coffee shops, and 18th-century squares.
This area has an incredible amount to offer but if you're expecting to find this Hyatt situated in a leafy square (like the one in which The Churchill sits) you're going to be disappointed. If you're expecting a busy city road (similar to what you'll find all over large parts of Manhattan), you'll be fine.
Final thoughts
Overall, the Hyatt Place London City East is a very good option for Hyatt fans visiting London.
Sure, the rooms are on the smaller side, and the area in which the property sits needs some TLC but as an overall package, this is a hotel that has a lot going for it.
Between the friendly staff, its proximity to a lot of what London has to offer (by foot or by public transport), the excellent food, and the bar with a great terrace, the Hyatt Place London City East makes for a great London base and, crucially, it's a property that I'd be more than happy to visit over and over again…even on my own dime! 🙂