---
Some links to products and travel providers on this website will earn Traveling For Miles a commission that helps contribute to the running of the site. Traveling For Miles has partnered with CardRatings for our coverage of credit card products. Traveling For Miles and CardRatings may receive a commission from card issuers. Opinions, reviews, analyses & recommendations are the author's alone and have not been reviewed, endorsed or approved by any of these entities. For more details please see the disclosures found at the bottom of every page.
---
Note: If you're having a sense of deja vu don't worry! This post appeared on TFF yesterday (briefly) before Virgin Atlantic decided that they had released the info too early and asked me to pull it.
I'm always happy to see airlines adding new routes or more capacity to existing routes as the more seats that airlines have to fill the harder it is for them to increase prices…and I hate paying any more than I absolutely have to for the flights I book.
To that end, Virgin Atlantic has just made me a little happier than I was a few moments ago as it has just announced "an expanded flying operation out of Manchester Airport for Summer 2020" as well as a couple of extra flights between Orlando and London Gatwick.
The planned expansion will see Virgin Atlantic offering more flights from Las Vegas, Orlando, and Barbados to the UK's Manchester airport and, according to the airline, it will be offering a total of 43,000 more seats on these routes than it did in Summer 2019 – that's an 11% increase in capacity.
Per Virgin Atlantic:
There will be an increase of flights from Las Vegas to Manchester with two extra weekly flights for the peak season and an extra 10,000 seats.
There will be an increase in flights to Manchester from Orlando, with up to two extra weekly flights, offering up to 14 flights a week in the peak summer season and 23,000 extra seats
Flights from Barbados to Manchester will increase from two times a week to three times a week for the whole of the summer season, offering an additional 10,000 seats
Virgin Atlantic is also announcing two extra flights a week from London Gatwick to Orlando, offering up to 18 flights a week in the peak summer season.
Flights will go on sale from Saturday 9 November 2019, for travel on various dates through Summer 2020 season, with fares starting from $500.
Thoughts
Virgin gave us an indication of how serious it is about expanding its focus on Manchester airport last month when the airline announced that it would be opening a Clubhouse at the airport in Spring 2020. This latest news just goes to confirm how serious Virgin Atlantic really is.
For US flyers this is pretty good news for a number of reasons (apart from the fact that more flights should keep prices in check):
Firstly, Virgin Atlantic offers one of the best Premium Economy products available across the Atlantic so, with flight times to Europe from Orlando and Las Vegas ranging between 9 hours and 11 hours, this cabin can be a genuine alternative to a considerably more expensive Business Class cabin for those who can't stomach the thought of that much time spent in a cramped Economy Class cabin.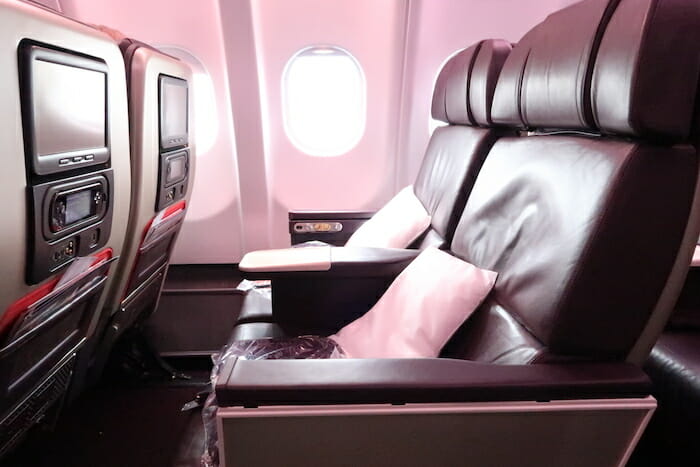 More Virgin Atlantic flights mean more Premium Economy seats and a greater choice of travel times/dates and both will be very welcome (also, a Virgin Atlantic Premium Economy award from the West Coast can be excellent value)
Secondly, Virgin Atlantic partners with Delta (Delta actually owns 49% of Virgin) and the routes on which Virgin Atlantic is adding more flights are routes on which Delta doesn't offer a non-stop service.
More Virgin Atlantic flights out of Las Vegas and Orlando means more flights on which flyers can burn Delta Sky Miles without having to change aircraft, and with Sky Miles so easy to come by that's very good news.
Bottom Line
I confess to having quite a big soft spot for Virgin Atlantic because it's an airline on which I've almost always had good experiences (although I did catch chickenpox on one flight back in the 80's!) so I'm always happy to see it adding more routes and flights.
There's nothing majorly earth-shattering about the new flights that the airline has announced today but that doesn't detract from the fact that the extra flights are nothing but good news for flyers based on both sides of the pond….now I just need Virgin to hurry up and announce a launch date for its A350 service to/from Los Angeles.