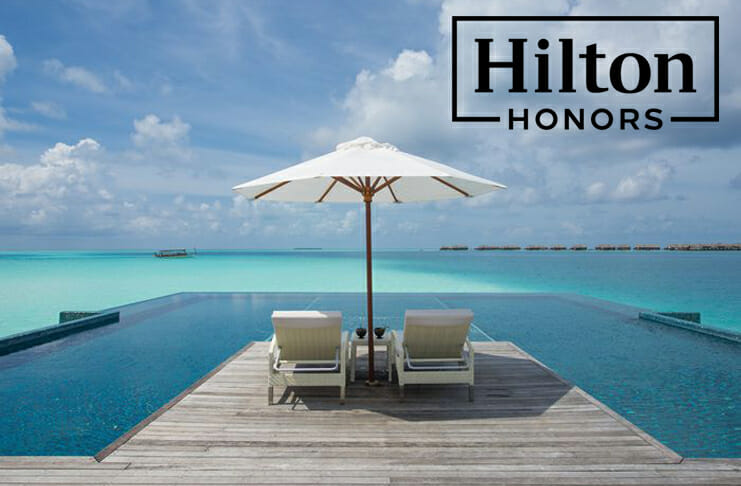 ---
Some links to products and travel providers on this website will earn Traveling For Miles a commission which helps contribute to the running of the site – I'm very grateful to anyone who uses these links but their use is entirely optional. The compensation does not impact how and where products appear on this site and does not impact reviews that are published. For more details please see the advertising disclosure found at the bottom of every page.
---
American Express is currently offering a targeted bonus for cardholders looking to transfer Amex Membership Rewards Points over to Hilton Honors. The bonuses people are being targeted for range from 30% through to 50% and there's definitely value to be had here.
When there isn't a bonus on offer American Express Membership Rewards Points (MRP) transfer over to Hilton in a ratio of 1:2 and, most of the time, this isn't the greatest use of MRPs.
Right now, if you've been targeted for the 50% bonus the transfer ratio is increased to 1:3 and, despite what first appearances may suggest, this is a transfer quite a few people should probably be considering.
The Math
I value Membership Rewards Points at a conservative 1.5 cents each and I value Hilton Honors points at around 0.4 cents each so you may be wondering why I would consider transferring 1.5 cents of currency into 1.2 cents of currency. The answer is in the math.
Example 1
If I pick a random night at the highly popular all-suite Conrad New York I can see that an entry-level room would cost me 80,000 points or $455 + taxes/fees:
Thanks to the high taxes in NYC the $455 rate eventually works out to a cost of well over $500 for the single night:
If Amex has targeted you for a 50% transfer bonus the 80,000 Hilton Honors points can be generated from just 27,000 Membership Rewards Points which, if used towards the cost of this booking, would mean that you're extracting at least 1.96 cents of value out of every point that you transfer over.
Considering I've already said that I value Membership Rewards Points at 1.5 cents each this represents a very good deal for me.
Example 2
Don't like the East Coast? How about the West Coast for a bit of sunshine?
The new Waldorf Astoria Beverly Hills gets some very good reviews but it can be an incredibly expensive place to stay.
On a randomly selected night the best deal I found was for $661 + taxes or 95,000 Hilton Honors Points:
Beverly Hills is just as capable of levying horrendous taxes & fees on a room rate as New York so the rate of $661 would actually come to $800.08 when it comes to settling the bill:
95,000 Hilton Honors Points can be generated from just 32,000 Membership Rewards Points if you've been targeted for the 50% bonus and, if you applied those points to this particular reservation, you would get 2.5 cents of value out of each point transferred.
Even those who think my Membership Rewards Points valuation is too low will probably agree that this is a pretty good redemption.
Example 3
I don't want anyone to get the idea that this transfer is only useful if you're looking to book single expensive nights….how about 5 nights at everyone's favorite example of a big-ticket Hilton reservation?
The Conrad Maldives Rangali Island looks like an idyllic place to visit but, even during quieter times, it's not exactly a cheap place to visit:
In this example the best deal is for a Beach Villa at $502 + taxes/fees per night while award nights cost 95,000 points each:
Using the random dates selected, a five night stay will cost over $3,100:
Because Hilton Honors members get the 5th night free on award bookings, the same room can be booked for 380,000 points for the same dates:
380,000 Hilton Honors Points can be generated from 127,000 Membership Rewards Points (assuming a 50% transfer bonus) which, assuming award nights don't incur a service charge, would see a guest get 2.46 cents of value out of each point transferred.
I don't have enough points in my Hilton account to check to see if the Conrad charges a service fee on award bookings but, even if it does, an award booking over these dates would still see a guest getting 2.26 cents of value out of every point transferred….and that's 50% more than my MRP valuation.
Not bad 🙂
Bottom Line
I've been using the 50% transfer bonus to illustrate my point but a 40% bonus would work pretty well to and, in a few cases, even the 30% bonus will turn up a good deal….you just have to do the math to check.
I've used a pretty extreme example with the Conrad Maldives Rangali Island because that's quite a long way to go just for 5 nights…but you have to admit that 5 nights in the Maldives for 127,000 Membership Rewards Points is a pretty good deal!
I could have picked examples from all over the world where you can similar value out of the current Amex transfer bonus so you don't have to fly over oceans to make the most of this deal….just pick somewhere you'd like to visit/can afford to visit and check if the current transfer bonus can save you some cash.