---
Some links to products and travel providers on this website will earn Traveling For Miles a commission which helps contribute to the running of the site – I'm very grateful to anyone who uses these links but their use is entirely optional. The compensation does not impact how and where products appear on this site and does not impact reviews that are published. For more details please see the advertising disclosure found at the bottom of every page.
---
Iberia currently flys its Airbus A330-200 between Madrid and Rio de Janeiro and a combination of an incredibly generous Iberia promotion from last year and near-perfect reward flight availability (for me) saw me book a roundtrip Business Class fare on this route for just 85,000 Avios + taxes.
Follow this link to find out more about what I booked and how much I paid for this trip to Rio
Boarding
The gate monitors in Madrid showed a very optimistic boarding time of 11:05 (for a 12:00 flight) and the appointed time came and went without much movement at all.
As I stood waiting for boarding to be called I noticed the signs around the gate and they reminded me why it can be important to get to the gate early – with Iberia's boarding procedure there are times when just about everyone has 'priority'.
On this occasion this didn't affect me as I'd made sure I was at the gate early enough to be one of the first to board, but I was soon reminded of another part of the Iberia boarding process that's nonsensical.
For reasons best known to the airline, Iberia's boarding procedure in Madrid involves opening the gate and calling passengers to board before promptly holding them on the jet bridge while the crew continue to get the aircraft ready.
In the cooler months this isn't anything more than an annoyance (I have no idea why passengers can't all be allowed to wait in the terminal and only proceed through the gate when the aircraft is finally ready) but in the warmer months it can get incredibly uncomfortable on the jet bridges.
With the sun beating down on them there really isn't much protection for passengers and the jet bridges essentially become a hothouse.
On this occasion were held on the jet bridge for 15 minutes before finally being allowed to board the aircraft.
The Iberia A330-200 Business Class Cabin
The Iberia A330-200 Business Class cabin is set out in 4 rows of 4 seats in a 1-2-1 layout which gives all passengers unobstructed access to one of the aircraft's two aisles.
There are a number of seating options in this cabin and that's something which makes it important for passengers to choose their seats carefully.
The Center Seats
The center section of the A330 Business Class cabin offers two different seating arrangements found on alternate rows – one where both seats are close together and one where there's a sizeable barrier between the two.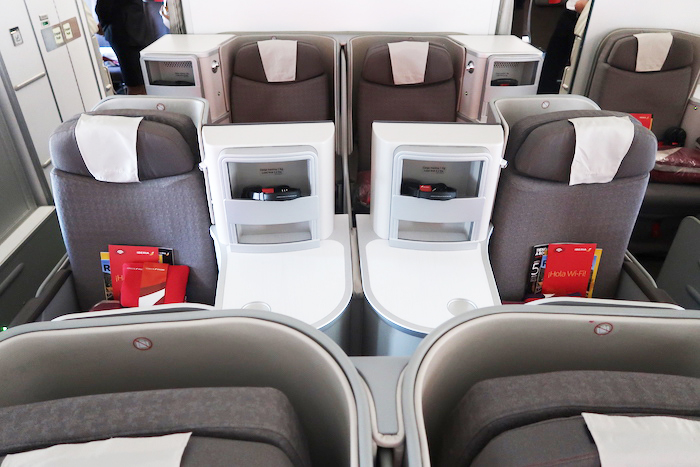 The seats closest together will probably suit couples best as, even though there's a divider that can be raised between the seats, they're a little close together if you don't know the person next to you.
These seats also have the advantage of having a fixed table between them and the aisle which gives a feeling of privacy.
The second set of center seats are probably the weakest option on this aircraft.
They're quite far apart and separated by two fixed tables so they're not ideal if you plan to communicate with the person next to you during the flight.
They're also right on the aisle so passengers in these seats are prone to having flight attendants or other passengers brush past them as they go by.
Window Seats
All the window seats are solo seats but, just like in the center section, there are two types of seats here.
In rows 1 and 3 the seats are right on the aisle, are not particularly private and have a fixed table between them and the window.
In rows 2 and 4 the seats are closer to the window and have the fixed table separating them from the aisle – this gives them a great feeling of privacy.
This was the seat-type I had chosen – I was in 4L.
The Iberia A330-200 Business Class Seat
As a place to sit, recline and relax the Iberia A330 Business Class seat is pretty good.
The seat cushion is well padded and the controls allow you to place the seat into enough positions that even the most demanding passenger should find a way to be comfortable
This aircraft has fixed IFE screens so, when you sit down, essentially this is your view….
….but the screen can be switched off so it's not really disturbing when it's not required.
Underneath the screen is an ottoman (to which the seat joins when you place it in lie-flat mode)….
…and under the ottoman is a small storage area big enough for a pair of shoes (just!).
Storage is actually a bit of an issue with this seat because there's so little of it.
Aside from the shoe area under the ottoman there's….
An open set of mini shelves next to the seat:
A table just ahead of the shelves:
And a very small storage area under one of the armrests (the armrest can be moved up and down):
That's it.
There isn't anywhere safe to store a laptop/tablet where it won't go flying around the cabin when you hit turbulence and, if you carry a few devices with you, you'll find that the headphones and amenity kit supplied by the airline take up a lot of the space you'd probably like to use….and that's why those two items often end up on the floor.
When placed into lie-flat mode this is what the seat looks like….
…and, as you should be able to see, there's a good amount of room in the area where a passenger's head goes.
This means that the seat doesn't feel claustrophobic and, even if you sleep on your front, there should be enough room to allow most people to get comfortable.
Another good aspect of this seat is that the space under the IFE screen is big enough to ensure that a passenger's feet don't feel confined and that, regardless of sleeping position, there's room to move.
The tray table that comes with this seat is big (comfortably bigger than a 15" MacBook) and is pinned up against the seat in front:
When deployed the table doesn't have much range of motion but that's made irrelevant by the fact that the chair can be moved closer or further away (with no change in recline) by using the seat controls.
You'll find a universal power outlet, a USB port and headphone input built into the fixed table to one side of the seat…
…and you'll also find a remote control (which controls the overhead lights as well as the entertainment), the seat controls and a reading light all built into the seat's shell too:
The design of the seat area throws up a few small issues and quirks that are worth pointing out.
(1) If you're of above average height and prone to not paying attention it's not too difficult to hit your knee against the rather large hinge that's used to bring the tray table down:
(2) There are two ceiling lights but no air vents above the seat – passengers are at the mercy of the crew when it comes to the temperature of the air around the seat.
(3) Every seat has one very thin armrest and, considering how much space there is around this armrest, I have no idea why they've designed them this way.
There's a cup/bottle holder in the strangest place I've ever seen a one on an aircraft….it's almost at floor level and under the power outlets:
This is awkward to reach when the seat is upright and almost impossible to reach when the seat is reclined or in lie-flat mode.
(4) The seat has a coat hook….but it's positioned directly ahead of the IFE screen.
Any coat hung here will, at best, be in a passenger's eyeline when watching the IFE and, more likely, will probably partially block the screen.
(5) The power outlet may cause an issue for some passengers.
If you take a close look at how the main power outlet is arranged you'll notice that it's actually upside down….
….and, as long as you are using a 2-pin plug (like a US or European plug) this doesn't make any difference.
But, if you're combining a UK-style 3-pin plug with the type of power regulator that comes with certain electronic devices, you may not be able to plug your device in…the lip of the table gets in the way and the plug can't go in far enough to make a connection.
The solution here is to use an adapter….
…or to swap in a 2-pin plug.
Overall (and quirks aside) as a seat this is a pretty good product but, as a lie-flat bed I thought it was a little hard and, if you're 6' 2" or taller, it may be a little short.
Amenities
There was blanket, a pillow and an amenity kit waiting for my on my seat when I boarded.
The pillow on offer is quite small and doesn't offer much support but the blanket is a very good size and does its job well – it should be more than big enough to cover most body sizes.
The amenity kit is a simple red bag that feels like it may be made of thin neoprene (what wetsuits are made from).
The contents of the back included:
A pair of socks
An eye mask
A comb
A shoehorn
Ear plugs
A small grey bag
A toothbrush
Toothpaste
Hand cream
Lip balm
A bootle of "refreshing mist"
Iberia does not supply pajamas in its Business Class cabins.
In-Flight Entertainment & Wi-Fi
The in-flight entertainment screen is a good size and the touchscreen functionality works very well.
There's an option to control the system from the remote control which is built into the seat but, unless you're lying down and out of reach of the screen, there isn't my need to use it other than to turn the volume up and down.
The headphones supplied by Iberia are basic and are not noise cancelling….
…and while they do an ok job you'll almost always be better off with whatever headphones you own – my $30 ear buds offered better sound quality.
Also, although the Iberia headphones come with a triple-prong input….
…..the system will still offer you stereo sound if you choose to use your own headphones/ear buds which almost certainly come with a single-prog input.
The Entertainment on offer looks like it's up to date and there's a good selection of movies and TV shows on offer….but I couldn't find any box sets or full series to watch.
Here are a few images to give you an idea of the movies, TV shows, music and games on offer for this flight (click each image to enlarge):
Headsets were collected 30 minutes before we landed and the entertainment system was switched off 10 minutes before we landed….which is strange as the entertainment was working from the gate in Madrid and it worked from the gate on my return flight out of Rio too.
The Iberia A330-200 offers wi-fi across all cabins but Iberia is one of those airlines which likes to charge by usage rather than by time….and it's not cheap.
If you're somebody who frequently receives emails with large attachments you could get through a '1 hour' session in 3 -5 emails.
Iberia gives each long-haul Business Class passenger a voucher codes for 30 minutes or 50MB of free wifi….
….but, as I waited too long to use mine, the wi-fi was unavailable and I didn't get a chance t test out the speed.
Service & Dining
35 mins after boarding the flight attendants offered passengers a choice of Cava, orange juice or still water….
….and it was nice to have a pre-departure drink served in a proper glass (take note AA).
40 mins after boarding menus and duty free pamphlets were handed out…..
…. and, at the same time, we pushed back.
After a 15-minute tour of Madrid Airport we finally took off (55 minutes after boarding).
30 minutes after take-off the flight attendants offered hot towels….
…and began preparing the tables for lunch.
A minute later meal orders were taken.
Click images to enlarge
Interestingly (at least to me) the cabin crew didn't serve both aisles at the same time. Most of the service runs started at the front left of the aircraft and, once the left aisle service was complete, the crew worked their way back down the right side of the aircraft leaving the passenger in seat 1L to be the last passenger served – bear this in mind when selecting seats if you care how long it takes the crew to get to you.
45 mins after take-off the cabin was offered a choice of drinks and choice of almonds or olives.
I chose a red Rioja despite the fact I thought it may be served too cold (as red wine often is on a lot of airlines)…it wasn't.
The Rioja was chilled but not like it had been sitting in a regular refrigerator overnight…so it was quite nice.
The olives were stuffed with what I think were anchovies and they were good too – it made a nice change to have an option of something other than warm nuts to kick off the drinks/meal service.
1 hour 5 minutes after take-off I was served my starter together with a small cup of soup and my choice of bread from a breadbasket.
The soup was a chicken consommé and was nice
The bread was nice and fresh….but not warm
And the smoked salmon paired with the potato salad was delicious (although I couldn't really taste the caviar).
The weak point of the first course was the side salad….
….which desperately needed the dressing to give it flavor and was average at best.
1 hour 15 minutes after take-off my main course of beef cheeks in a red wine sauce with baked sweet potato and grilled tomato was served.
There really wasn't very much here (as you can probably see) but, despite this and the unappetizing presentation, the meat was actually pretty good – very soft/tender and very flavourful…..I just wish there had been a little more.
During the main course the crew came around with the breadbasket again and topped up drinks.
1 hour 30 minutes after take-off a cart was brought around from which I was offered my choice of dessert and port or dessert wine.
I chose the coffee cheesecake accompanied by a glass of Moscato:
The cake was surprisingly ok and didn't taste overly synthetic at all – the wine was good too.
10 minutes later, 1 hour 40 minutes after take-off, the crew had the remnants of dinner cleared away and were serving coffee and chocolates.
I had no idea that Iberia has an espresso maker onboard its long-haul aircraft…that was another pleasant surprise.
Once the meal service was over the crew handed out bottles of water before leaving the cabin to work, rest or sleep.
1 hour 25 minutes before landing (8 hours 35 minutes after take-off) the crew brought around hot towels and began preparing the tray tables for the second meal service of the flight.
1 hour 10 minutes before landing a cold meal of Ibérico ham, salchichón sausage and chicken breast accompanied by tomato and extra virgin olive oil was served, alongside a fruit salad.
Wines, sodas and other soft drinks were served too.
Once again the portion wasn't exactly big but I couldn't fault the flavors – the ham, chicken and sausage were all very nice.
The bread (which was offered twice during this meal service) was hot this time around and was very nice…especially when combined with the olive oil.
The fruit salad was ok but wasn't anything special.
Overall the food quality was pretty good but some of the portion sizes could do with being made a little bigger.
The smoked salmon starter stood out as being the best of the offerings but the beef cheeks were very flavorful as well, and the cold cuts served for the second meal were both a nice touch (a bit of Spanish influence) and something I'd happily have again.
Thoughts
Negatives:
The boarding process in Madrid can be annoying – why make passengers wait on a jet bridge if you don't have to?
The seats don't offer enough storage space
Some seats offer very little privacy
The seat may be a little short of you're over 6′ 2″.
The way the power socket is orientated means that some flyers may need to use an adapter to plug in their larger devices.
The pillow is a little small and offers little support
Positives:
The cabin crew were very friendly
The seat was a comfortable place to relax
If you select the right seats the space around you can be very private
There's a lot of legroom available when the seat is in lie-flat mode so that should help passengers get a bit of rest irrespective of how they choose to sleep.
Large parts of the meal service were very good
The entertainment selection on offer was good
Bottom Line
There was both good and bad on show here as my points above demonstrate but, overall, this was a pretty good experience.
Yes, there are definitely a few annoyances with the Iberia Business Class cabin but, as I knew what seat to select ahead of time and as the aspects of Business Class that I value most were all pretty good (seat comfort and privacy), I really can't complain too much.
The seat itself is a middle-of-the-road offering which is better than what you'll find on the likes of Lufthansa and British Airways but not as good as what you'll find on most Qatar Airways aircraft, the American Airlines 777-300ER or airlines like Cathay Pacific and Finnair.