---
Some links to products and travel providers on this website will earn Traveling For Miles a commission that helps contribute to the running of the site. Traveling For Miles has partnered with CardRatings for our coverage of credit card products. Traveling For Miles and CardRatings may receive a commission from card issuers. Opinions, reviews, analyses & recommendations are the author's alone and have not been reviewed, endorsed or approved by any of these entities. For more details please see the disclosures found at the bottom of every page.
---
One of the best ways to fly domestically is, unsurprisingly, to fly in First/Business Class and one of the best ways to fly domestic First/Business Class is to book a flight which offers lie-flat seating in its premium cabin(s) – that's why I was pleased to find that I could book American's widebody 767 aircraft for a flight between New York JFK and Miami.
Note: I've actually written about this flight before, but I only wrote about a series of events surrounding this flight which highlighted just how easy American Airlines makes it for the flying public to dislike it. Having got that mini-rant out of my system I then promptly forgot to write the actual review of the aircraft so that's what follows below – I will not be revisiting the issues I've already written about.
The American Airlines 767 Business Class Cabin & Seats
The American Airlines 767 has a Business Class cabin unlike any other Business Class cabin you'll find the airline offering.
The American Airlines 767 Business Class cabin may offer lie-flat seats set out in a 1-2-1 layout like the Business Class cabins on the airline's Dreamliners and 777s, but that's where the similarity between this Business Class cabin and American's other wide-body Business Class cabins ends.
In the 767 Business Class cabin the two center seats look like this…
…with one seat with a thin armrest dividing it from the aisle, and the second seat with a much wider fixed table shielding it from the aisle (a central fixed table area divides the two seats in every row).
When it comes to the window seats there are two different set-ups in the 767 Business Class cabin.
In the even-numbered rows (the cabin starts at row 2) the seats are set close to the windows and have a fixed table/shelf separating them from the aisle:
In the odd-numbered rows the window seats are set away from the window (the fixed table/shelf sits between the seat and the window) and are only separated from the aisle by a thin armrest.
The seats closer to the windows are the ones solo travelers (and couples who don't feel the need to sit together) should choose because they're further from the aisle and leave passengers less exposed to passing food carts, drinks trolleys, cabin crew and fellow passengers (especially the ones who like to grab hold of every seat as they make their way about the cabin).
These two pictures should give you a good idea of how exposed one seat is compared to the other:
One of the first things you may notice when you first take your seat in the American Airlines 767 Business Class cabin is that there's no inflight entertainment screen ahead of you.
In fact, there's no IFE screen to be found anywhere in the seat area.
Directly ahead of the seat is a drop-down tray table which, when opened, reveals a universal power outlet (which is well-positioned if you need to charge your laptop/tablet while you watch it)…
…and underneath this is the footwell and area where a passenger's feet go when the seat is in lie-flat mode.
There can be no arguing with the fact that this area is narrow and cramped, and that a lot of people (especially those with larger feet) struggle to get comfortable when lying down thanks to the limited amount of room there is move one's feet once they're on top of the ottoman (you'll find a similar issue on Delta's older 767s).
The fixed table/shelf to one side of the 767's Business Class seat is where the seat controls are to be found…
…and where the somewhat antiquated controls are for the audio system (does anyone still listen to the playlists onboard aircraft of this age?), the lights and the flight attendant control button (which you should never go near on a US carrier unless you want a bucketload of attitude from the cabin crew).
Within this fixed table/shelf is where the seat's main tray table is housed (you'll need a PhD in advanced engineering to deploy it for the first time if you haven't been shown how to do so by a flight attendant)…
…and it opens up to a very good size…
…as my 15″ MacBook shows:
Behind the fixed table/shelf and in line with the back of the seat is a small storage compartment…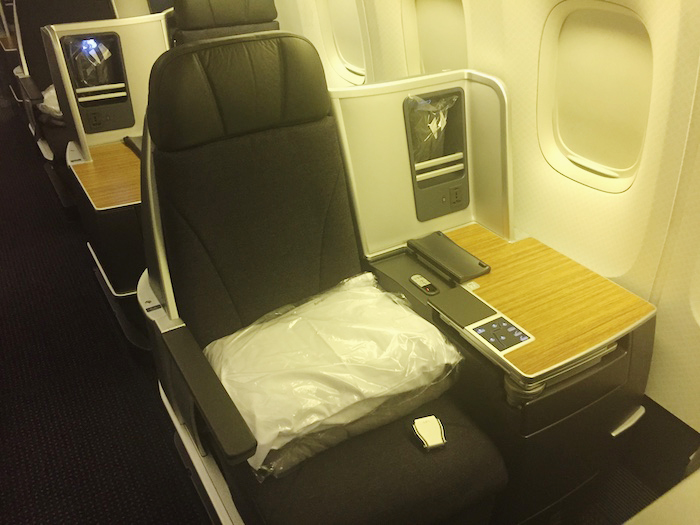 …and this is where you'll find a second universal power outlet as well as a USB port:
Once again the power outlet and USB port are well-positioned as their location makes them easy to get to and makes it easy to charge whatever device(s) you have sitting on the fixed table/shelf just ahead.
That's just about all of the 767's Business Class seat's features wrapped up except for the small storage space at floor level which isn't really big enough to warrant much more than the briefest of mentions.
Amenities, IFE & WiFi
Amenities
Had this been an international flight, passengers in the 767 Business Class cabin would have been given an amenity kit, a pillow, and a blanket. However, as this flight was on a domestic route the only amenity I saw was a blanket that was waiting for me on my seat when I boarded.
As true Business Class blankets go this one was poor. As domestic-flight blankets go this was par for the course.
Wi-Fi
American's 767 aircraft offer the airline's Panasonic wi-fi onboard but, as this wasn't operating on the aircraft I flew on I can't report back on how good or bad the service is.
If memory serves me (I had no way of checking on the day of the flight), the cost of wifi on the 767s is the same as the cost on wi-fi on international flights served by the other wide-body aircraft.
$12 for 2 hours
$17 for 4 hours
$19 for the duration of the flight
In-Flight Entertainment
As mentioned earlier, the American Airlines 767 Business Class cabin has no built-in personal IFE screens so the cabin crew offer Business Class passengers a Samsung tablet pre-loaded with movies and TV shows.
As I always bring my own entertainment with me I had no need of a tablet on this flight…but here's a photo I took of one the last time I flew Business Class on an American 767:
Dining & Service
Predeparture beverages were offered before we departed JFK (a choice of sparkling wine or orange juice)…
…and drinks were refreshed and warm nuts served after the aircraft leveled out.
For the meal that was served on board, I had taken View From The Wing's advice and not left anything to chance with the options that are presented once you're on the aircraft – I had pre-ordered the charcuterie platter.
American's catering can be very hit-and-miss (a lot of people would probably say it's more miss than hit) so it's a very good idea to pre-order a meal if you've been tipped off that one is more than just "edible"…and that was the case here.
Gary (from VFTW) was right. As American Airlines domestic food goes this really wasn't bad.
Everything tasted fresh, the portion size was good enough for me, there was nothing on the tray to overcook, burn or turn to mush and I have to confess that I quite liked it.
Sure, this wasn't gourmet dining and I'm not sure someone from the Middle East would recognize the houmous as houmous…but it was a pretty good meal to have mid-afternoon. I had no complaints.
After the main meal service the traditional cookies and milk were offered…
…and that was the end of the meals and drinks on this flight.
As far as the service and the flight attendants go it's going to be hard for me to form too strong an opinion as I employed a recently developed tactic on this flight where I do my absolute best to minimize the contact I have with the cabin crew.
I find that this tactic limits my opportunities to be disappointed and while it means that I miss out on interacting with some of the very cool cabin crew that work for American, it also means that I get to avoid the ones that shouldn't be anywhere near a customer-facing job….and there's quite a few of those about.
From what little contact I had with the flight attendant working my aisle I got the impression that he was friendly and that he genuinely wanted to do a good job…but also that he was a little rushed through no fault of his own.
I can't fault the service because I didn't really demand very much of it.
Final Thoughts
As a seat, the American Airlines 767 Business Class seat is comfortable enough and it's fine if you want to get some work done or if you want to recline and read a book or watch a movie…but it's not very good as a bed.
The small amount of room that these seats offer for a passenger's feet means that it can be incredibly difficult to get comfortable when you're lying down and that's not good news when discussing an aircraft that often operates overnight flights to Europe.
Essentially this a pretty old Business Class cabin but American Airlines has little incentive to improve it in any meaningful way because it's 767s are on their way out – they're too uneconomical to fly and they will be retired as soon as the airline has enough newer aircraft to send them to the boneyard.
Bottom Line
For domestic First/Business Class the 767 offers a noticeably better product and experience than the overwhelming majority of aircraft you'll find American Airlines offering on its non-international routes.
For international daytime flights, the American Airlines 767 Business Class cabin is adequate but it's no more than that. All the other American Airlines wide-body aircraft offer a better Business Class cabin but if you don't really need to sleep the 767 will probably suffice.
For overnight international flights, the 767's Business Class seats are far from optimal and, although they're clearly still considerably better than any Economy or Premium Economy seat you may travel in, they're noticeably worse than any other wide-body Business Class seat that American Airlines offers – it's not easy to get comfortable when you lie flat and that's an issue if you need to get some sleep.
How good or bad you find the American Airlines 767 Business Class cabin to be will almost certainly depend on the circumstances you find yourself flying it – for domestic flights it's hard to complain about what it offers but for international travel it's among the least impressive wide-body Business Class cabins operating out of the US.