---
Some links to products and travel providers on this website will earn Traveling For Miles a commission that helps contribute to the running of the site. Traveling For Miles has partnered with CardRatings for our coverage of credit card products. Traveling For Miles and CardRatings may receive a commission from card issuers. Opinions, reviews, analyses & recommendations are the author's alone and have not been reviewed, endorsed, or approved by any of these entities. For more details please see the disclosures found at the bottom of every page.
---
The CEO of Qatar Airways gave a live interview to a British news channel yesterday afternoon and, as is always the case with Akbar Al Baker, he didn't mince his words and he wasn't short of a few opinions. The interview covered a broad spectrum of aviation issues and Al Baker revisited some old ground, but one of the more interesting revelations to come out of the interview is the fact that Qatar Airways wants to push back deliveries of new aircraft by up to a decade. That's incredible.
The interview can be watched in full on this SkyNews page but, in brief, this is what Akbar Al Baker had to say:
Qatar Airways is currently operating approximately 35% of its schedule but hopes to increase that to 75% within the next 8 weeks.
Load factors on some aircraft have been as high as 90-92% but loads of 30-40% are more common.
Passenger numbers will not recover for at least 2 years.
Social distancing in an aircraft is not necessary and is ineffective. Other mitigating factors (masks, visors, gloves, etc…) work much better.
If social distancing measures are legally mandated the cost of air travel will increase "extremely".
Qatar Airways will lay off as few staff as possible, salary cuts will not be permanent, salary cuts will not be "very extreme", when passenger numbers return to those seen in 2019 the salary cuts will be reversed and staff that have been laid off will be given priority when the airline restarts its recruitment drives.
Boeing & Airbus have been notified that Qatar Airways will not be accepting deliveries of new aircraft in 2020 or 2021. The deliveries of new aircraft that were originally set to take place in the next 2-3 years (A321neo, 777-X, A350-1000, etc…) will be pushed back by up to 8-10 years.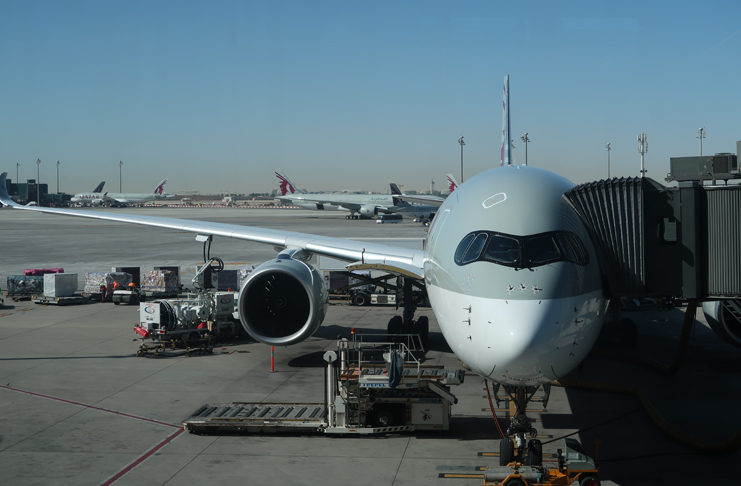 As passenger numbers begin to return to pre-crisis levels, Qatar airways will look to bring forward some of the delivery dates.
Boeing and Airbus "should know" that if they don't comply with the request to delay all deliveries of new aircraft, Qatar Airways will "have to review [its] long term business arrangements with both of them".
Qatar Airways had 30 Boeing 737MAX aircraft on order but Qatar Airways has already informed Boeing that it will have to "replace them with some other type of airplanes". The 737MAX were ordered for "another airline" in which Qatar Airways no longer has an investment stake. (The unnamed airline is Air Italy)
Qatar Airways' investment in IAG (the parent company of British Airways, Iberia, etc…) is a long-term investment and the airline would be prepared to inject more equity into IAG should that need arise.
It was "unwise" for the UK Prime Minister to introduce quarantine regulations when he needs people to visit the UK to help kick-start the economy. It wasn't a good idea to introduce quarantine regulations "at the tail end of the pandemic". They should have been introduced at the beginning and not at the end.
Akbar Al Baker is "very confident" that the UK Prime Minister will "look at the bigger picture" for his country and will "open up the country in a very short period of time".
Quick Thoughts
It's interesting to note that Al Baker is happy to go on the record saying that Qatar Airways will reverse salary cuts when passenger numbers return to pre-crisis levels as I don't believe I've heard any other airline representative say the same thing. It's a logical step to take and one that will probably go some way to keeping staff motivated and engaged as Qatar Airways tries to recover so I'm not sure why we haven't heard other airlines putting the same line.
The stance that Qatar Airways is trying to take with Boeing and Airbus is interesting but I don't see how it will work. Al Baker may want to defer as many new aircraft deliveries as possible but he can't simply rip up the contracts his airline has in place with the manufacturers. Boeing and Airbus are suffering just as much as the airlines are right now so although they'll probably be happy to come to some kind of compromise, I don't see Qatar Airways being able to push back all the scheduled deliveries as it says it wants to. The threat that Qatar Airways will look to review its long-term business interests with Boeing and Airbus if they don't defer deliveries is a little hollow as the airline has no realistic alternative to turn to for future new aircraft.
With deliveries of the A350-1000 aircraft now being delayed, the pace at which Qatar Airways will be rolling out its fantastic Qsuites Business Class cabin on its routes will be significantly reduced. Presumably the airline will continue refitting its existing A350-900 and 777-300 aircraft with the Qsuites so more Qsuite-equipped aircraft will continue to appear in the schedules, but we can expect their deployment to be even more targeted than before.
Bottom Line
It's good to hear that Qatar Airways plans to reverse the salary cuts its making when the aviation sector recovers (let's hope that's not an empty promise) and it's good to hear that the airline is looking to restart a large number of routes over the next 8 weeks (assuming lockdown measures are lifted).
The battle the airline is now having with Boeing and Airbus will be interesting to watch as regardless of what Al Baker is currently saying, there is no way that either manufacturer is going to lie down and agree to defer all deliveries for as long the Qatar Airways CEO says he wants them deferred – this is most likely just rhetoric from Al Baker to see if he can play Boeing off against Airbus and get his airline the best deal he can.
Overall it was an intersting 8+ minute interview but I'll be glad when we can stop talking about the current crisis and we can go back to looking forward to a few trips, some new aircraft, and some great destinations to explore. It has already been too long.