---
Some links to products and travel providers on this website will earn Traveling For Miles a commission that helps contribute to the running of the site – I'm very grateful to anyone who uses these links but their use is entirely optional. The compensation does not impact how and where products appear on this site and does not impact reviews that are published. For more details please see the advertising disclosure found at the bottom of every page.
---
Whether we like it or not biometric technology is here and it's rapidly becoming part of the fabric of air travel. We've already seen multiple airlines using biometric gates for domestic and international flights and now Emirates plans to take the technology a step further – it's trialing passport-free travel.
Something I wasn't aware of was that, at some point in the recent past, Emirates ran a trial on a number of its London Gatwick to Dubai flights in which the airline used biometrics to allow passengers to travel passport-free between the UK and the UAE.
That seems a little out there and I'm surprised that I'm only just hearing about it but the trial really happened.
Now Emirates plans to carry out a similar kind of trial between Australia and the UK.
According to AUBT, the plan is for automated facial recognition software (and possibly fingerprint technology) to take over from all the document checks that travelers are currently used to.
Passengers would not be required to show their passports at check-in, during boarding and possibly not even at their destination…although this last point isn't very clear.
During an interview with AUBT at the recent IATA AGM and World Air Transport summit held in Seoul, Dubai Airports CEO Paul Griffiths is reported to have said the following:
We ran a trial between London Gatwick and Dubai… and we're now trying to expand that. We learned from that trial that the technology works: the idea of a single identity applied in different locations works, and if we can make that work globally, that's the intention.
 The concept of passport-free travel is being called "One ID" (which refers to the fact that a passenger's biometric data is the only thing that's needed to identify them) and the idea that no one need show documentation from the moment they arrive at the airport to the moment they exit the airport at their destination is being used as the big selling point. 
IATA Director General and CEO Alexandre de Juniac is quoted as saying:
Every traveller will appreciate the convenience of getting from the curb to the gate without ever having to show a paper passport or boarding pass.
The vision for One ID is a paperless travel experience where passengers can fly around the world safely and securely using only their individual biometric data. This will be achieved using a trusted digital identity, biometric recognition technology, and a collaborative identity management platform accessible to various authorised stakeholders.
That's quite an ambitious idea.
Thoughts
In theory this sounds very interesting, but I can foresee a few issues on the horizon. The biggest will be the one surrounding privacy.
We've only recently found out that a significant amount of biometric data owned by the US CBP was hacked thanks to lapses in security at a 3rdparty facility, so we already have proof that our data can be compromised.
Just how open will passengers be to the idea of yet more data being stored to allow us to travel passport-free?
Personally, I'm not particularly worried about this as I'm under no illusion as to the quantity of data various government agencies worldwide already hold on me thanks to my Global Entry application and my frequent travels all over the globe…but I expect quite a few travelers to balk at the idea of handing over yet more of their biometric data.
According to AUBT, Emirates conducted a number of surveys during its Gatwick-Dubai trial in which it discovered that 82% of participants said they had "no issues in terms of sharing their data with a third party, provided that there was some consumer benefit from it".
A significant proportion of the 82% were passengers flying in premium cabins and frequent flyers.
The fact that frequent flyers would be comfortable with having more of their biometric data stored isn't particularly surprising as most would probably go to great lengths to limit the amount of time they have to wait in lines at airport…and most are probably resigned to the fact that a significant amount of their data is already in the hands of the airlines and government agencies.
The 82% figure, however, is meaningless on its own.
To get a better sense of how well One ID may be received we'd need to know how many passengers were surveyed and we'd need to know the split between frequent and occasional flyers.
Neither figure appears to be available.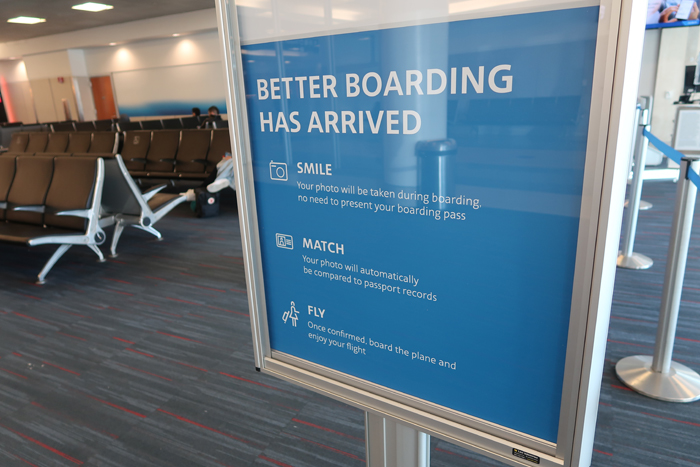 Bottom Line
The idea of 'One ID' is certainly one that's worth investigating but I think there may be a bigger pushback from passengers than Emirates, IATA and Dubai Airports appear to be expecting.
There's no word on which airports will be involved in Emirates' next trial but it will be  interesting to see how it goes and how it works – will it really be a "no passport required" experience from arrival at the departure point though to the point at which passengers exit the terminal at their final destination, or will it be something else?
I have no major issues with governments, airports, and airlines storing and using my biometric data if it genuinely means that I have a seamless and hassle-free experience when  I travel…but I'd definitely like to see security beefed up before anything like One ID is rolled out to a wider audience.
What do you guys think about the possibility of biometrics replacing identity documents when you travel?