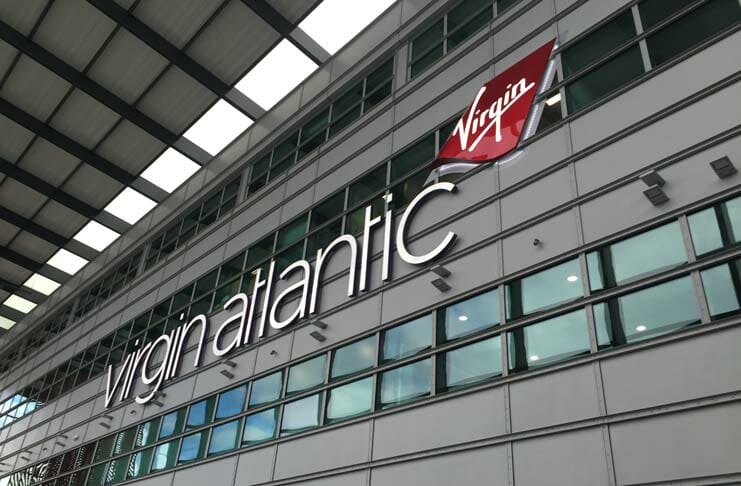 ---
Some links to products and travel providers on this website will earn Traveling For Miles a commission which helps contribute to the running of the site – I'm very grateful to anyone who uses these links but their use is entirely optional. The compensation does not impact how and where products appear on this site and does not impact reviews that are published. For more details please see the advertising disclosure found at the bottom of every page.
---
UPDATE 8 November 2018: Virgin Atlantic has said that it will not be flying its A350 to Newark on 9 September as suggested in this post- find out more here
Earlier today I wrote about the fact that Virgin Atlantic will be introducing a new Business Class seat and revamped Premium Economy and Economy Class cabins when it unveils its Airbus A350-1000 aircraft scheduled to be delivered in 2019. At the time of writing that was all the information that was generally available but now we may know a little more.
Virgin Atlantic hinted that the first routes the A350-1000 will be deployed on will be its routes to Asia but that not may turn out to be the case – it looks as if New York will be getting the first Virgin Atlantic A350-1000 service.
Virgin Atlantic A350-1000 Possible First Route
ExpertFlyer is currently showing that Virgin's London – Newark flight on 9 September 2019 will be operated by an Airbus A350-1000….
…and it looks as if the aircraft will be turning around and operating the journey in reverse a few hours later:
[HT: RoutesOnline]
The new Airbus is now showing on the Virgin Atlantic site and the flight is currently open for reservations:
Award seats also appear to be available….
….but be advised that this schedule may well change so don't assume that you're guaranteed to get to try out the new aircraft if you book for 9 September.
Virgin Atlantic A350-1000 Seat Maps
Now that the new Virgin Atlantic A350-1000 has been added to a route we can finally see what the cabin configuration looks like….and here it is courtesy of ExpertFlyer:
Upper Class (Business Class) will have 44 seats and all will have direct access to the aisle:
The Premium Economy Cabin will offer 56 seats in a 2-4-2 layout as found on the Virgin Atlantic 747s:
The Economy Class Cabin will house 235 seats….although the seat plan shows 6 odd seats in row 98 which, if they're not an error, would take the count up to 241.
We really don't know very much at all about what to expect in the Business Class cabin but, as it's unlikely Virgin Atlantic will change its seat dimensions in the other cabins, it's probably safe to guess the following:
Premium Economy seats will have 38″ of seat pitch and will be 21″ wide
Economy Class seats will have 31″ of seat pitch and will be 17.5″ wide.
The only other airline currently operating Airbus A350-1000 aircraft in a 3-cabin configuration is Cathay Pacific and here's what it's cabin dimensions look like:
As you can see, Virgin Atlantic will house a lot more Premium Economy seating than Cathay but its seats will probably offer 2″ less legroom (albeit they should be an inch wider).
In Economy Class Virgin Atlantic looks set to offer fewer seats (unsurprising considering the size of the Premium Economy cabin) but its seats will probably be notably narrower and will offer less legroom.
Should I Book An Award?
I'm very tempted to lock in an award seat on the inaugural flight and risk the cancellation fees that I'll incur should I cancel in the event of an aircraft swap….but it's not quite that simple. I don't currently have enough Virgin Flying Club Miles in my account to book the award so I'd have to transfer in points from Amex, Chase or Citi and I'm not sure I'm ready to do that.
I value my transferable currency balances higher than any airline currency and once the points are transferred over there's no going back. If the schedule holds firm there wouldn't be any issue as I'd get to check out the new Virgin Atlantic A350 cabins but, should I need to cancel in the event of an aircraft swap, I'll be stuck with Virgin Atlantic Miles that I may or may not have a use for.
This will require further thought.
Bottom Line
Right now it looks as if New York will be getting the first Virgin Atlantic A350-1000 flight but this may change over the coming months. It's also unclear if Virgin Atlantic is using the London – Newark route simply for crew orientation (before moving the aircraft on to another route) or if the aircraft will continue to serve New York. Right now the aircraft only appears in the schedules on 9 September so it's hard to tell what Virgin Atlantic has planned.
It's also worth pointing out that although London – Newark on 9 September is currently the first flight the Virgin Atlantic A350-1000 is set to operate there's every chance that other, earlier, flights may be added in due course…and not necessarily on this route.
A lot can change between now and September so keep that in mind before you firm up any plans that you can't later change or cancel.