---
Some links to products and travel providers on this website will earn Traveling For Miles a commission which helps contribute to the running of the site – I'm very grateful to anyone who uses these links but their use is entirely optional. The compensation does not impact how and where products appear on this site and does not impact reviews that are published. For more details please see the advertising disclosure found at the bottom of every page.
---
The A350 was the last wide-body aircraft that Qatar Airways operates that I hadn't had a chance to try out (either in the -900 or -1000 guise) so it didn't require much deliberation for me to book a fantastic Business Class fare that included a couple of segments on the Qatar Airways A350-900.
My roundtrip Business Class fare between Stockholm and Singapore cost me just $1,284.83 and included a trip in Qatar Airways' 787 Business Class cabin before I connected to the A350 in Doha.
Qatar Airways A350-900 Business Class Cabin & Seats (Non-Qsuite)
The Qatar Airways A350-900 Business Class cabin has 36 seats set out across 9 rows in a 1-2-1 layout, so all seats offer direct access to the aisle.
The absence of overhead bins down the center of the Business Class cabin gives it a real sense of space…..
…and the mood lighting in pink and light blue adds ambience too.
The seats on this aircraft are very similar to those on the Qatar Airways 787 Dreamliner but there are some small differences that I'll point out in the course of this review.
The center pair of seats angle towards one another and are the better choice for travelers who wish to talk to each other during the flight….
….but the large divider that can be raised between these seats means that they're not bad for solo travelers either.
The solo seats on either side of the aircraft angle towards the aircraft hull….
…and come with a fixed entertainment screen that sits directly ahead of the passenger and, usually, at least 2 full windows out which you can gaze.
The seat controller allows passengers to set the seat to pretty much any angle of recline….
….and, ultimately, forms a good-sized lie-flat bed.
The space where a passenger's feet go when the seat is in lie-flat mode is under the entertainment screen….
….and is probably the most controversial aspect of the A350's Business Class seat.
The space is not very big and I've heard quite a few passengers complain that it's too confining.
I'm exactly 6ft tall and wear size 10-11 shoes and I don't have issues with this seat (I can't say the same for Qatar Airways' older A340 and A330 seats) so your mileage may vary (as the saying goes).
One thing that isn't controversial in any way is the amount of personal storage space the Qatar Airways A350 Business Class seat gives passengers.
At shoulder height and to one side of the seat there's a sizeable shelf which sits just ahead of the complementary bottle of water that's waiting for each passenger when they board (on the 787 the water bottle is stored in the armrest on the aisle).
There's a further shelf ahead of the one I've just mentioned….
….and under this shelf is a storage compartment that's big enough to hold a 15" MacBook and a host of accessories.
The arm rest on the aisle can adjusted (up and down) and opens up to reveal another storage area…..
…which is where Qatar Airways stores the complimentary headphones.
At floor level (and built into the shell of the seat ahead ) is a small drawer which is just about big enough to take a pair of size 11 sneakers.
The tray table is stored under the entertainment screen….
…and opens up in two stages….
It's huge!
The in-flight entertainment remote control is built into the rearmost of the two shelves…..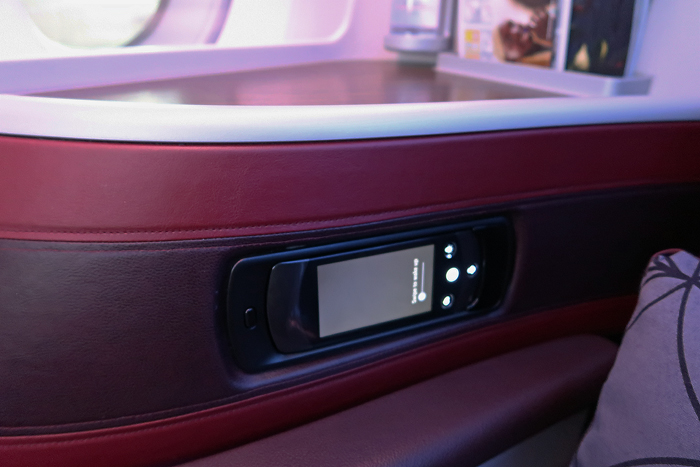 …the seat controls and headphone socket are a little further forward and built into the further forward of the two shelves…..
…..while the universal power outlet and USB socket are just above the storage compartment under the windows (on the 787 Dreamliner the USB socket is built into the rearmost shelf)
Above the seat are two lights (controlled from the entertainment remote control) and two air vents.
These can come in particularly useful on Qatar Airways as I find the airline has a tendency to keep its cabins on the warm side.
Lastly we have the windows.
These are larger than the windows you'll find on some of the older aircraft but, unlike the 787, the A350's windows have physical shades.
The 787's dimmable windows are definitely cooler.
Business Class Cabin & Seat Verdict
Some people complain about the footwell area on this aircraft (and on the 787) but, as someone who got a few hours of very good sleep on this flight, I have no such issues.
My favorite position in which to sleep is on my front and this is one of the harder positions in which to get comfortable in a lot of Business Class seats….but I was more than happy on this flight.
There's a lot of personal and storage space all around the seat, it's extremely comfortable whether you're seated bolt upright and working or reclined and relaxing and, when in lie-flat mode, the space around a passenger's head and shoulders is more than enough to ensure that there's no feeling of being restricted or penned in.
This isn't my favorite non-suite Business Class seat in the world….but it's towards the top of my list.
Qatar Airways Business Class Amenities
The primary amenities offered by Qatar Airways are usually waiting at your seat when you board.
Items like a bottle of Evian water…..
….a sizeable pillow and plush blanket…..
…and a hard-case Bric's amenity kit.
The pillow was very comfortable and the blanket was one of the best I've ever had on an aircraft.
It's big enough to cover most passenger sizes quite comfortably and, on one side it looks like a regular airline blanket….
…while on the other it's soft and plush.
The Bric's amenity kits come in a variety of colors (you'll see quite a few colors on offer on just one flight) and, on this occasion, I was given one which was turquoise/light blue:
You won't find the more mundane items like a toothbrush or a razor in a Qatar Airways amenity kit as the airline offer these in the bathrooms.
As this was a night flight the crew came around with pajamas and slippers before take-off…
…and, as always, I requested a size of pajama that's clearly too large for me.
As I mentioned earlier, Qatar Airways cabin crew have a tendency to keep the Business Class cabin a little warm so a loose-fitting pair of pajamas is great for making sure you don't overheat….although you may look a little comical when you emerge from the bathrooms and walk back to your seat.
Qatar Airways Business Class Amenities Verdict
The pillow and blanket are among the best you'll find in any Business Class cabin and, now that I think of it, I'm, not sure there's a First Class blanket out there that noticeably better than this one.
The amenity kit is fine but nothing to get too excited about.
The contents are reasonable (not that I ever really use them!), the case is very popular with Joanna (I don't ask what she does with the ones I bring home) and I like that there's a large selection of colors….that appeals to the geeky collector in me.
The pajamas are comfortable but be aware that they shrink very easily if you take them home and wash them….even if you put them on a cold wash.
Overall Qatar Airways offers a solid set of amenities and you'd have to have your expectations set on the unreasonably high side for them to disappoint.
Qatar Airways Business Class Food, Drinks & Service
Things started well on this flight and continued that way for the duration.
Shortly after boarding the cabin crew came through the cabin to take drink orders, and, shortly after that, to pass out food and drink menus.
Dining Menu
Drinks Menu (click to enlarge)
Note: This flight departed Doha at 02:20 so the meals served onboard were designed around that departure time – i.e they were light and didn't come as a multi-course offering.
It took less than a couple of minutes for a very charming Iranian flight attendant to bring me the Brut Champagne I had ordered along with a hot towel (I could have had a cold towel if I wanted to).
Shortly after take-off drinks were refilled (I could have chosen a different drink had I wanted to) and my meal order was taken.
Qatar Airways offers a dine-on-demand service which is something every airline aspiring to a world-class Business Class product should offer – it means passengers can eat when they want to and not when the airline says they should eat.
As this was a night flight, and as I wanted to get as much sleep as possible before landing in Singapore, I asked for my meal to be served as soon as possible.
Around 15 minutes after take-off I my grilled chicken satay with cashew nut sauce, ketupat rice and pickled red onion with cucumber was served.
The chicken skewers were nice but the rice was a little solid and tasteless…at least it until I introduced it to the satay sauce.
I'd had my fill of champagne by this point so I had ordered the always-excellent lemon/lime/mint drink that Qatar Airway offers:
If you like those ingredients you should definitely give this a try the next time you're in one of Qatar Airways' premium cabins – it's incredibly refreshing.
It didn't take long to for me to finish the late night snack (as Qatar Airways call this) and, as always, the remnants of my meal were removed promptly.
I had asked to be woken for breakfast but, around two hours out from Singapore, one of the flight attendants noticed that I was already awake so she asked if I'd like to have breakfast….which I did.
I started with a glass of orange juice and the platter of seasonal cut fruits….
…and, once that was cleared away, I was brought a bread basket with a croissant, a roll and a pain-au-chocolat….
….as well as some butter and my choice of conserves:
One of the flight attendants then took my hot drink order (a latte)…
…and gave me a choice of still or sparkling water.
Moments later my main course was served.
I had chosen the "plain omelet with grilled chicken patty, oven roasted tomato, asparagus and potato wedges" very deliberately as 99% of airlines cannot serve decent eggs at altitude and I wanted to see what Qatar Airways' attempt would be like.
The fresh fruit platter tasted…fresh, the contents of the breadbasket were all warm and fresh, and I always like having the option of a latte/cappuccino/espresso onboard.
The omelet was ok.
It wasn't great but as eggs on planes go it was one of the more reasonable efforts I've tried…and the introduction of some ketchup definitely helped.
The chicken patty was surprisingly flavorful and the potato wedges were pretty good so, all round, this was a pretty decent breakfast.
Business Class Food, Drinks & Service Verdict
The service was great on this flight….but it's no more than I've come to expect in Qatar Airways Business Class.
The flight attendants were smiley, cheerful, polite and, most importantly, efficient – the Iranian flight attendant that served me at least for half of the time was a real pleasure to interact with.
I've said this before but it bears repeating again – one of the best "tricks" the Qatar Airways Business Class attendants pull off is the one where they clear away after meals with incredible efficiency (so passengers can get on with working/relaxing/sleeping) without leaving the impression that they're hovering.
They've elevated this to an art form.
As for the food…
The light meal was acceptable but not exactly memorable and the omelet was the same.
It's great that Qatar Airways offers an espresso machine in Business Class, the champagne was good (the brut champagne that Qatar Airways offers is almost always a few levels above the rosé option) and the lemon/lime/mint drink was great but, overall, the food was not much better than average.
Qatar Airways A350 Business Class Entertainment & Wi-Fi
Everything about the in-flight entertainment onboard the Qatar Airways A350 was better than what I had sampled a few hours earlier on the airline's 787 Dreamliner.
The entertainment screen was a touchscreen….
….so, even thought there was a remote control available…..
….all the content could be selected directly from the screen….which worked very well.
Speaking of content….
The content on the A350 was a lot better than what was offered on my earlier Dreamliner flight.
There was a better choice of movies…
…and a better choice of TV shows and more episodes of the shows too.
The Qatar Airways A350 comes fitted with nose wheel and tail cameras and the feed from these can be viewed via the entertainment screen
During take-off and landing the view from the nose wheel camera was broadcast on the large screen at the front of the cabin.
The wi-fi is where I always have an issue with Qatar Airways
The Qatar Airways A350-900 comes equipped with overwater wi-fi but I didn't try it out…..and not just because this was an overnight flight and because I needed some sleep.
I really dislike how Qatar Airways charges for its wi-fi.
Qatar Airways charges for its wi-fi based on time and usage….
…or just by usage if you purchase the "ultimate" package.
I really don't like this way of charging for wi-fi because I have no idea how long 100MB/200MB will last me if I'm surfing the net or if I'm working on the blog. Will it last me the whole flight or am I going to find myself having to pay another $20 in two hours time?
It's even more annoying when I know that on the one occasion I tried the Qatar Airway wi-fi it was essentially unusable and when I know that a number of other airlines charge less than Qatar Airways and they guarantee unlimited access for the full entire flight.
Business Class Entertainment & Wi-Fi Verdict
Thanks to the way Qatar Airways charges for wi-fi I didn't try it out so I cannot really give a verdict on this flight….but the one time I've tried it in the past (on an A380) I wasn't impressed.
The in-flight entertainment was pretty good and a noticeable step up from what I was offered on the airline's Dreamliner.
The screen was good, the controller worked and the content was pretty good too…but that isn't going to stop me from offering the same piece of advice I always offer at this stage of a review:
You should never rely on an airline to keep you entertained onboard – plan ahead and load up your electronic device(es) with movies, shows and music that you like and they you're not at the mercy of whatever airline you're flying.
You can follow this link to a dedicated Qatar Airways page which will show you what entertainment you can expect on any upcoming Qatar Airways flights you may have.
Overall Verdict
The Qatar Airways A350-900 (non-Qsuite) Business Class cabin is one of the better non-suite Business Class cabins you'll find.
The seats are comfortable and the storage space on offer is impressive.
The quality of the pillow and blanket offered definitely helps to make resting/sleeping more pleasant and the service onboard is likely to be pretty good (possibly even excellent) – it's light years ahead of what most US/European carriers offer and it's better than quite a few Asian carriers too (e.g Cathay Pacific).
I've been an unabashed fan of Qatar Airways Business Class for a while and this flight just added to my feeling that it's on of the better offerings around.
The food may have been average and the wi-fi annoying but just about everything else was very good indeed.