---
Some links to products and travel providers on this website will earn Traveling For Miles a commission which helps contribute to the running of the site – I'm very grateful to anyone who uses these links but their use is entirely optional. The compensation does not impact how and where products appear on this site and does not impact reviews that are published. For more details please see the advertising disclosure found at the bottom of every page.
---
I tend to write about Qatar Airways quite a bit because it's an airline I fly a lot and an airline which can offer a relatively easy and economical path to top-tier oneworld status.
Before my latest trip to Australia I'd tried out and reviewed the Business Class cabins on almost all of Qatar Airways' wide-body aircraft (as well as on its narrow-body A320) but I'd never actually tried out the highly acclaimed Qsuite.
I've tried out the Qatar Airways A350-900 (which often comes with Qsuites) and I've even been booked to fly in a 777-300ER Qsuite cabin before a last minute aircraft swap saw me relegated to an older 777 aircraft (that was disappointing) but, for one reason or another, none of my many Qatar Airways flights have, up until now, given me the chance to try out the Business Class seat that many consider to be the best in the sky.
Fortunately the drought is finally over.
Earlier this week I flew in Business Class from Doha to London on a Qatar Airways A350-1000 and not only did that complete my set of Qatar Airways wide-body aircraft but it also allowed me to experience the Qsuite for the very first time.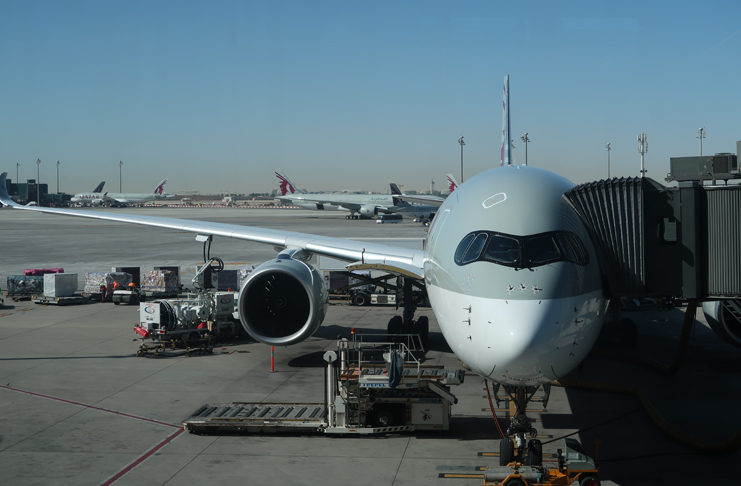 While a lot of people appear to love the Qsuites I've heard my fair share of travelers complain that they find them "claustrophobic" and "tight" so, as I boarded the A350, I was looking forward to finally finding out just what the Qsuites were like.
A full review of the A350-1000 Qsuites will follow in due course but, for now, here's a brief summary of my thoughts.
The Qsuites are not cramped, tight or claustrophobic but they're not incredibly spacious either.
I've flown in a few Business Class cabins where the seats felt tight and claustrophobic (some of the Business Class seats on the American Airlines 787-8 can feel like a coffin) and the Qsuite is nothing like any of those.
Besides, even if you find the closed Qsuite door confining there's absolutely nothing stopping you from leaving the door open for the duration of the flight – problem solved.
As a place to sit back and relax the Qsuite ticks all the right boxes….
…but that doesn't mean that it isn't without faults.
Compared to the seats you'll find on the Qatar Airways A380, Boeing 787 and the non-Qsuite A350s the Qsuites lack storage space.
There's a storage unit next to each Qsuite seat but it's not big enough to fit a lot of items that you'll fit into the units built into the other aircraft I just mentioned….and there's no shoe storage drawer either.
I've also heard a few people mention that the door on the Qsuite doesn't really offer much privacy at all but I have no idea where they get that impression.
If someone is walking by and chooses to look in over the door then, yes, clearly they'll be able to see what you're doing – the doors don't go up to the ceiling and the door comes up to the middle of my chest when I'm standing up – but the door still offers quite a bit of privacy from casual passers by and it offers complete privacy from other seated passengers.
It's also worth pointing out that the door isn't all about privacy – it's also about insulating the passenger from whatever other passengers are doing.
On a lot of aircraft (like the Qatar Airways A380) some seats get a full view of their neighbor's IFE screen and, for those of us who don't like wearing an eye mask, this can be a huge distraction when trying to get some sleep – this is a non-issue with the Qsuites.
As with a number of other Business Class cabins (like on the Iberia A330 and on the Etihad 777) there are subtle differences between some of the seats in the Qsuite cabin but the presence of the door makes the differences a lot less important than on other aircraft.
All the seats in the Qsuite cabin are protected from the aisle thanks to the door that comes with each seat so, despite the fact that some seats don't have a fixed table between them and the aisle, they're still perfectly ok….but that's wouldn't be the case had the door not been there.
When it comes to how comfortable the Qsuite is for sleeping I have to admit that I'm struggling to come to a conclusion.
I only experienced the Qsuite on a daytime flight so, although I made an effort to try out the seat in lie-flat mode and in different sleeping positions, it would be wrong to draw too many conclusions from this – I managed to get comfortable but I'm not convinced that I was as comfortable as I've been in other Business Class seats.
Bottom Line
I really, really liked the Qatar Airways Qsuite as a place to get some work done, a place to relax and a place to watch some movies….but I'm not convinced it's the best Business Class seat for a good night's sleep.
It's certainly not bad but I don't think it's the best either.
As a package the Qsuite is probably the best Business Class seat on the market right now and I'm struggling to understand a number of the criticisms I've heard of the seat….but it's not without its faults so don't expect perfection when you next get a chance to try it out.