---
Some links to products and travel providers on this website will earn Traveling For Miles a commission that helps contribute to the running of the site. Traveling For Miles has partnered with CardRatings for our coverage of credit card products. Traveling For Miles and CardRatings may receive a commission from card issuers. Opinions, reviews, analyses & recommendations are the author's alone and have not been reviewed, endorsed, or approved by any of these entities. For more details please see the disclosures at the bottom of every page.
---
Club Europe is the name that British Airways gives to the short-haul Business Class product offered on its flights within Europe, and last week I got to see what the current Club Europe product is looking like when I flew on a British Airways A320 to Sofia.
A bit of background
Because I'm more than happy sitting in an Economy Class exit row on most short-haul flights, the only time you'll usually find me in the Club Europe cabin is when I'm flying the short-haul leg of a long-distance Business Class booking (e.g. Dublin – London – Los Angeles, where the Dublin – London segment is flown in Club Europe), or when I need to catch a particular flight and there are no Economy Class award seats left.
On this occasion, however, I had a standalone booking for Club Europe to/from Sofia because I had managed to find a very good round-trip fare that I couldn't pass up.
£235 (approximately $295 at the time of booking) for a trip that earns 160 Tier Points is not a fare that I find easy to pass up… especially when it's to a destination with a great (and cheap) Hyatt (more on that in a separate review).
Check-in & the airport
There's really not much to say in this section as I checked in online and was only traveling with hand baggage, but it's probably worth mentioning that as this was a very early flight, I got to Heathrow T5 just as the First Wing security was opening (at the time of writing, it opens at 05:30) and found that as only one of the two scanners was staffed, there was a longer than usual wait to get through to the lounge.
I didn't really mind the extra wait (I was in no danger of missing my flight) and there was absolutely no chance that I was going to try my luck in a regular security line after what happened on my last trip through T5 (at almost exactly the same time of day).
The A320 Club Europe cabin
By design, the seats in most (possibly all) British Airways Club Europe cabins are no different from the seats that you'll find elsewhere on the same aircraft, because this allows British Airways to use a curtain to increase and decrease the size of its Club Europe cabins with a minimal amount of effort.
What this means for passengers is that the only difference between the seating in Club Europe and the seating in the rest of the aircraft is that in Club Europe, you get a blocked middle seat.
While this arrangement is great for the airline and good for anyone who needs a bit more space at shoulder level, it's not really great for passengers who value legroom.
If you're tall or have long legs, the standard Club Europe rows can start to feel cramped on longer short-haul flights.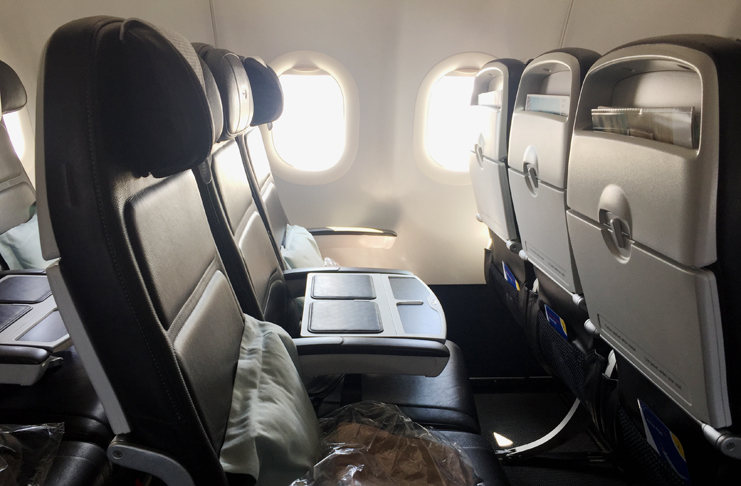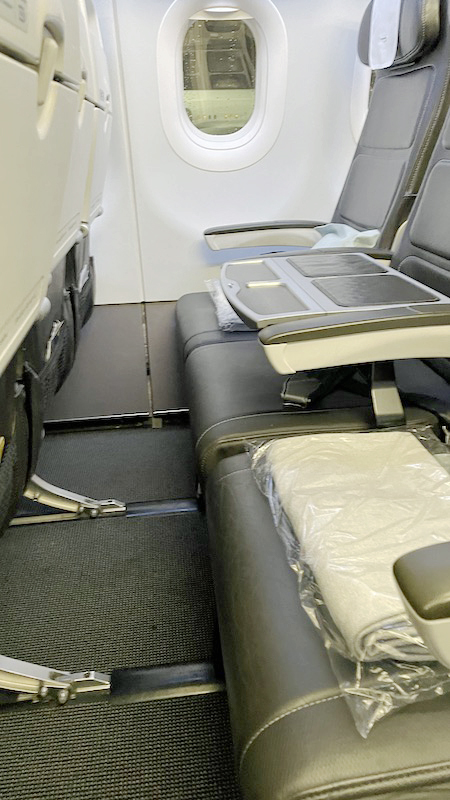 Also, not only can the lack of space between rows make life a little uncomfortable (for some), but it can also cause issues for passengers who'd like to do some work on their flight.
Because there's so little space between most of the rows on the A320, if the person in the row ahead chooses to recline their seat, someone trying to work on anything larger than a standard-size iPad in the row behind them, will struggle to keep their screen fully open.
I've faced this issue so many times that I've purchased an iPad cover that comes with a small keyboard to ensure that I don't have to stop working when the person in the seat ahead of me decides that it's time for a nap.
It's not a perfect solution, but it's better than having to work on a partially closed laptop screen.
If you're fortunate enough to be able to reserve a seat in row 1, some of these issues go away.
In row 1 there's no one ahead of you to recline their seat into your space and, usually, passengers seated in row 1 have a little more legroom than passengers seated elsewhere in the Club Europe cabin.
1C is usually the best seat in the house as the bulkhead doesn't extend all the way across the three seats and so legroom is improved even more.
On this particular flight, however, there was a better option than 1C because I got very, very lucky. In fact, I hit the British Airways Club Europe jackpot.
Demand for Club Europe was obviously high on this flight because the aircraft was configured with a larger-than-average premium cabin that extended as far back as the exit rows (rows 11 & 12), so, as I'll always choose extra legroom over proximity to the front, that's where I chose to sit.
In comparison to a standard Club Europe seat, this was heaven.
I had plenty of legroom (the exit row offers considerably more legroom than any other row on the aircraft), I had the seat next to me blocked, and because the seats in the row immediately ahead of the exit row cannot recline, there was no risk of anyone limiting my space when I got down to some work on my laptop.
I can't remember the last time I had the option of selecting an exit row seat when I was booked in Club Europe, but this was definitely one of the most comfortable Club Europe flights that I've had in a long time.
Power and wi-fi
Most (possibly all) British Airways A320s now offer onboard wi-fi and power.
Universal power outlets together with a single USB port are located under the seats ahead.
And the wi-fi service can be accessed by visiting shop.ba.com once you're connected to the "BAWi-Fi" network (if your device doesn't automatically route you to that page).
British Airways offered three wi-fi options on this particular flight…
… and for those who don't have a UK credit card or a credit card that doesn't charge foreign transaction fees, there's an option to change the currency that's used when you're charged for use of the onboard wi-fi.
If you're going to play around with the currencies, be careful because BA doesn't always offer a great exchange rate.
Right now, for example, you can choose to pay £9.99 or $13.99 for a full flight pass, and because the pound is so weak, choosing to pay in dollars is a poor deal for anyone who can pay in GBP without incurring additional charges.
At the time of writing, 1 GBP = ~1.17 USD so anyone using a US credit card that doesn't charge foreign transaction fees and who chooses to complete the transaction in GBP, will only get charged ~$11.69 when the transaction posts to their credit card.
Why pay $13.99 if you can get away with paying less? 😁
More importantly, I should point out that while connectivity on BA's Wi-Fi can be a little hit-and-miss (I've been disconnected more times than I care to remember), the speeds offered are usually pretty good and I find the service to be better than a lot of the services offered domestically in the US.
On this particular flight, I didn't get disconnected too often and I managed to get quite a bit of work done despite needing to upload and download quite a few documents and images.
Dining and drinks
This was a morning flight so breakfast was on offer and was served 30 minutes into the 3-hour flight.
No menus were provided but there was a choice to be made:
Mushroom omelet
Cold meat and cheese plate (continental breakfast)
Traditional breakfast (English breakfast)
I'd eaten in the lounge before boarding, so as I wasn't particularly hungry, I chose the continental option just to see what was being offered.
Mini croissants and bread rolls were also brought around so for someone just wanting a snack, this meal choice would have been fine.
For someone who hadn't yet eaten, however, this would almost certainly not be enough.
The drinks that were available included champagne (Nicolas Feuillatte), juices, tea, coffee, water, and sodas, and while that's more than enough choice to be given, it was a little disappointing to see that BA continues to serve Club Europe hot drinks in a paper cup – that's neither "premium" nor particularly eco-friendly (cue people in the comments telling me that the whole flight wasn't eco-friendly!)
The food was average, but the service was very good, and unless I was imagining things (I don't think that I was), we had a 2-trolley service. One trolley started from the front of the aircraft and the other started from the back of Club Europe, so the whole service was pretty efficient – there were just 35 minutes between the service starting and a flight attendant removing my tray.
Drinks were offered on a number of other occasions during the 3-hour flight and a snack basket with chocolates, cookies, and chips (crisps) was brought around the cabin around 30 minutes before we landed.
A bonus section
I flew back to London from Sofia in Club Europe a few days later and as this was an afternoon flight, lunch was being served.
For obvious reasons, I'm not going to review that flight separately, but for anyone wondering what BA is currently serving for lunch in Club Europe, this is what was on offer:
Beef cottage pie
Sri Lankan Aubergine curry
Ham Hock cold plate
I had the beef cottage pie, which tasted better than it looked and which, rather oddly, didn't look like any cottage pie that I've had in the past.
The cottage pie was fine (despite appearances), and the dessert was pretty good (despite being served in a plastic ramekin), so as short-haul airline food goes, this meal was ok.
You wouldn't be happy if you were served this in a restaurant, but at 32,000ft, it was acceptable. I've suffered far worse!
As you'd expect, drinks were freely available on this flight too with the crew doing a very good job of making sure that top-ups were frequent and that passengers weren't waiting too long to be served.
Overall, the food served on my two British Airways Club Europe flights was ok but far from stellar.  It's definitely edible, but anyone unaware of what European short-haul Business Class is like and hoping for something special will be disappointed.
In summary
A Club Europe fare gives passengers access to airport lounges, a guaranteed empty seat next to them, complimentary food and drinks on board, boosted Avios and Tier Point earnings, but not much else.
The seats in Club Europe offer the same legroom as the standard Economy Class seats and they offer the same amount of width so the exit row seats or seats in row 1 are the ones to aim for if they happen to be available.
For infrequent flyers who don't hold elite status and who are looking to "treat" themselves, the combination of lounge access, dedicated Business Class check-in desks, priority boarding, and attentive onboard service may be enough to justify paying for Club Europe every now and again, but for a lot of people (especially those who hold an elite status that gives them a lot of the benefits of Club Europe), this isn't a product that offers great value.