---
Some links to products and travel providers on this website will earn Traveling For Miles a commission that helps contribute to the running of the site. Traveling For Miles has partnered with CardRatings for our coverage of credit card products. Traveling For Miles and CardRatings may receive a commission from card issuers. Opinions, reviews, analyses & recommendations are the author's alone and have not been reviewed, endorsed, or approved by any of these entities. For more details please see the disclosures found at the bottom of every page.
---
American Airlines offers a Premium Economy cabin on most of its long-haul fleet and this is a review of the airline's product on its Boeing 777-200 aircraft flying between London Heathrow and Los Angeles. With a flying time scheduled at well over 10 hours, there was plenty of time to get a good sense of what the American Airlines Premium Economy cabin and service are all about.
American Airlines 777-200 Premium Economy Cabin
The Premium Economy cabin in the American Airlines 777-200 is made up of just three rows of eight seats set in a 2-4-2 layout.
All three rows in the cabin are aligned and unlike in the airline's 777-300ER aircraft, there is no exit row here so the cabin's first row doesn't offer anywhere near as much room as you'll find in the first row of the Premium Economy cabin on the larger aircraft.
Also, where the 777-300ER's Premium Economy cabin is separated from Business Class by and exit row and a block of lavatories, the 777-200 only has a small wall and some curtains dividing the top and middle cabins.
Premium Economy Cabin Verdict
If you're seated in one of the seats on either side of the aircraft the cabin feels relatively airy but from one of the central seats, there's not a great sense of space. With just three rows this is one of the smaller cabins you'll find on a transatlantic wide-body aircraft, but the fact that there are 8 seats across the cabin and 24 seats in total, means that this is still a cabin more closely related to Economy than anything higher.
American Airlines 777-200 Premium Economy Seats
The seats in this cabin are 19″ wide and offer 38″ of pitch (legroom) and are a big improvement on the considerably tighter conditions you'll find a few rows back in the Economy Class cabin.
A key difference between the seats in the Premium Economy cabin's second and third rows and the seats in the first row is that the bulkhead seats come fitted with full extendable leg-rests…
…while the other rows have seats with footrests that extend from under the seat directly ahead.
Storage space is at a premium around these seats. There's a magazine rack (full of magazines) and small netted pouch on the back of the seat directly ahead…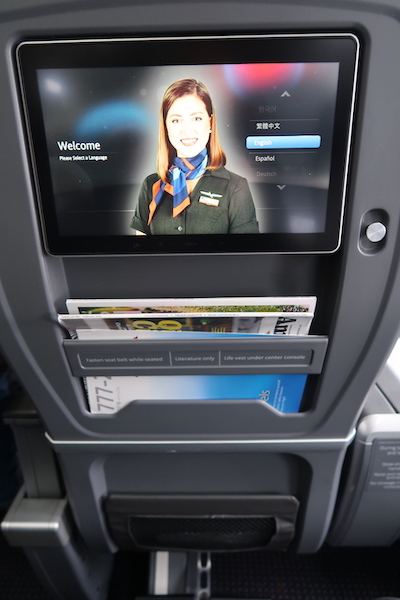 …and there's a small storage space hidden away under the center armrests (you have to raise the top panel of the armrest to access it properly).
Overall there's probably just enough storage around the non-bulkhead seats to keep most people happy – the netted pouch will hold most personal electronic devices (although not many at one time) and the storage area under the center armrest is big enough to store small handheld devices, books (as long as they're not too thick), cables and other small items….and there's always the area under the seat ahead where you can store a small bag.
In the bulkhead seats, the story is a little different as there's no netted pouch directly ahead and there's nowhere to store a small bag (because there's no seat ahead of you) so these seats have considerably less space for passengers to store the personal items they'd like to keep close to hand. If you like to keep a lot of items near you when you travel, bear this in mind when selecting your seats.
The seat's universal power outlet, the USB socket, and the headphone jack are all to be found in the storage area under the armrest…
…and, for added comfort, the armrests on the aisles can be raised…
…or lowered.
It's also in these armrests that American has hidden away the tray table.
The tray table can open out to act as a small drinks table…
…or it can be opened up to its full extent at which point it's a little larger than a 15″ Macbook.
If you're sitting in one of the aisle seats you'll find that although the legroom is fine, there's a verticle bar under the seat ahead which can get in the way if you want to stretch out your legs (the window seats didn't appear to have this issue).
To stretch out properly you have to angle your legs towards the middle of the seats ahead of you and although this isn't a critical issue, if you or the person seated next to you want to use the under-seat area to store a bag of any size, you may find the space for your feet is slightly restricted.
Last but not least it's worth mentioning that the seats in the 777-200's Premium Economy cabin all have air nozzles above them so passengers have some degree of control over how hot or cold their seat areas are.
This can be especially useful on night flights where some crews have a habit of overheating the cabin.
Premium Economy Seat Verdict
The seat is comfortable to sit in, the recline is good but not great and, overall, the seat is not a bad place to spend a daytime transatlantic flight. The seats in the first row of the cabin are ones to avoid if you're tall and like to stretch out your legs, and with the limited amount of storage space around them they're also not ideal for anyone traveling with a lot of personal items they want to keep close to hand.
I spent well over 11 hours in this seat (from boarding to disembarking) and it served its purpose for me. I felt fine at the end of my journey, I didn't feel penned in or like I was lacking space and there was adequate space between the seats to ensure that my neighbor and I didn't feel like we were being pushed together.
There's nothing special about this seat but it's a considerably better place to pass a flight than the Economy Class seats just a few rows away.
American Airlines Premium Economy IFE
In the first row of the Premium Economy cabin, the IFE screens are housed under the armrests but in all the other rows the screens are built into the seat ahead.
The screens are a good size and can be tilted to a significant degree so passengers can adjust their viewing angle when the person ahead chooses to recline their seat.
There's a remote control housed in the center armrest that can be used to navigate the entertainment menus…
…but the touchscreen functionality works well enough that the remote control isn't generally required.
The entertainment selection that American Airlines offers onboard its long-haul flights is generally pretty good and it's the same regardless of which cabin you're sitting in. There's a good selection of recent movie releases, TV shows (although there are only a few episodes of each show so don't expect too many box sets)…
…a varied selection of music…
….and a few games that can be played using the remote control.
There are also 4 channels of "Live TV" on offer……
….but I have yet to get these to work on any of the transatlantic flights on which I've attempted to watch them.
Premium Economy IFE Verdict
The "live TV" is a feature I have yet to be able to try out so all I can say about it is that no one should be banking on being able to use it (let me know in the comments if you've had better luck than me). The entertainment selection is good, although the low number of episodes of each TV show was a little disappointing.
Overall the IFE was fine…but then I say that as someone who always brings more than enough of his own entertainment with him so my needs from the onboard system are relatively limited.
American Airlines Wi-Fi
Wi-Fi on American Airlines international flights costs between $12 and $19 depending on how long you'd like to have wi-fi access but the service can be very patchy.
I don't think I've even taken a transatlantic flight on American where I found the wi-fi service to be good throughout – it has varied between being acceptable (slow-ish but only a few dropped connections) to outright abysmal where it made any attempt to get some work done, futile. On this trip, the level of service fell somewhere in the middle.
American Airlines Premium Economy Amenities
Premium Economy passengers generally find all the amenities the airline offers waiting for them at their seat when they board.
The package on the seat contains a "sleep set" which includes a good-size pillow…
…and a blanket both made by Casper.
There's also an amenity kit containing socks, an eye mask, earplugs, a toothbrush & toothpaste, and skincare products by Baxters.
Right now, this is what the American Airlines Premium Ex
The amenities are rounded off by a pair of headphones which, although they look fine,…
…provide truly terrible sound quality. As I've said before: Just as you should never rely on an airline to keep you entertained in the sky (bring your own movies, TV shows, and music pre-loaded on your devices) you should also never rely on an airline to supply you with good quality headphones. Bring your own!
Premium Economy Amenities Verdict
For a Premium Economy cabin, the amenities are fine. You get an amenity kit with the more important items in it and the blanket and pillow were more than acceptable. The one noticeable negative was the quality of the headphones which were truly terrible and have no place in any cabin with the word "premium" in its name.
Overall it's hard to find too much wrong with what's on offer for a daytime flight.
American Airlines Premium Economy Food, Drinks & Service
Menus and water bottles were handed out by the flight attendants shortly before the aircraft pushed back.
The crew handed out bags of mini pretzels 25 minutes after takeoff…
…and 10 minutes later, a drinks cart was brought through the cabin offering all the drinks on the menu.
An hour after takeoff, lunch was served and the flight attendant working my side of the aircraft correctly noted that I had pre-ordered my meal a few days beforehand. The meals in Premium Economy are served on a single tray, but the presentation and the tableware is a noticeable step up from what is used in Economy Class – all the food items are served on china and the cutlery is made from metal.
The starter consisted of "seasonal greens" with sundried tomatoes and parmesan cheese…
..and a small bottle of olive oil mixed with balsamic vinegarette was provided on the side.
The salad was very dry so the olive oil and balsamic were needed to male it a little more palatable…but the olive oil had solidified in the bottle so I was left with just the balsamic vinegar. That wasn't the best of starts to a meal.
For my main course, I had ordered the grilled chicken breast with cream sauce, lentils, and green beans.
The chicken was nice, well cooked and not at all dry. The lentils were pretty good too (they tasted a lot better than they look in the images) but the beans were rubbery and a noticeable weak spot of the course.
I didn't try the crackers, bread, or the cream cheese that came served on the tray…
…but I can report that the chocolate caramel truffle that was served for dessert tasted a lot nicer than it looked.
The flight attendants served drinks at the start of the meal and came through the cabin part-way through the meal to see if any of the passengers needed a top-up and, once again, all drinks on the menu were available for selection.
The most pleasing aspect of the meal service was the efficient and pleasant way in which it was carried out. All the flight attendants were smiley and personable throughout and my tray was cleared away within 10 minutes of having finished my meal. That was good work by the crew.
A few minutes after the trays were cleared away, the flight attendants came through the cabin with coffee and tea which, as usual, were offered in paper cups. Paper cups are not particularly "premium" and they're not very good for the environment so I really wish American would take steps to cater these flights with china cups for the Premium Economy cabin.
20 minutes after the hot drinks were served, the cabin lights were dimmed and passengers were left to rest, work or enjoy whatever entertainment they had available.
Almost exactly 3 hours later, the flight attendants reappeared in the cabin serving small tubs of vanilla ice cream (there was no other flavor alternative) and offering passengers drinks from the bar or their choice of tea or coffee.
Another 4 hours passed (during this time the flight attendants came through the cabin a few times to clear away any trash and to check that none of the passengers wanted anything) and, a little over an hour before we landed, the cabin lights were raised and a light meal was served.
The main part of the light meal was a pomegranate and feta salad with chopped tomatoes, cucumbers, arugula, pitta chips, white beans, chopped walnuts, and something called "sumac garnish" (I had no idea what this was until I googled it).
If I could, I'd ban the use of arugula worldwide as I find it to be a truly hateful "green" so finding it in my salad wasn't ideal. The pitta chips were soggy and, once again, the olive oil had solidified in its container. Other than that, the salad was ok 🙂
Alongside the main salad was a melon plate which tasted crisp and fresh…
…and the "Pots" 70% ganache (which I'm pretty sure British Airways once served in Economy Class) was pretty good too.
I finished the light meat was over approximately 50 minutes before we landed and the flight attendants were, again, great at clearing up the remnants in an incredibly efficient fashion.
Premium Economy Food, Drinks & Service Verdict
The flight attendants were great. I'm often saying that the level of service you'll get on American Airlines is very hit and miss (that's still true) but on this occasion it was a definite "hit".
All the crew I saw and interacted with were pleasant, amiable, polite, and efficient and it's hard to ask much more of them. They seemed genuinely interested in providing a good level of service and there wasn't even a hint of the kind of "attitude" that has sadly become more prevalent in recent years.
Overall, the food was fine if nothing special. The presentation and quality were noticeably better than what you can expect to get in Economy Class…but that isn't a particularly high bar to clear. Amerian Airlines should definitely work on removing paper cups from its Premium Economy offering (there's nothing premium about a paper cup) but the tableware used for the rest of the meal was actually pretty nice.
Bottom Line
There's nothing great, amazing, or fantastic about the American Airlines Premium Economy product but it's definitely a noticeable improvement (in all areas) on what you'll find in Economy Class. The seats are better padded, there's more personal space, the service levels are better and you should arrive at your destination in considerably better shape than you would if you had to endure the same flight in a packed Economy Class cabin.
As long as you appreciate that Premium Economy isn't a small step down from Business Class but, instead, is a reasonable step up from Economy Class, you won't be disappointed.
Link to a review of the American Airlines 777-300ER Premium Economy product