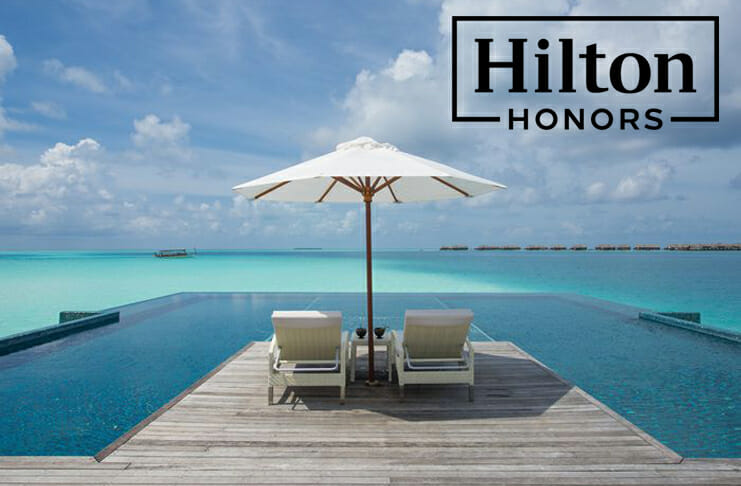 ---
Some links to products and travel providers on this website will earn Traveling For Miles a commission which helps contribute to the running of the site – I'm very grateful to anyone who uses these links but their use is entirely optional. The compensation does not impact how and where products appear on this site and does not impact reviews that are published. For more details please see the advertising disclosure found at the bottom of every page.
---
Hilton is the first program to open up registration for its second major points promotion of 2019 and with no gap between the first promotion and this new one there's no let-up in points earning opportunities for Hilton Honors members.
'Go More, Get More Points' – Headline Terms & Conditions
Offer valid for stays completed May 6, 2019, through September 8, 2019 at any hotel or resort within the Hilton Portfolio.
Hilton Honors™ members must first register at HiltonHonors.com/GetMore prior to completing a stay within the Promotion Period.
Registered Hilton Honors members checking in before May 6, 2019 will receive credit for their stay if the stay is completed after May 6, 2019 and prior to or on September 8, 2019.
Registered Hilton Honors members will earn double Hilton Honors Bonus Points beginning on their second stay during the Promotion Period, as well as an additional 10,000 Bonus Points upon completion of 10 stays, an additional 15,000 Bonus Points upon completing 5 more stays (for a total of 15 stays), and an additional 20,000 Bonus Points upon completing 5 more stays after that (for a total of 20 stays).
There is no limit to the total amount of Bonus Points that may be earned during the Promotion Period with this offer.
There are restrictions on the amount of Base Points that can be earned on a single stay at certain brands.
Link to the promotion page and the full terms and conditions
What The Bonuses Mean
Under Hilton's promotion rules it's only base points which are doubled (elite bonuses remain the same) so, after the first stay, this is what Hilton Honors members can expect to earn during the summer promotion:
Honors Members – 20 points/dollar
Silver Elite Members – 22 points/dollar
Gold Elite Members – 28 points/dollar
Diamond Elite Members – 30 points/dollar
If you're not already a Hilton Honors member you can sign up for free via this link
As I value Hilton Honors points at 0.4 cents each the earnings set out above work out to an approximate effective rebate of 8%/9%/11%/12% depending on a member's status level.
As far as the additional bonuses go here's what they look like in monetary terms based on my valuation of 0.4 cents/point:
10 stays – 10,000 bonus points = $40
15 stays – 15,000 bonus points = $60
20 stays – 20,000 bonus points = $80
The stays are cumulative so an Honors member can earn an effective rebate of up to $180 courtesy of the additional bonuses being offered.
Thoughts
I like that Hilton is keeping up with its recent trend of ensuring there's no break between promotions – this way there's no chance that a guest's stay will fall between two offers and 'cheat' them out of bonus points.
What I don't like is that Hilton has adopted a Marriott-like stance to its summer promotion which sees the first stay during the promotion period earning no bonus at all.
It's a slight comfort that award bookings count for the purposes of this promotion so a cheap points stay early in the promotion period can be used to get you on the path to double points sooner rather than later.
The bonus points for 10/15/20 stays may be nice for Hilton loyalists who spend a lot of time on the road but they're not anywhere near valuable enough to be a reason for travelers to go out of their way to push more stays to Hilton's.
It's also worth noting that the bonus offers are also likely to benefit business travelers over leisure travelers as business travelers usually make multiple short stays while leisure travelers generally only make one or two stays but the stays are longer in length (a one night stay gets an Honors member as close to the next promotion target as a seven night stay).
Bottom Line
This may not be the most inventive of promotions but it's not a bad one either.
The hurdle of the first stay not counting is annoying and the bonus points for numerous stays is just a distraction but the opportunity to earn double points is good and the fact that we have 4 months in which to do so is pretty nice too.
Register for Hilton's latest promotion via this link