---
Some links to products and travel providers on this website will earn Traveling For Miles a commission that helps contribute to the running of the site. Traveling For Miles has partnered with CardRatings for our coverage of credit card products. Traveling For Miles and CardRatings may receive a commission from card issuers. Opinions, reviews, analyses & recommendations are the author's alone and have not been reviewed, endorsed, or approved by any of these entities. For more details please see the disclosures found at the bottom of every page.
---
If you're booking a domestic premium cabin ticket, finding out that a route you plan to travel on is being operated by a long-haul aircraft can feel like you've won a pretty good prize in a lottery.
I've been known to get a bit over-excited when I've managed to book a Business Class seat on a widebody aircraft on a domestic route (after having expected to be booking a standard domestic First Class cabin), so I'm expecting the news that American Airlines is going to offer its premium cabin flyers yet more opportunities to fly to/from Miami in comfort, to go down very well.
American's Miami Dreamliner Flights
In this weekend's schedule update, American Airlines has confirmed that it will be operating its Boeing 787-8 Dreamliners on 4 domestic routes out of Miami starting in the fall. From 25 October, this is what the schedule looks like on 3 of the routes in question:
Miami – Dallas/Ft. Worth
American Airlines operates 12 daily flights between Miami and Dallas/Ft. Worth and, from 25 October, one of these flights will be operated by a Boeing 787-8 Dreamliner on the following schedule:
AA2902 MIA 10:25 – 12:27 DFW (Daily)
AA1366 DFW 17:10 – 21:05 MIA (Daily)
For completeness (this isn't new information), I should also mention that American Airlines operates one of its other daily flights between Miami and DFW with a Boeing 777-200 which, in my opinion, offers an even better Business Class cabin than the Dreamliner.
AA2902 MIA 16:55 – 18:59 DFW (Daily)
AA1366 DFW 10:25 – 14:17 MIA (Daily)
Miami – Los Angeles
American Airlines operates 9 daily flights between Miami and Los Angeles (LAX) and, from 25 October, one of these flights will be operated by a Boeing 787-8 Dreamliner on the following schedule:
AA2289 MIA 19:35 – 22:15 LAX (Daily)
AA1314 LAX 23:05 – 07:23+1 day MIA (Daily)
As with the Dallas/Ft. Worth route, American Airlines currently also has a Boeing 777-200 scheduled to operate between Miami and LA:
AA1228 MIA 09:00 – 11:34 LAX (Daily)
AA1297 LAX 13:10 – 21:27 MIA (Daily)
Miami – Philadelphia
American Airlines operates 6 daily flights between Miami and Philadelphia and, from 25 October, one of these flights will be operated by a Boeing 787-8 Dreamliner on the following schedule:
AA1312 MIA 16:09 – 19:05 PHL (Daily)
AA304 PHL 17:50 – 20:55 MIA (Daily)
Unlike the other two routes I have mentioned so far, there is no other scheduled American Airlines widebody service between Miami and Philadelphia.
I have separated out the fourth route on which American Airlines proposes to offer a Dreamliner service out of Miami because the service will be very short-lived.
Miami – Chicago O'Hare
American Airlines operates 9 daily flights between Miami and Chicago O'Hare and, for the brief period between 17 December 2020 and 5 January 2021, the airline will replace a Boeing 737 with a Boeing 787-8 Dreamliner on this set of flights:
AA1495 MIA 06:45 – 09:08 ORD (Daily)
AA219 ORD 12:00 – 16:04 MIA (Daily)
Thoughts
There are three key reasons why the appearance of the Dreamliner on 4 more domestic routes represents good news:
Vastly Improved Premium Cabin Seating
Although the seats in premium short-haul cabins are clearly better than the seats in Economy Class, the seats in long-haul Business Class cabins are on a completely different level and can easily be the difference between an ok/good flight and a great flight.
The Dreamliner offers a very modern Business Class cabin with all-aisle-access lie-flat seating that's great for getting some work done or for resting between cities. Ironically this aircraft probably offers the weakest Business Class cabin out of American's widebody fleet…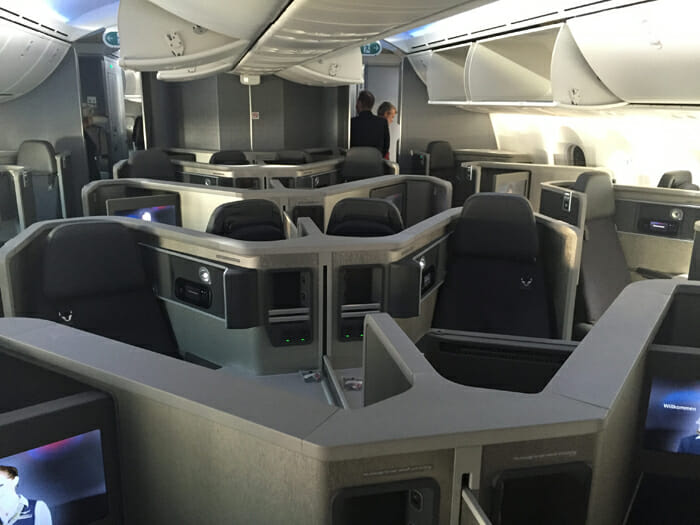 …but it's still vastly better than the premium cabins you'll find on most of American's short-haul aircraft.
Improved Upgrade Chances
Where the aircraft that the Dreamliner is replacing mostly offer 16 domestic First Class seats, the Dreamliner offers 20 international Business Class seats and while that may not sound like a big difference, 4 more seats in the front most cabin can easily be the difference between getting that elusive upgrade or sitting in the back.
Technically, the extra 4 seats in the frontmost cabin should also make it easier to snag award seats but considering how stingy American Airlines is with award availability, I wouldn't count on this being the case.
Better Seating For Elite Economy Class Flyers
While it's true to say that more of the benefits of flying in a long-haul aircraft on a domestic route are to be found in the frontmost cabin, there's also a benefit to be had for elite flyers booking into Economy Class.
The American Airlines 787-8 has 28 Premium Economy Class seats which the airline doesn't sell as a separate cabin…
…and which flyers with oneworld sapphire elite status can reserve for free at the time of booking when paying for a regular Economy Class fare:
The difference in comfort levels between a short-haul Economy Class seat and the Premium Economy seat on the Dreamliner is significant, so being able to reserve one of these seats at no additional cost when flying on an Economy Class fare is a very nice option to have.
Bottom Line
As of 25 October, American Airlines will be adding daily Dreamliner service to 3 of its domestic routes and, for a short period at the end of the year, a 4th route will get Dreamliner service too. This is great news for flyers who book premium cabin fares on these routes and who ordinarily have to settle for the usual short-haul First Class product. It's also good news for elites flying in Economy Class who now have the option of reserving a Premium Economy seat at no additional cost.
[HT: Routes Online for the schedule update]