---
Some links to products and travel providers on this website will earn Traveling For Miles a commission that helps contribute to the running of the site – I'm very grateful to anyone who uses these links but their use is entirely optional. The compensation does not impact how and where products appear on this site and does not impact reviews that are published. For more details please see the advertising disclosure found at the bottom of every page.
---
It seems long ago than February but it was only three months ago that United, together with American, Delta, and Hawaiian, applied to the US Department of Transport to operate the new Tokyo Haneda slots that are up for grabs.
The US DoT has just 12 slots it can bestow upon the carriers it thinks will use them best (in the interest of consumers) but, between them, the US carriers applied for 19 so that left the DoT with some decisions to make.
Well, the DoT has now tentatively announced which airlines will be getting the new slots at Tokyo Haneda and this is how the department's decision looks:
Delta
Delta originally applied for 6 new Tokyo Haneda slots and the DoT has awarded it 5.
Atlanta – Haneda (daily)
This route will be operated by Delta's refurbished Boeing 777-200ER aircraft which offer the new Delta One suites, the new Delta Premium Select cabin and the widest Main Cabin seats of any aircraft in Delta's international fleet.
Detroit – Haneda (daily)
The Detroit – Haneda route will be operated by Delta's new Airbus A350-900 which offer a 3-cabin layout of Delta One suites, Delta Premium Select and Main Cabin.
Honolulu – Haneda (daily)
The Honolulu – Haneda service will be flown using Delta's Boeing 767-300ER aircraft which, per Delta, is currently being retrofitted with a new cabin interior and in-flight entertainment system. That's just as well as these are amongst the oldest aircraft in Delta's fleet.
Portland – Haneda (daily)
This route will be flown using Delta's Airbus A330-200 aircraft, which feature 34 all-aisle-access Business Class seat in a reverse herringbone layout.  There's no Premium Economy cabin on this aircraft so the remaining seats are broken down into 32 in Delta Comfort+ seats and 168 standard Main Cabin seats.
Seattle – Haneda (daily)
Delta will operate the Seattle – Haneda route using an aircraft it hasn't yet had delivered – the new Airbus A330-900neo. This aircraft will offer a 4-cabin layout with Delta One suites, Delta Premium Select, Delta Comfort+ and Main Cabin seating.
What Delta Didn't Get:
Delta had originally applied to operate a twice-daily service between Honolulu and Haneda but the DoT decided that one flight was sufficient.
United
Like Delta, United had applied to operate six new flights to Tokyo Haneda but, unlike Delta, all 6 of United's proposed flights were from different cities.
Tentatively, the US DoT has awarded United 4 of the 6 slots it requested.
United hasn't been particularly detailed with the information it has provided so far so all we really know is the aircraft type (and not necessarily the aircraft layout) that we can expect to operate the new routes.
Newark – Haneda (daily)
Chicago O'Hare – Haneda (daily)
Washington Dulles – Haneda (daily)
United plans to operate these routes using its 777-200 aircraft. The airline hasn't said which version of its 777-200 aircraft will be used on these routes (there are a few different cabin layouts) so it's unclear if they will offer true Polaris Business Class and United's new Premium Economy cabin or if customers will be subjected to antiquated interiors.
Los Angeles – Haneda (daily)
The LA – Haneda route will be operated by United's 787-10 Dreamliners so passengers on this route will be getting the real Polaris Business Class cabin (with all-aisle access seating) in an aircraft layout which offers 44 Business Class seats, 40 Premium Plus (Premium Economy) seats, 54 Economy Plus sets and 199 standard Economy Class seats.
What United Didn't Get:
The two routes that United applied for and failed to get were from Houston and from Guam. The DoT appears to have been reluctant to issue a valuable Haneda slot to a short-haul leisure route like Guam and I suspect that the Houston route was rejected because United indicated it was quite low down its list of priorities.
American Airlines
American applied to the US DoT for 4 of the new Haneda slots and was successful in getting just 2.
Dallas Ft. Worth – Haneda
American Airlines will operate its new DFW – Haneda route using its 777-200 aircraft so the new route will not be getting the airline's First Class cabin.
American's 777-200s all now offer the airline's new Premium Economy cabin and all offer Business Class cabins with all-aisle-access seating.
Los Angeles – Haneda
American Airlines already operates a service between Los Angeles and Tokyo Haneda so this will be an additional flight on the route.
In its application to the DoT American confirmed that the new flight would depart Los Angeles at 00:40 and arrive into Haneda at 04:45 and will be operated by a 787-8 Dreamliner (the existing service departs LAX at 10:40, arrives at 14:20 and is operated by a 777-300ER).
American already operates its largest aircraft on the existing service between LA and Haneda so it's not a surprise to see a smaller 787-8 on the second flight of the day.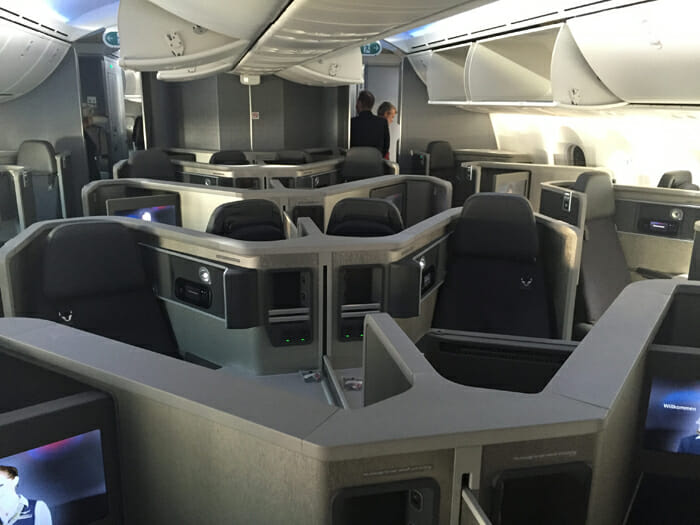 What American Didn't Get:
The two routes that American was not awarded were a second flight out of Dallas Ft. Worth and a new flight out of Las Vegas.
I'm not surprised that the request for a second Dallas flight was turned down but I'm a little surprised that the new route out of Las Vegas didn't get the green light. I suspect that the fact that American ranked the Las Vegas route lowest on its list of priorities was significant in the DoT's decision.
Hawaiian
Hawaiian asked for three of the new Haneda slots but, based on the fact that all three slots were set to operate the same route, it's not really too surprising that the DoT awarded the airline just one.
Hawaiian already operates a service between Honolulu and Haneda as well as a service to Haneda out of Kona so the new slot allocation isn't really offering customers anything new.
Hawaiian will operate the new flights with the same aircraft it uses for its existing flights – Airbus A330-200s.
Bottom Line
At the moment these DoT decisions are described as being 'tentative' as the airlines now have a period of time (probably no more than a couple of weeks) to petition the DoT if they believe that something needs to be reviewed….but history tells us that it's unlikely that any of these slot decisions will be overturned or changed.
Overall it looks like Delta was the biggest winner here (it only failed to get one of the 6 slots it requested and that was a slot for a route it will be operating anyway) with United doing OK too.
American's applications were almost as uninspiring as Hawaiian's (at least Hawaiian has the excuse that it doesn't exactly have a large choice of hubs from which to start up new routes) and the fact that the airline ranked its proposed Las Vegas route behind a second daily flight out of DFW shows that it probably wasn't really serious about starting up the new route in the first place….so it probably got just about what it deserved.