---
Some links to products and travel providers on this website will earn Traveling For Miles a commission that helps contribute to the running of the site. Traveling For Miles has partnered with CardRatings for our coverage of credit card products. Traveling For Miles and CardRatings may receive a commission from card issuers. Opinions, reviews, analyses & recommendations are the author's alone and have not been reviewed, endorsed or approved by any of these entities. For more details please see the disclosures found at the bottom of every page.
---
For a recent trip, I was booked to fly in British Airways Club World (Business Class) on an overnight flight between Miami and London. I asked the agent at the check-in counter if they were offering any upgrades to First Class and was quoted a price of $950 – I turned it down. On an overnight flight where I'm going to spend the majority of my time resting or sleeping $950 is considerably more than I'm prepared to pay.
Later, when I approached an agent at the gate to request a seat change (ExpertFlyer alerted me to the availability of a better Business Class seat), the agent checked my details on her screen, ripped up my boarding pass and gave me a new boarding pass for the First Class cabin.
To say that I was surprised would be quite the understatement as this was my first ever operational upgrade to British Airways First Class.
The British Airways 747 First Class Cabin & Seats
The British Airways 747 First Class cabin is located on the main deck and in the nose of the aircraft.
The cabin seats up to 14 passengers with 5 single seats on either side of the aircraft and two seat pairs in the center.
Passengers traveling together may prefer the center seats as these are the only seats in the cabin where communication between two passengers is possible without at least one of the passengers having to move seats or stand up.
There's a large divider between these seats which can be pulled across to give added privacy but because none of the seats in this cabin are suites, they're still quite exposed to the rest of the cabin.
The First Class seats on either side of the aircraft offer a little bit more privacy as they're angled towards the windows…
…but there isn't really much between them.
Most of the seats on either side of the First Class cabin give passengers access to two windows…
…and there's a very cool blind mechanism which can be closed to cover both windows in one fell swoop.
Most of the controls that a passenger may need are built into the sidewall of the seat…
…and the dial is very good at allowing the seat to be adjusted into just about any reasonable position with ease.
A USB port and headphone input are located next to the seat controls but the only AC power outlet available is, annoyingly, under the window and at floor level.
When the seat is upright the location of the power outlet isn't really an issue but as soon as the seat is in any way reclined there's no way to get at the power outlet because the seat is blocking access – just as with BA's Club World seats this is a poorly thought through bit of seat design.
The seat's tray table is housed in the shelf between the window and the seat…
…and it can be partially deployed…
…or fully deployed:
When fully deployed the tray table is HUGE (as demonstrated by the 15″ MacBook in the image below)…
…and this is because the First Class seat is designed so that two passengers can dine opposite each other.
It's why the First Class ottomans come with seat belts:
I'm a big fan of these tray tables because they offer a lot of space – you can place a laptop or tablet at the far end and watch a show or movie while you enjoy your meal at the near end – and because they're sturdy so they don't wobble or bend when you're trying to get some work done.
As is the case with a lot of British Airways premium cabin seats, the First Class seats in the 747 suffer from a noticeable lack of storage space. There's a hook at the far end of the seat  (above the ottoman) where you can hang an item of clothing:
There's a very narrow closet that's built into the seat wall…
…and if you're not hanging anything up you can use the netting inside here to store a laptop or tablet: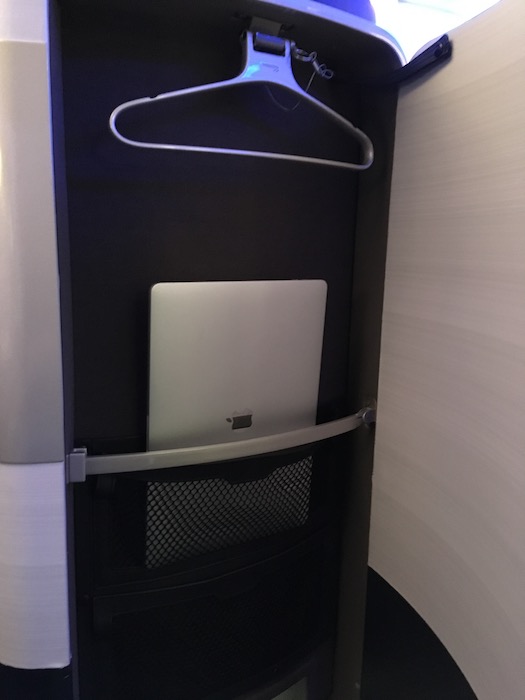 And then there's a small, open to the cabin, cubby at floor level which is just about big enough to store a pair of shoes:
That's it. As far as storage around the First Class seat is concerned that's all that's on offer and that's not very impressive.
Overall, I like some of the design touches around the British Airways First Class seat (like the old fashioned design to the lamp that every seat has and the window blind mechanism) but, as First Class seats go, these are highly unremarkable.
The British Airways 747 First Class seats have more in common with some of the better Business Class seats that I've reviewed (e.g. the reverse herringbone seats on the American Airlines 777-300ER, Cathay Pacific A330, and the Finnair A350) than they do with any premium airline's First Class cabin, and the lack of personal storage around the seat and the poor positioning of the AC power outlet are disappointing.
The seat cushions are comfortable and are a little softer than the very similar cushions that American Airlines uses for its 777-300 Business Class seats, but there's no real feeling of space or luxury here and that's what First Class seats are supposed to be all about.
As a place to sit and relax the seats are perfectly acceptable, and I even got a few hours of good sleep when the seat was put into bed-mode…but that's no different to the experiences I've had in a lot of the better Business Class cabins that I've reviewed.
Considering how much British Airways often charges for its First Class cabin, these seats are nowhere near as good as they should be.
British Airways First Class Amenities
British Airways doesn't leave many amenities on the First Class seats for passengers to find as they board. There were some headphones and a thin "day blanket" waiting for me at my seat together with a bottle of water and a small pillow…
…but shortly before departure the cabin crew through the cabin with Temperley "sleeper suites" (pajamas), Temperly amenity kits and slippers:
Inside the amenity kit was the usual array of products including and eye mask and socks, and toiletries by Elemis:
The First Class bedding is stored elsewhere (mostly the overhead bins) and includes a foam fiber mattress topper, a warm blanket, and a good-size pillow.
Overall, it's not a bad set of amenities (the bedding was nice) but compared to the amenities you'll find in the First Class cabins of the more premium carriers (like Singapore Airlines, JAL and Emirates) this really doesn't hit the same heights.
The best way I can think of describing the level of BA's First Class amenities is this: they're better then a lot of the Business Class amenities you'll find (even on the better airlines) but they're not really "First Class".
On-Board Entertainment
The in-flight entertainment screen deploys out of a seat sidewall directly ahead of the seat…
…and the remote control is housed just above the seat controls next to the seat itself:
The headphones supplied in the First Class cabin are Meridian and appear to be made specifically for British Airways:
I always travel with my own headphones so I didn't try these out but I'm reliably informed that they're "not bad, but not the best".
The in-flight entertainment system is fairly rudimentary and isn't going to win any awards for innovation…
…and, although there was a reasonable selection of movies on offer, the number of episodes available of each of the TV series listed was disappointing.
The in-flight entertainment system didn't have more than 3 episodes of any of the TV shows I looked into and if you're relying on the airline to entertain you on a long-haul flight (never a good idea) this will probably be disappointing.
Note: This flight did not offer wi-fi but British Airways is in the process of rolling out high-speed wi-fi across its fleet…it's just taking a considerable amount of time.
Overall, the in-flight entertainment was poor.
I know that the 747s are BA's older aircraft, but better technology has been around for years and the airline could have made significant improvements to this system some time ago. Now, with the retirement of all its 747s just a few years away, there's no chance that BA will improve on what it's offering onboard these aircraft right now and that leaves passengers with a sub-par product.
First Class Dining, Drinks & Service
British Airways offers a limited drinks selection while they're still on the ground (at least in the US) so when the flight attendant working my aisle handed me the First Class dining menu…
…and asked me what I'd like to drink, I started off with water and slice of lime.
I rarely fly in British Airways First Class so I was pleasantly surprised when the flight attendant told me that British Airways offers dine-on-demand in First Class.
Here's the First Class menu for this flight (click the thumbnails to enlarge):
Shortly after take off the cabin crew provided steaming hot towels…
..and, after a long wait as the flight attendants moved from the front to the rear of the cabin (where I was seated), my meal and drinks order was taken.
It took 45 minutes between take-off and my order being taken (there was no turbulence) and that's too long on any flight. On an overnight flight where passengers are usually keen to get the meal service over with so that they can rest and sleep it's unacceptable.
I have no doubt that the flight attendants were trying to do their best (the crew members were all charming) but they should know how to move things on if one or more passengers are holding up proceedings (as I suspect they were).
Eventually, a glass of the one drink everyone knows that British Airways serves in First Class (Laurent-Perrier Grand Siècle) found its way to my seat along with some canapés.
The Champagne was very nice (well chilled) and the canapés were good too.
The lobster and shrimp roll (on the left) was the more flavorful of the three canapés while the pepper stuffed with feta on a bed of couscous was the least interesting.
Once the flatware from the canapés was cleared away, the flight attendants got the tables ready for the main meal service.
On show were a lot of the things that British Airways announced in March 2019, including cutlery from Studio William, tableware from British designer William Edwards and Dartington glassware for wine and champagne.
The presentation was very nice and the new(ish) products gave the table a feeling of elegance – it looked good and it looked classy.
For my starter, I had chosen the crab and smoked salmon cannelloni with citrus herb cream, fennel, and cucumber salad:
It was excellent.
It tasted crisp and fresh and the flavors mixed together beautifully. This was one of the best starters I've had in the air for some time.
For my main course, I chose the pan-roasted cod in a creamy vegetable sauce with clams and grilled lemon, and I paired it with a 2015 Chablis Grand Cru:
The cod and accompaniments were fine (nothing special but cooked perfectly ok) but the Chablis was fantastic.
I don't often enjoy wine at altitude (although I do seem to keep trying it) but this was really, really nice. It was everything a Grand Cru Chablis should be and it was a treat that the flavors worked so well at 38,000 feet.
After savoring the wine for longer than I probably should have, I moved on to dessert…which in my case was an orange sponge pudding with mascarpone cream:
This was also pretty good – served at a good temperature and the mascarpone cream worked well with the orange flavor of the pudding.
After dinner had been cleared away, one of the flight attendants offered to make up my bed (an offer I gratefully accepted) and, after asking to be woken 1 hour before landing for breakfast, I got down to some sleep.
Quite a few hours later I was woken for a breakfast consisting of…
A passion -fruit smoothie
Warm pastries
Brioche french toast with mascarpone whipped creme and maple syrup
If I had been on a diet that was the end of it right there!
Apart from the fact that the french toast could have been a little hotter, I had no complaints. It's hard to make a mess of this type of breakfast (which is partly why I ordered it) but it's also hard to make it any more than it actually is.
It was fine and it set me up for the rest of my day.
Overall, the food was very good. Some dishes were noticeably better than others but there wasn't any part of either meal that I disliked or that I thought was sub-standard.
The tableware and flatware were elegant (well done to whoever chose those) but the highlight of the inflight food and drinks was undoubtedly the Chablis…which I now have to go out and find!
Service was very slow to start with (that needs addressing) but the crew were charming, polite and attentive and, more importantly, they gave the appearance of actually wanting to offer good service – I really appreciated that.
In Summary
Negatives
The inflight entertainment system is poor
Some aspects of the seat design have clearly not been thought through (like the lack of personal storage space and the appalling position of the AC power outlet).
Unless there's turbulence (or some other issue) there should never be a 45-minute wait between take-off and a passenger having their first in-flight drinks order taken.
The seat is comfortable but it's not a "First Class" seat – it's only marginally better than a lot of good Business Class seats and nowhere near as good as the First Class seats you'll find on premium airlines…and yet BA will change you a First Class fare for it.
Positives
On the whole (and ignoring the slow service right at the start) the crew were great -friendly, polite and keen to do a good job.
The Chablis
The Chablis
The Chablis
The food was of a good standard with one or two dishes that were truly excellent
The flatware and tableware was elegant and the presentation was very nice
If you ignore the fact that the seat isn't a true First Class seat and focus just on the comfort that it provides then it certainly has positive aspects to it – I got a few hours of very good sleep when it was made up as a bed.
Did I mention the Chablis?
Bottom Line
Overall, this was mostly a good experience but it's not an experience I'd recognize as a First Class experience or an experience I'd be happy to pay what British Airways often charges for it – it's just not worth it…and especially not on an overnight flight where you have limited time to enjoy the better aspects of the offering.
The seat isn't much better than the seat in a lot of good Business Class cabins (and it's not as good as one or two of the very best Business Class seats) while the amenities and food are, at best, only marginally better than those you'll find in the top Business Class cabins…so that really only leaves the drinks and service as the true differentiators between British Airways First Class and the better Business Class offerings.
When you can buy First Class for just a few hundred dollars more than Business Class (as you can in the current BA sale) that's ok but, ordinarily, the difference between BA First Class and a very good Business Class product (like Air France Business Class) is well over $1,000 and that's not good value at all.
I'm going to be very interested to see what happens to BA First Class when the airline's new Club Suites Business Class product is offered on more of its aircraft because I'm struggling to see where people will find the value in paying a big premium for a First Class product whose seat is no better than the Business Class seat.