---
Some links to products and travel providers on this website will earn Traveling For Miles a commission which helps contribute to the running of the site – I'm very grateful to anyone who uses these links but their use is entirely optional. The compensation does not impact how and where products appear on this site and does not impact reviews that are published. For more details please see the advertising disclosure found at the bottom of every page.
---
Up until a few years ago the American Airlines 777-300ER Business Class cabin was almost like a second home to me as I flew back and forth across the Atlantic between LA and London using Systemwide Upgrades to move me out of Economy Class and into considerably more civilized surroundings.
The US Airways-ization of American Airlines has brought my fun to a rapid halt.
The number of Systemwide upgrades given to top-tier status holders has been slashed from 8 to 4, upgrades have become a lot harder to confirm at the time of booking and the way upgrades are handled has been changed to put cheapskates like me at a big disadvantage.
This was my first American Airlines international Business Class flight for a while and I was interested to see if anything had changed.
As I was about to fly between LA and London I'd have plenty of time to find out.
Boarding & Pre-Departure
I was one of the first passengers in Group 2 to board and American was using its new Biometric gate at LAX to process passengers.
It was impressive.
I walked up to the screen and was given the all-clear to board within a couple of seconds so this technology clearly works.
I was onboard and taking pictures of the seats and cabin by 17:45 and, within 5 minutes of boarding, I was offered my choice of orange juice or champagne. I chose the latter.
It's a shame American serves pre-departure beverages in 1 cent plastic cups – it cheapens what should be a premium experience.
A menu was waiting for me at my seat…..
…..and 30 minutes after boarding one of the flight attendants took my order.
You can pre-order premium cabin meals on American Airlines and, ordinarily, that's exactly what I would have done…but I wasn't actually meant to be on this flight.
I was meant to be flying an LA – Dallas – London routing but, thanks to a defective Dreamliner which was delayed long enough to make it likely that I'd miss my connection, I had asked American to move me on to this particular flight….so I didn't have a pre-ordered meal.
Meal orders had been taken from the rear of the cabin so, seated in 4A, I didn't like my chances of getting my first choice – the Fillet Mignon – but, surprisingly there was at least one left.
I wasn't asked if I'd like to be woken for breakfast or what my breakfast choice was which seemed like an oversight on the part of the cabin crew.
We pushed back around 35 minutes after I boarded and, 20 minutes later, we were in the air for a flight estimated to take 10 hours 12 minutes – that's a slow crossing.
The American Airlines 777-300ER Business Class Cabin
The American Airlines 777-300ER Business Class cabin offers 52 seats set out in a 1-2-1 reverse herringbone formation.
The front two rows of Business Class form a small mini-cabin which can feel very private and is my preferred place to sit.
I normally choose seat 3A or 3J when given the option as row 4's proximity to the galley can make it susceptible to noise when the crew are preparing breakfast but, given that I was only on this flight thanks to a last minute change, I was sitting in the only seat that had been available.
This American Airlines Business Class seat offers quite a bit of personal space…
…it comfortable in the fully upright, reclined and fully flat positions….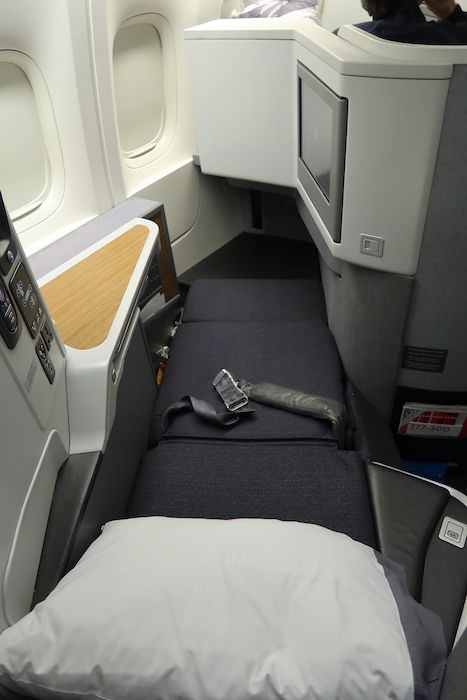 …and the footwell is spacious enough not to make it tight for a passenger's feet.
Most of the window seats in this Business Class cabin get two windows out of which to gaze….
..and the inflight entertainment (IFE) screen is built into the wall of the seat ahead and needs to be locked away for take-off and landing:
This is what it looks like when it's deployed:
The seat's aisle-side armrest has to be in the upright position for take-off and landing….
….but can be lowered to give a passenger more space during the flight.
One of the first differences that I noticed (when comparing this seat to previous flights) is that the small cubby (next to the seat and at shoulder height) didn't have a door:
This what the cubbies I'm used to look like:
I definitely prefer the old style.
The older style reduces the chance that items will fly around the cabin during turbulence and it give an added layer of security for personal items as passengers sleep.
Still, it is what it is.
One of the more impressive aspects of this Business Class seat is how much storage it offers.
As well as the cubby I've just discussed there's a good-size shelf under the windows….
….under this shelf is a large storage bin which can hold a surprising amount of 'stuff'…including a 15" MacBook.
Top cap things off there's also a storage bin built into the seat at floor level which is useful for storing shoes during flight.
The tray table is neatly stored under the window shelf….
…and is opened in two stages:
Above the seat are two lights….
…and two air-nozzles which can be manually adjusted so you're not at the mercy of the crew if the cabin temperature is set too high (there's not much you can do if the temperature's too cold except to wrap up in the blanket provided).
All the controls that a passenger will need are built into the wall next to the seat:
This is where you'll find the seat controls, a remote control (for controlling the IFE, the overhead lights and, if you're feeling brave, the flight attendant call button) and a reading light.
This is also where you'll find a set of audio inputs and, more importantly, a USB port and universal power outlet.
Overall this is a very nice Business Class seat and one in which I find it easy to get a good few hours of rest, one I find comfortable to work in and one in which I find it easy to get into a comfortable position so I can relax with a book or some TV.
This is one of the best Business Class seats available.
American Airlines Business Class Amenities
American Airlines provides pillows and blankets by Casper in its international Business Class cabin and they're pretty good.
They're not up to the standard of the blankets and pillows you'll find in Qatar Airways Business Class but they do the job and the blanket is big enough to handle most body sizes.
The American Airlines Business Class amenity kits are provided by Cole Haan and, at first glance they look fine….
….but when you unravel them you discover that they're really just a drawstring bag.
Compared to just about all the American Airlines Business Class amenity kits I remember from the past 10 years these look the worst…and they remind me of the BA Business Class amenity kits from a few years ago (which I didn't like either!)
Here's a better American Airlines kit….
…and here's a much better one:
Fortunately, American has recently announced that new amenity kits are coming (they may even be available by the time you're reading this) so hopefully they'll be an improvement.
Anyway…
Here's what you actually get inside the American Airlines Business Class amenity kit:
Socks, eye mask, dental kit, some CO Bigelow toiletries, tissues, earplugs a pen and some discount codes.
Nothing special but not too bad either.
American Airline In-Flight Entertainment & Wi-Fi
American offers over water wi-fi on its 777-300ER aircraft (in all cabins) and charges the following for access:
Those are pretty reasonable charges (especially when you compare them to what the likes of Iberia and Qatar Airways charge…although I find that American's IFE can be very patchy across the Atlantic (I didn't try it out on this trip).
American Airlines offers Bose noise cancelling headphones in its Business Class cabins….
…and, while these are good, it's important to know that they come with a triple pin input.
The reason this is important is because it means that American's 777-300ER Business Class cabins are configured especially for these headsets so, if you try to use a regular single pin set of headphones/ear buds to listen to the in-flight entertainment, you'll only get mono-sound.
This is why I always travel with one of these adapters:
American Airlines 777-300ERs aren't the only aircraft where this issue arises so it's useful to carry one of these adapters when you travel just in case you come across this issue elsewhere (Amazon sells them for under $5)
Tip: If you haven't flown in this cabin before you may struggle to find the headphone input – that's because it's hidden away in the small cubby next to the seat:
The IFE screens are a good size on which to watch movies and TV show and although you can use the remote control to navigate the entertainment menus the touchscreen functionality works well enough that you don't really need the remote control.
American generally offers a pretty good entertainment selection onboard its long-haul flights with latest movie releases….
….a good selection of TV shows (although there are only a few episodes of each show so don't expect too many box sets)….
…a varied selection of music….
….and a few games that can be played via the remote control.
There are also 4 channels of "Live TV" on offer……
….but I find that the reception can often be poor….and that's if there's any reception at all.
Dining & Service
Right at the very beginning of the flight the crew member making the initial announcements said that he was the Purser on board this flight and that he was happy to answer any questions travelers may have….and I don't remember ever hearing that announcement before.
Of course, I may have just missed this on previous flights but I'd be interested to know if anyone knows when this started.
When ordering my meal (pre take-off I decided not to do my usual thing of asking for my meal to be brought to me all in one go and as soon as possible so that I could get some sleep – I wanted to see what the regular service was like.
The crew weren't slow off the mark as just 15 minutes after take-off the table linens were brought out:
5 minutes after that I was offered a very hot towel…
….and 30 minutes after take-off the flight attendants offered drinks and warm nuts.
I made the mistake of ordering the Cabernet which was served far too cold….and it never really warmed up.
50 minutes after take-off the first courses were served and a flight attendant offered me my choice of bread from a breadbasket.
Hickory smoked carrots with goat's cheese, sunflower seeds and dill buttermilk dressing
Boston Bibb salad with grapes and feta
I wasn't sure about carrots to start but they were actually ok…and the goat's cheese went very well with them.
The bread was a little disappointing as it wasn't warm, and I really didn't take to the Boston Bibb salad – the feta and grapes were ok but whatever the other white bits were they have no place in a good salad.
An hour after take-off the cabin crew topped up the drinks and five minutes later served the main course:
Grilled Filet Mignon with twice baked potato, haricots verts and herbed butter
This was disappointing.
The steak was barely pink, it wasn't particularly flavorful and everything around it was incredibly oily.
I should have ordered the grilled herbed chicken
15 minutes later the remnants of the main course were cleared.
25 minutes then passed so I decided to give up on dessert and I started to get ready to get some rest and hopefully a few hours sleep.
Then, just as I was about to put my seat into lie-flat mode, the flight attendants came around with dessert and coffee.
I chose the passion fruit mousse cake.
A 30-minute gap between the main course and dessert on an overnight flight is just too long – that's just bad service.
As far as the dessert goes…
The mousse layers weren't bad but the cake layers were dry so it wasn't something I'll be rushing to try again.
After the dessert plate had been cleared away I took the opportunity to get some sleep and the next time I interacted with the crew was exactly an hour before we landed as we crossed southern Ireland…..which is when breakfast was served.
I know better than to order eggs on aircraft (they're almost never good) so I avoided the Quiche Loraine and asked for the fresh fruit bowl with granola and Greek yoghurt.
I was also offered a bread/pastry basket from which I selected a warm cinnamon roll.
The fruit was fresh and had plenty of flavor and the yogurt and granola were fine. The cinnamon roll was surprisingly nice and I was tempted to have a second when it was offered a few minutes later (I didn't).
Overall the cabin crew were friendly and polite and very nice to engage with…but the meal service was too slow for an overnight flight.
I'm not sure if there was an issue in the galley or with something elsewhere but a 30-minute gap to dessert (which doesn't have to be prepared of cooked) is ridiculous.
One Last Thing….
After the main meal service is over the flight attendants set out a series of small sandwiches and other snack items in the galley area which divides rows 4 and 5.
Over the years the snacks on offer have improved and the ones on this flight were pretty good.
There were sandwiches, fresh fruit and fruit salads….
…as well as bags of chips, power bars, cookies and dips:
There were even a few hydration tablets on offer:
I dint need to avail myself of any snacks on this flight but I've definitely appreciated them in the past when, after having eaten right at the beginning of a 10+ hour flight I've woken up hungry 7 hours later and with a further 2 hour wait to breakfast.
This is definitely a strong point in the American Airlines Business Class offering.
Thoughts
Negatives
The meal service took too long
The food was mediocre
Sub-par amenity bag
Positives
Very good seat (I got a restful 5 hours 40 minutes sleep)
Pleasant crew
Very good snack selection
Bottom Line
Had the crew not been friendly and nice to interact with I could have called this a classic American Airlines Business Class flight – very good hard product and a pretty disappointing soft product.
The soft product was disappointing because of the long meal service and the mediocre food but it would be unfair not give credit to a crew who were genuinely very nice….and that counts for a lot on American Airlines because a friendly crew is certainly not guaranteed when you fly with this airline.
Overall the flight was ok as I got some sleep and I was comfortable throughout the flight…but had I paid the going rate for a Los Angeles – London Business Class ticket I probably would have wondered why American Airlines can't get the quality of its meals up to par considering how much I'd just paid.