---
Some links to products and travel providers on this website will earn Traveling For Miles a commission that helps contribute to the running of the site. Traveling For Miles has partnered with CardRatings for our coverage of credit card products. Traveling For Miles and CardRatings may receive a commission from card issuers. Opinions, reviews, analyses & recommendations are the author's alone and have not been reviewed, endorsed, or approved by any of these entities. For more details please see the disclosures found at the bottom of every page.
---
Recently, I needed to get from San Francisco back home to Los Angeles, and rather than flying with one of the carriers I would normally choose (American Airlines or Alaska Airlines), I found myself flying with United. The short nature of the journey means that this flight clearly doesn't warrant a full "review", but I thought I'd share a few pictures and thoughts about the flight nevertheless.
San Francisco is a United Airlines hub and that becomes very apparent as soon as you start walking around Terminal 3 because there are no other airlines to be seen. You may spot a few international carriers through the windows, but those aircraft are parked up at the adjacent International Terminal and are not encroaching on United's turf at T3.
Terminal 3 at SFO is where the airport's E Gates and F Gates are to be found (my flight departed from the F Gates) and United has two Club Lounges in the terminal. The smaller lounge by Gate E4 is currently closed…
…while the larger lounge in the middle of the F Gates is open.
I can't share any images of the United Club lounge because I ignored it completely in favor of the Amex Centurion Lounge which is located across from Gate F2 and which, on the day, was very convenient for my departure gate.
As my departure time approached, I took my place in the Group 1 line at the gate and enjoyed a front seat to the arguments that ensued when United's boarding group numbering caused consternation among the less well-traveled passengers on the flight.
Related Reading: United Should Probably Rethink Its Boarding Group Numbering
Before boarding started, I had high hopes of getting some good pictures of the First Class cabin because there were only 3 people ahead of me in the Group 1 line. Once boarding was underway and I realized that "Group 1" doesn't really mean all that much on United (a number of elderly passengers, a few people claiming pre-existing conditions, four families with small kids, three uniformed members of the military, all the Global Services members on the flight and all the 1K members on the flight boarded first), I quickly realized that those hopes were fanciful 🙂
On Board
The United Airlines 737-900 First Class cabin holds 20 passengers with 5 rows of 4 seats split down the middle by the aircraft's aisle.
As you can see from the image above, I was in seat 4E.
According to Planespotters.net, United only has 12 Boeing 737-900 aircraft and all are either 19 or 20 years old. That goes a long way to explaining why, upon boarding, I found myself looking back in time as I caught my first sight of the seats in the First Class cabin.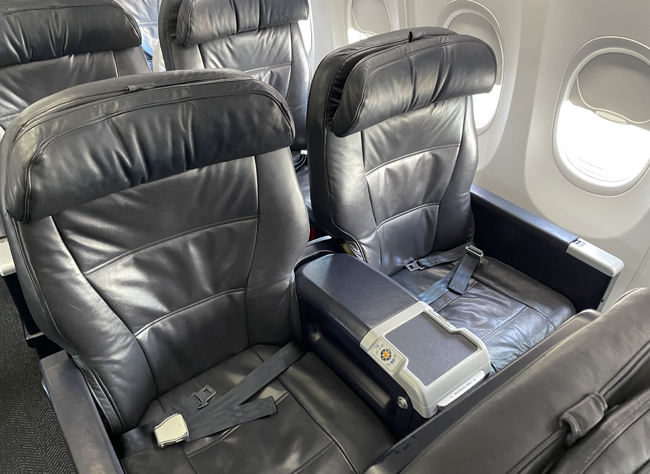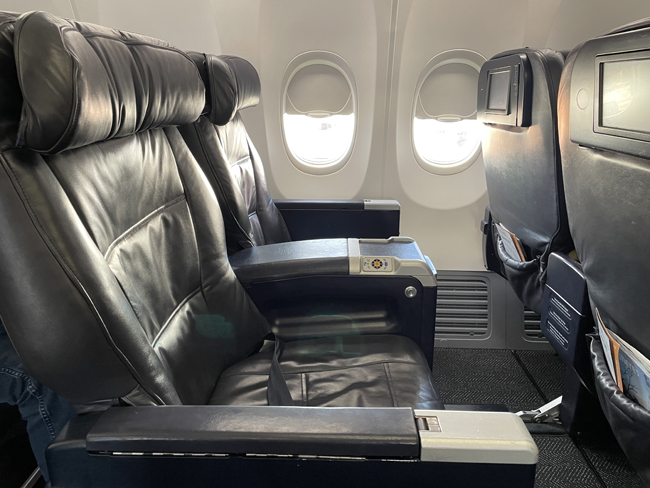 Before I go any further, let me be very clear about one thing: I'm not complaining that the seats were old. I'm simply saying that the seats in United's 737-900 First Class cabin reminded me of the First Class seats that were once (many moons ago) offered in American's 757 aircraft (brown leather seats if I recall correctly).
That's actually a very good thing because those American Airlines seats were very comfortable and, as I soon found out, so were the seats on this United Airlines 737-900.
Sure, the controls on the seat looked antiquated (the Smithsonian may be interested in these)…
…but the seat was undoubtedly comfortable (soft), it was nice and wide, and there was good legroom, so I would quite happily spend a considerably longer flight in this seat if I had to.
The bars that fix the seats to the aircraft don't impact a passenger's legroom (you can put one foot on either side)…
…but they do impact on the amount of space that is available for stowing "personal items" under the seats. If only one passenger in a seat pair needs to stow an item there isn't an issue. If both passengers need to stow items, the amount of legroom available is reduced.
Another positive aspect of the cabin I should mention is that above each pair of seats are some reading lights and, much more importantly, three air nozzles that are incredibly useful at helping passengers to regulate the temperature of the air around their seat.
If you're interested in being entertained on board and haven't brought your own entertainment with you, you can use your tablet or mobile device to watch shows and movies through the United Airlines app (you need to have the app downloaded before boarding because it cannot be downloaded inflight), or you can make the most of the seatback screens to watch free Directv.
If watching TV isn't your thing, you can pay to use United's inflight wi-fi…although based on the cost I doubt that anyone who couldn't expense the charge was using the wi-fi on my 1-hour flight.
For anyone wondering what I have to say about the service on my flight, the answer is "not very much".
For some reason, most non-premium airlines (not just United) think that it's COVID-insecure to offer pre-departure beverages but that it's COVID-secure to offer beverages inflight (someone needs to explain that logic to me), so don't expect to get a drink before you're at cruising altitude.
On this flight, the very pleasant flight attendant did a good job of making sure that the First Class passengers were offered drinks on at least two occasions on the short journey down to LAX, but there really isn't much to report other than that. I didn't see any snacks offered and there was never any chance that food was going to be served so if you're flying with United between San Francisco and LA, don't expect to be served much more than a couple of drinks.
Bottom Line
There's absolutely no point in trying to reach a conclusion on how good or bad United's soft product is on a flight as short as this one so I'll just say what I thought of the hard product – I really liked it.
The First Class seats on this 737-900 may be old enough to have witnessed the pilgrim fathers arriving in the new world, but they're a very good example of how newer isn't always better. These seats are considerably more comfortable than a lot of the newer First Class seats that I've had the chance to try out and while they may not be as good as the First Class seats in American's A321S, they're still seats that I'd be happy to see in the cabin the next time I fly domestically with United.
Does anyone know if any other United Airlines aircraft have these seats? If they do, I may not wait another decade before flying with United again 🙂