---
Some links to products and travel providers on this website will earn Traveling For Miles a commission which helps contribute to the running of the site – I'm very grateful to anyone who uses these links but their use is entirely optional. The compensation does not impact how and where products appear on this site and does not impact reviews that are published. For more details please see the advertising disclosure found at the bottom of every page.
---
UPDATE 13 January 2019: It looks like IHG has pushed back the devaluation to 25 January 2019 so we now have an extra week in which to make award bookings at properties that will be increasing in cost.
Over the weekend a sharp-eyed Flyertalker noticed that IHG has published a webpage showing that 696 of its properties are changing the number of points they will be charging for an award night as of 14 January.
So far there hasn't been any official announcement from IHG (as far as I'm aware) so we're left with a situation where a loyalty program is devaluing its offering in a week's time and none of the program's members have been officially informed – stay classy IHG!
The IHG Devaluation Highlights
The award changes are kicking in for bookings made from 14 January
The top-tier properties will continue to cost 70,000 points/night
No properties are being added to the top-tier in this set of changes
Approximately 82% of the properties on the list are increasing the cost of an award night
Approximately 18% of the properties on the list are decreasing the cost of an award night
No increase or decrease appears to be greater than 5,000 points
29 InterContinental properties are changing the cost of an award night:

21 properties are increasing in cost
8 properties are decreasing in cost

5 of the 8 IC properties that are decreasing in cost are in mainland China
10 Kimpton properties are changing the cost of an award night:

2 properties are increasing in cost
8 properties are decreasing in cost

There will be 37 fewer properties costing 40,000 points or less from 14 January 2019
Thoughts
Let's get one big thing out of the way first – this is bad news no matter how you look at it.
It's a testament to the way loyalty programs have got us accustomed to devaluations that I've seen comments saying that "things could have been worse" and that "this isn't too bad".
Nonsense.
Things can always be worse so just because IHG didn't shut down its loyalty program altogether doesn't makes these changes any less bad.
The facts here are:
A lot more properties will be going up in cost than will be coming down.
A lot of the properties that are seeing award night costs come down are in less desirable locations (mainland China)
Essentially no notice has been given for this devaluation so IHG Rewards members who don't read Flyertalk or miles & points blogs will have almost no opportunity to book properties at the lower rates before the increases kick in next week.
With fewer properties now available to book for 40,000 points or less the "free" night that comes with the Chase IHG Rewards credit card (the older version card) is now less valuable.
Just because we're not seeing top-tier properties cost 75,000+ points per night doesn't mean that this isn't a bad devaluation – IHG is increasing award costs on a yearly basis so we now have a situation where there are Hotel Indigo properties that are charging more for an award night than the very top InterContinental properties were charging just 3 years ago.
That's incredible.
Just two and half years ago I got to spend 7 nights at the InterContinental Bora Bora at a cheaper nightly rate than is now being offered at the Hotel Indigo Los Angeles Downtown – the individual devaluations IHG is pushing through may not look so bad but the net overall effect is devastating.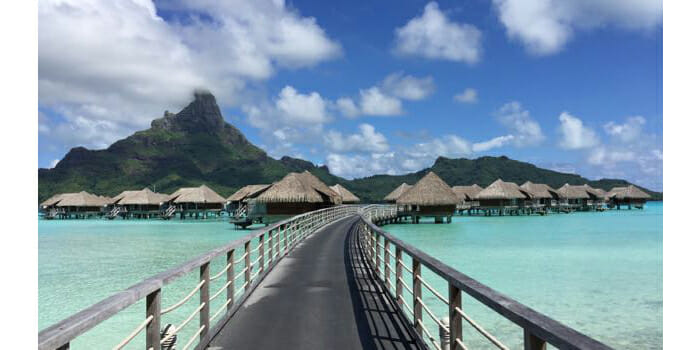 I've noticed a comment online that suggests that hotel loyalty programs should devalue because hotels award points on what we spend so, "[a]s inflation pushes up the cost of rooms, and so the number of points awarded per stay increases, you should expect the number of points needed for a redemption to go up in parallel"
Erm….no.
That would work just fine all things being equal but that's not the world we live in.
When the next economic crisis hits we'll see the cost of hotels drop significantly as people and businesses cut back on travel and occupancy rates drop but I can guarantee you that the cost of the most expensive award night that IHG offers will not come down – one or two properties may cut rates by 5,000 points/night (~7%) but that will be about it.
IHG Rewards points will be worth less next Monday than they're worth today and that can't be anything other than bad news.
Bottom Line
We have 7 days before these award cost changes come into effect so, if you were planning on booking an IHG Rewards redemption, use the next few days to peruse the changes (here) and check to see if your preferred property will cost more, less or the same as it costs now….and make sure you book any properties that are increasing in cost by Sunday 13 January at the very latest.