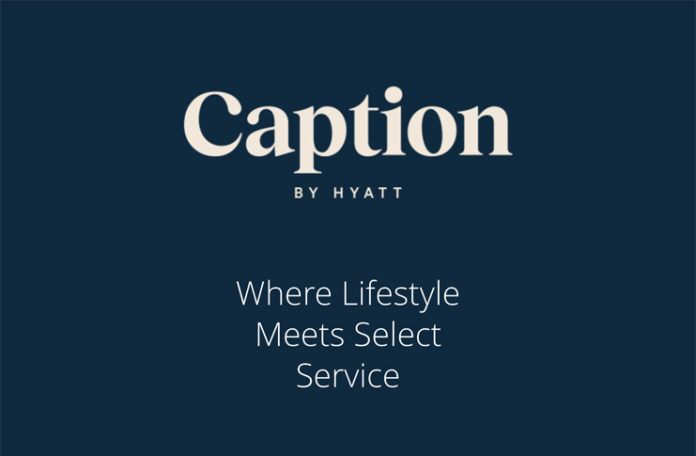 ---
Some links to products and travel providers on this website will earn Traveling For Miles a commission that helps contribute to the running of the site – I'm very grateful to anyone who uses these links but their use is entirely optional. The compensation does not impact how and where products appear on this site and does not impact reviews that are published. For more details please see the advertising disclosure found at the bottom of every page.
---
Hyatt has announced that it will be launching a new "lifestyle brand within the select service category" which will be called Caption by Hyatt but the hotelier hasn't actually said when we can expect to see the first property open its doors or where the brand will be launched.
Hyatt hasn't actually provided much solid detail about the Caption by Hyatt brand but, instead, it has chosen to do what all hoteliers do when they launch something new – go overboard on the PR-speak.
According to the press release, Caption by Hyatt will "bring people closer together" by allowing them to "work, eat or socialize in comfortable, flexible, communal spaces that encourage meaningful conversations and connections".
How that's any different to existing good hotel lobbys, lounges, bars and restaurants I have no idea….but Hyatt doesn't stop there.
The Caption by Hyatt brand has been designed to create a location where guests feel comfortable striking up a conversation with someone new over a cup of coffee, a bite to eat or a drink at the end of the day. Caption by Hyatt hotels will be anchored by a distinctive food and beverage experience that will be a vibrant mash-up between café, market and bar.
What utter nonsense.
Firstly, no one has ever walked into a hotel bar or restaurant and thought to themselves "yes, this is nice…but it would be nicer if it had more of a market feel to it". Markets are noisy, crowded and smelly and I'm pretty sure those aren't qualities anyone wants to see in a hotel they're visiting.
Secondly, hotel guests have been striking up conversations with other hotel guests ever since the concepts of a hotel cafe and hotel bar were first launched, so what exactly will Caption by Hyatt be able to offer that thousands of hotels around the world don't already offer?
Hyatt says that Caption by Hyatt will "focus on three core properties":
Alluring and approachable spaces. Caption by Hyatt hotels will invite guests in with cozy rooms and common areas that are flexible enough to move things around and make the space uniquely theirs. Social spaces will be richly designed and unexpectedly put together – sparking conversation and giving guests and locals alike no choice but to stay awhile.
Conversation-worthy food and beverage. Eating and drinking at Caption by Hyatt hotels will be about more than what's on the table. They will bring people together to enjoy the locale's dynamic culture.
Experiences that don't begin or end at the hotel's front door. Whether guests try something new or meet someone new, Caption by Hyatt hotels will create the conditions for connections that matter – all-day drinks and sharable snacks; spaces designed for guests to plug in anywhere; flexible and multi-purpose spaces for lounging and small events; and a rotating calendar of do-it-yourself and hosted events from trunk shows to local beer tastings.
What in the name of all that is holy is a social space that's "unexpectedly put together" and what sort of nut-job thinks that hotel guests want an element of unexpectedness in the social areas of a hotel they're staying in?
What I take away from all this PR-speak is that the rooms are likely to be small (cozy), the common areas are going to be a mess (people are being encouraged to move furniture around) and the lobby will be full of people on their laptops drinking decaf soya lattes while talking loudly into their phones.
I don't know about you but that's not my idea of a property I'd like to visit.
Bottom Line
In reality, this has very little to do with Hyatt coming up with a truly new hotel concept (it already has the Hyatt Place brand filling its needs in the "select service" market) and a lot to do with Hyatt needing another brand to sell to hotel owners.
Hyatt is one of the few hoteliers that still owns a lot of the properties which fly the flags of its various brands but this is a model that Hyatt seems keen to move away from…and that's where Caption by Hyatt comes in.
In an area with an existing Hyatt Place it may be tricky for Hyatt to sell the idea of another Hyatt Place to a hotel developer but the idea of a new name brand like Caption by Hyatt will probably be a lot more appealing.
Caption by Hyatt isn't about giving us, the guests, more of a choice – it's about giving Hyatt a better chance of signing up more hotel owners as it looks to expand its reach.