---
Some links to products and travel providers on this website will earn Traveling For Miles a commission that helps contribute to the running of the site. Traveling For Miles has partnered with CardRatings for our coverage of credit card products. Traveling For Miles and CardRatings may receive a commission from card issuers. Opinions, reviews, analyses & recommendations are the author's alone and have not been reviewed, endorsed, or approved by any of these entities. For more details please see the disclosures found at the bottom of every page.
---
The Airbus A321neo is one of the youngest aircraft models in the American Airlines fleet and if you're traveling between the West Coast and Hawaii with American, this is probably the aircraft you'll find yourself flying.
When flying long-haul, I usually do my best to make sure that I'm flying in a premium cabin because limited seat width, limited legroom, and a greater chance of being seated next to a screaming child are not my ideas of fun.
When flying short-haul, however, I'm usually to be found "at the back of the plane" as long as I've been able to reserve an exit row seat – that's how I came to be in the Economy Class cabin of an American Airlines A321neo last week.
American Airlines A321Neo Economy Class (Coach)
The A321neo's Economy Class cabin is set out in a 3-3 layout and offers 176 seats in total. 47 of these seats are designated as Main Cabin Extra seats and the remainder are regular Economy Class seats.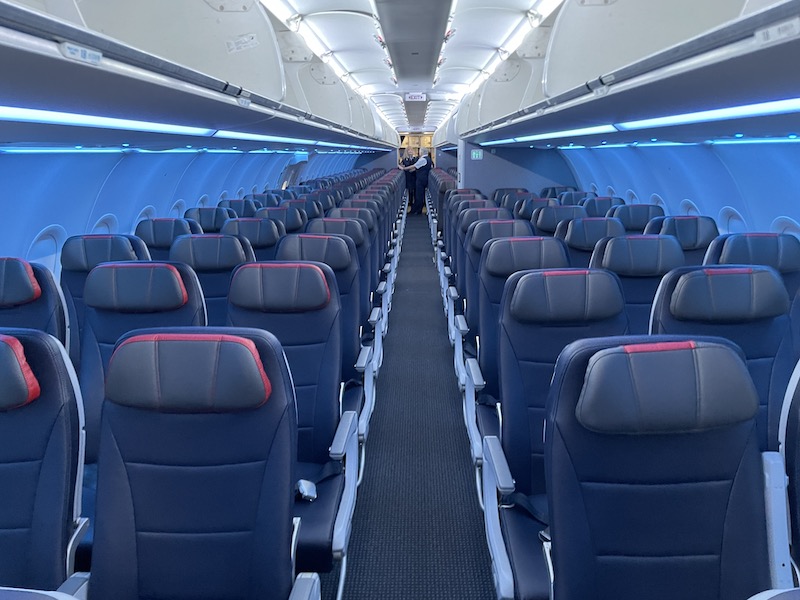 According to American Airlines, most of the seats in the Economy Class cabin offer ~18″ of width – which is impressive – but it's the seat pitch offered in this cabin that most people should be worried about.
The 129 regular Economy Class seats on the American Airlines A321neo all offer just 30″ of pitch (legroom) and that's incredibly tight. On a very short flight (e.g. LA – Las Vegas) this may be tolerable, but on a 5-hour flight between the West Coast and Hawaii, it's unacceptable.
Veal calves on their way to slaughter are given more room than passengers confined to the regular Economy Class seats on the American Airlines A321neo!
Fortunately, I have a firm policy that says that I don't fly at the back of the plane unless I can reserve an exit row seat (or some other kind of extra legroom seat) so my flight was considerably more comfortable than that of a lot of my fellow travelers.
The exit row seats on the A321neo give passengers considerably more personal space than the regular Economy Class seats as they offer the same 18″ of width that most of the other seats in the cabin offer, but they also offer cnsiderably more legroom.
I'm almost exactly 6ft tall and I had more than enough legroom in row 17 and I suspect that even those who are slightly taller than me will find that the exit row seats offer enough room to stretch out (a bit).
A further positive aspect of sitting in the exit row is that while the exit row seats can be reclined, the seats in the row ahead don't move so an exit row passenger's space cannot be diminished by the person in the seat ahead.
The cushions on the seats are a little hard but, surprisingly, they were comfortable enough for the 5+ hour flight that I was taking. I've spent a lot of hours in BA's A319/A320/A321 Economy Class seats and the comparable seats on the American Airlines A321neo were definitely more comfortable.
I'm not sure if that's a damning indictment of the quality of the BA seat or deserved praise for the American Airlines seat, but I found the comparison interesting. Having experienced the BA seat, I expected to start feeling uncomfortable at around the 3-hour mark flight but that discomfort never materialized.
Tip: If you can reserve exit row seats, book the seats in row 17 and not row 27 on the American Airlines A321neo. Row 27 is right next to a lavatory and passengers congregate in that area for most of the flight making for a less than relaxing experience.
As far as the rest of the seat and seat area's attributes go, this is what you should know:
Each seat has access to its own universal AC power outlet (found under the seats ahead)…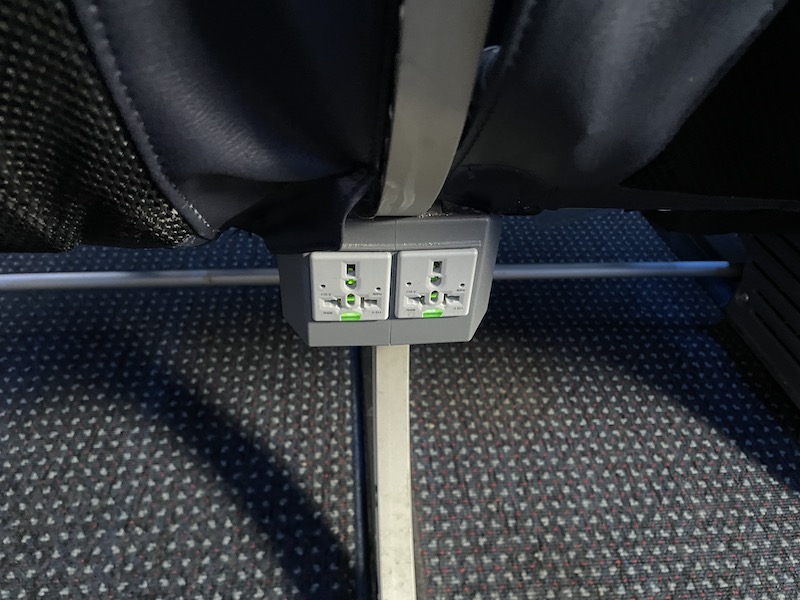 …as well as a USB port (found on the back of the seat ahead).
American Airlines doesn't offer inflight entertainment screens on the A321neo (anyone wishing to make the most of the entertainment provided will need their own device – more on this later) but it does offer a seat back mechanism that allows customers to lock their tablets in place (or a place for passengers to perch their phones) for when they want to watch the American Airlines entertainment or any entertainment they've pre-loaded to their devices.
Above each section of three seats, the A321neo provides flyers with three air nozzles and three reading lights…
…so those of us who don't like to rely on the cabin crew to keep us cool are catered for (as it happens, there was no need for the air nozzles on this flight as the crew kept the cabin cool).
Finally (as far as the cabin goes)…
The A321neos are American's youngest narrowbody aircraft so it's no surprise to find that they offer American's newest overhead storage bins.
These bins are taller than the ones you'll find on a lot of other American Airlines narrowbody aircraft and they allow rollaboards to be stored vertically rather than horizontally.
The theory behind this design is that it provides more storage space than the older style bins and based on the fact that on my full flight there was more than enough storage space for everyone to put their bags away, it would seem that this theory holds.
Internet access
American's A321neos are equipped with the airline's Viasat wi-fi system which, usually, offers a pretty decent signal.
On the airline's Hawaii routes you'll find that internet access is free…
…but that's only because you lose coverage within 10 minutes of leveling out and you don't get it back until the flight is nearly over. Not even American Airlines has the gall to charge for that!
This Viasat coverage map tells the story:
Entertainment
The American Airlines A321neo may not offer IFE screens, but even without internet access customers can watch a variety of movies and TV shows.
You'll probably have to put up with an irritating number of Marriott Bonvoy commercials if you want to watch the entertainment provided by American Airlines…
…but it's hard to criticize the number of movies and shows that the airline offers onboard.
Note: The images above only show some of the movies and shows on offer – the library is impressively large.
Food, drinks & service
I didn't really have many opportunities to interact with the crew – I wasn't really interested in ordering any food or drinks – but from what I saw, most seemed cheerful and friendly.
On this flight, there was no paper/cardboard menu (I assume that one was provided via the entertainment system) but, broadly speaking, this is what was on offer:
Complimentary
Non-alcoholic drinks including sodas, coffee, tea, juices & water
Biscoff cookies
Buy on board
Snacks

Sea salt roaded almonds
Mini tube of Pringles

A selection of wines at $9 each
A selection of spirits at $9 each
A selection of beers at $8 each
If there were any more substantial options available, I didn't see them being served…and that seems strange. I've flown to/from Hawaii with American Airlines in the past (the last time was 4 years ago) and on all of those occasions, sandwiches and chips were available to purchase.
Either I simply failed to notice these options being offered or American Airlines is still sticking to a policy brought in during the height of the pandemic and limiting what food items it serves onboard.
Note: AAdvantage Executive Platinum and ConciergeKey members also get a complimentary alcoholic drink and food menu item during their flight.
Overall
The distance between LA and most Hawaiian destinations is ~2,500 miles and that's a very long way to fly if you're stuck in a seat with just 30″ of pitch. Passengers who aren't particularly tall may find that they have enough room in the regular Economy Class seats but there's no way that I'd book this aircraft if I couldn't get a Main Cabin Extra seat.
The exit row seat had good legroom and, to an extent, was more comfortable than I was expecting but no one should be under any illusion as to what they will be getting on board – this is still a domestic Economy Class seat – so keep your expectations low and you won't be disappointed.
Keep in mind that if you're booking the American Airlines A321neo you won't have access to an inflight entertainment screen so while there's a great selection of movies and shows onboard, you'll need your own device to enjoy it.
In summary, I'd happily fly the American Airlines A321neo between Los Angeles and Hawaii in the future, but only if I could book an seat with "extra legroom".
If a regular Economy Class seat was the only option open to me I'd look to book with another airline (with more spacious seats) or I wouldn't travel at all – life's too short to be stuck in a miserable seat for 5+ hours and as much as I love Hawaii, I don't love it *that* much.