---
Some links to products and travel providers on this website will earn Traveling For Miles a commission that helps contribute to the running of the site – I'm very grateful to anyone who uses these links but their use is entirely optional. The compensation does not impact how and where products appear on this site and does not impact reviews that are published. For more details please see the advertising disclosure found at the bottom of every page.
---
This is just a quick note to let readers know that American Airlines has scheduled 787-8 Dreamliners to briefly operate on two of its domestic routes out of Philadelphia – if you'd like to try out a long-haul lie-flat bed this may be one of the cheaper ways to do it.
American's New Domestic 787-8 Routes
Philadelphia – Chicago
Between 9 January and 1 February 2020, American Airlines will operate a Boeing 787-8 Dreamliner between Philadelphia and Chicago on (mostly) the following schedule:
AA490 PHL 18:05 – 19:42 ORD (Daily)
AA2608 ORD 15:45 – 18:39 PHL (Daily)
Philadelphia – Dallas Fort Worth
Between 7 January and 12 February 2020, American Airlines will operate a Boeing 787-8 Dreamliner between Philadelphia and Dallas Fort Worth on (mostly) the following schedule:
AA2076 PHL 16:45 – 19:32 DFW (Daily)
AA1328 DFW 12:25 – 16:25 PHL (Daily)
[HT: Routes Online]
Why Should You Care?
Well, if you don't travel between Philadelphia and Dallas Fort Worth or Chicago there's absolutely no reason for you to care, but if you do then this may be a chance to fly in a little more comfort.
The American Airlines Dreamliners that will be operating these routes offer a 20 seat First Class cabin (it's called Business Class on long-haul routes) with lie-flat seats which all have direct access to one of the aircraft aisles…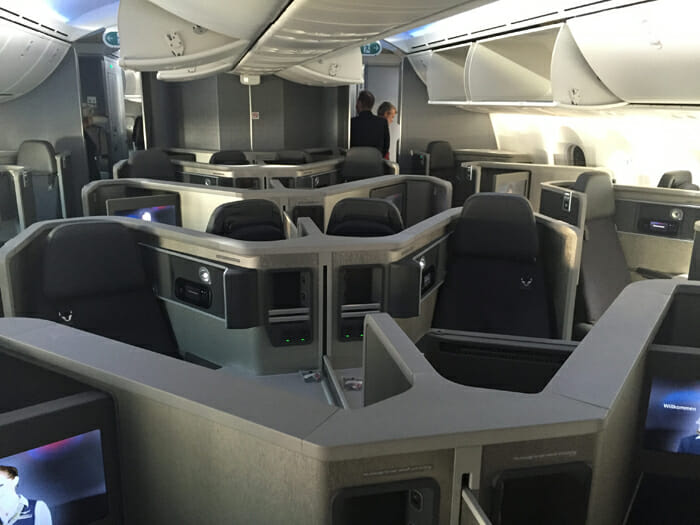 …and a 28 seat Premium Economy cabin with seats offering 19.5″ of width and 38″ of legroom.
American Airlines doesn't appear to be pricing First Class flights on these aircraft any higher than it's pricing fares on the cramped narrowbody aircraft which also fly these routes so why not book a lie-flat seat with direct aisle access if your schedule permits?
The news is actually a little better if you have elite status and are booking Economy Class because American is selling the Premium Economy cabin as regular Economy Class and elites booking a regular Economy Class fare (not Basic Economy) can reserve one of the Premium Economy seats for free.
A lie-flat First Class seat may be a big upgrade from a regular domestic First Class seat but the step up from a non-exit row Economy Class seat in a narrowbody aircraft to a Premium Economy Class seat in a wide-body aircraft is even bigger.
Bottom Line
If you're flying on American (between the cities mentioned) in January and early February 2020 keep a look out for the Dreamliner – if you're booking First Class or are an elite booking Economy Class your journey should be a lot more comfortable if you can snag a seat on this aircraft.