---
Some links to products and travel providers on this website will earn Traveling For Miles a commission that helps contribute to the running of the site – I'm very grateful to anyone who uses these links but their use is entirely optional. The compensation does not impact how and where products appear on this site and does not impact reviews that are published. For more details please see the advertising disclosure found at the bottom of every page.
---
With its new Airbus A350 aircraft finally entering into long-haul service this week, flyers are now able to try out BA's new Club Suite Business Class cabin for the very first time….and this may be about to open up a new and interesting issue for British Airways.
The new Club Suite seat is unquestionably a huge step up from the current Club World seat and is almost certainly going to be incredibly popular with flyers – that's the good news for British Airways.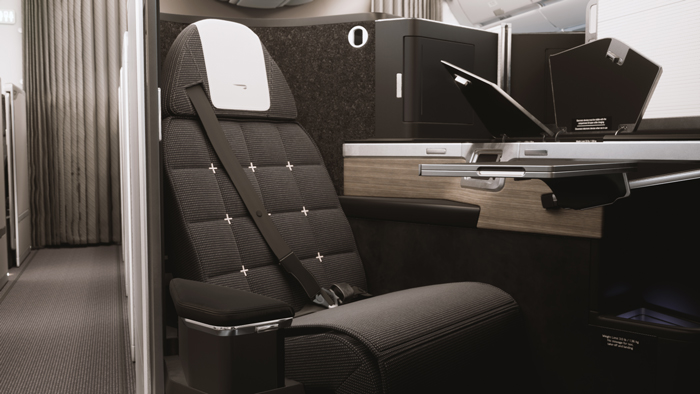 The bad news for the airline is that the new Club Suite is going to shine a very bright spotlight on its First Class seat as, having recently flown in BA First Class, I wouldn't be surprised if passengers find that they prefer the new Business Class seat over the current First Class seats.
If this turns out to be the case, it's entirely possible that the segment of BA's First Class customers which values the seat they occupy over the food and drinks offered in the cabin will start to choose to book the new Business Class product instead of First Class.
Considering how lucrative the First Class product is to British Airways this isn't a trend the airline is likely to want to see….so what could it do about it?
Some may argue that the airline is due to introduce a new First Class seat in the near future and that this will solve the issue…but I don't think so.
Everything we've heard about a potential new British Airways First Class seat (which admittedly isn't much) would seem to indicate that we shouldn't expect it to be significantly different from what's on offer now.
If that's the case, it not going to solve the issue of BA's new Business Class seat being as good (if not better) than the seats it offers in First Class.
The solution, rather amazingly, may be found in the cabin layout of its short-haul aircraft.
Just about all British Airways short-haul aircraft offer the same seats throughout the aircraft regardless of the cabin of service. The only difference between short-haul Business Class and short-haul Economy Class is that in Business Class the center seats are blocked off in each row.
These seats can be blocked and unblocked with incredible ease and, as there's only a movable curtain dividing Business Class from Economy Class, this allows BA to alter the size of its Business Class cabin according to demand.
So why not do something similar to First Class and Business Class on long-haul?
BA's First Class and new Business Class both already offer a 1-2-1 seating layout so, with no seat blocking required, why couldn't the airline offer a 'First Class Lite' option on its aircraft which don't offer a true First Class cabin?
A moveable curtain could be used to block Business Class from First Class Lite and, while the seats in both cabins would be identical (they would be the new Club Suites), passengers in First Class Lite could have the same food and drinks service as is offered in any true First Class cabin on British Airways.
If for some reason a moveable curtain isn't a practical idea, BA could also look at offering a mini-cabin of 8 Club Suite seats at the front of its aircraft (similar to the mini Business Class cabin American Airlines offers on its 777-300ER aircraft) and this could be sold as regular Business Class or First Class Lite depending on demand.
Not only would these solutions give British Airways the flexibility to offer a First Class option (of sorts) on more routes, but it would also allow the airline to vary the number of First Class seats it offers from flight to flight…and that may actually make some flights more profitable.
Bottom Line
All of this is nothing more than an idea I had as I was writing about the routes on which British Airways will be flying its refitted 777s, but I'd be interested to know if it's an idea that has any merit – I'm not an airline strategist so I genuinely have no idea.
Personally, I wouldn't pay a premium over Business Class just to have a slightly better meal and a nice drinks selection….but I'm sure there are those who would.
With the gap between Business Class and First Class closing on so many different airlines (and with First Class being eliminated on so many routes), is this a workable compromise that BA would consider?