---
Some links to products and travel providers on this website will earn Traveling For Miles a commission that helps contribute to the running of the site – I'm very grateful to anyone who uses these links but their use is entirely optional. The compensation does not impact how and where products appear on this site and does not impact reviews that are published. For more details please see the advertising disclosure found at the bottom of every page.
---
UPDATE: This rumor appears to be true as it's now backed up by info posted to FlyerTalk (although there's still no confirmation from BA)
The first British Airways A350-1000 took to the skies for the first time over southern France on Tuesday so we're only a few weeks away from the aircraft finally joining the BA fleet.
While we already know the first international routes on which the new A350 will operate, BA hasn't yet shared any information surrounding the crew orientation flights that the A350 will be performing on the London – Madrid route….but that doesn't mean that these flights haven't already been decided.
The schedules that I've been checking (on a pretty frequent basis) are still only showing the usual aircraft operating between London and Madrid, but a comment left on another TFM post suggests that British Airways already knows when its first A350 will enter into service.
TheJetSetBoys (whom I do not know) have said that British Airways will be putting its first A350 into service on 6 August 2019 and that the aircraft will be operating the following flights in August and September:
BA456 LHR 06:20 – 09:40 MAD (Thu, Sat & Sun)
BA464 LHR 16:45 – 20:05 MAD (Mon, Tue, Wed & Fri)
BA457 MAD 10:55 – 12:15 LHR (Thu, Sat & Sun)
BA465 MAD 21:20 – 22:25 LHR (Mon, Tue, Wed & Fri)
Apparently, there will be a couple of dates on which the A350 will not be operating "due to training and other requirements".
I have attempted to verify this information independently and I've also tried to contact the source of this information but I've been unsuccessful on both counts so I have to stress that I have no solid info here….but it's an interesting suggestion nonethless.
Thoughts
Considering British Airways is likely to take delivery of its first A350 before the end of July the entry-into-service date of 6 August makes quite a bit of sense, but it's harder to be as confident about the suggested flights that the A350 will supposedly be taking over.
British Airways already operates a 777 between London and Madrid on a daily basis so one has to wonder if the airline would happily add another big widebody on this route (for up to two months) rather than simply swap the 777 for the A350?
Possibly.
It may be that BA would find it hard to find another economical use for the 777 while finding an economical use for an A319/A320/A321 that is rumored to be being replaced would be relatively easy…but I don't know.
Why The Excitement?
The British Airways A350-1000 is the first aircraft to come equipped with the new British Airways Club suite…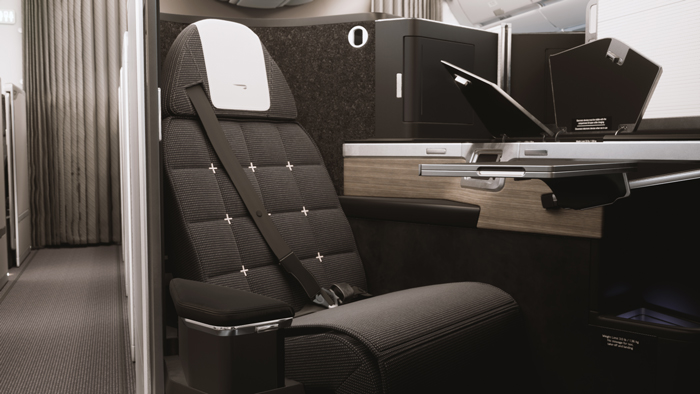 …and, while cash fares and awards will not come cheaply if you want to try out the new Business Class product on the A350's long-haul flights, Business Class awards on the London – Madrid route cost just 15,000 Avios & £25 in taxes and fees (one-way).
For a lot of people this will be the cheapest way to try out the new British Airways Club Suite so expect to see award availability on the first flights disappear very quickly as soon as they're confirmed.
Bottom Line
It's possible that British Airways will update its schedules over the weekend and that we'll see the A350 appear on BA.com early on Sunday or early Monday but, for the time being, the news of the first British Airways A350 flights still has to be classified as a rumor…albeit a very plausible one.
Featured image courtesy of Airbus