---
Some links to products and travel providers on this website will earn Traveling For Miles a commission which helps contribute to the running of the site – I'm very grateful to anyone who uses these links but their use is entirely optional. The compensation does not impact how and where products appear on this site and does not impact reviews that are published. For more details please see the advertising disclosure found at the bottom of every page.
---
At the beginning of March Qatar Airways unveiled its new 'enhanced' Economy Class seat to the world at the ITB Berlin trade fair and, at the same time, the airline announced that it would be improving its soft product in the Economy Class cabin too.
The airline suggested that we'd see significant improvements to the food served in its Economy Class cabin and said that the changes would begin to be introduced in April.
Well, a little behind schedule, Qatar Airways is now rolling out the enhanced Economy Class dining (called Quisine) on select routes with the rest of the airline's network expected to follow.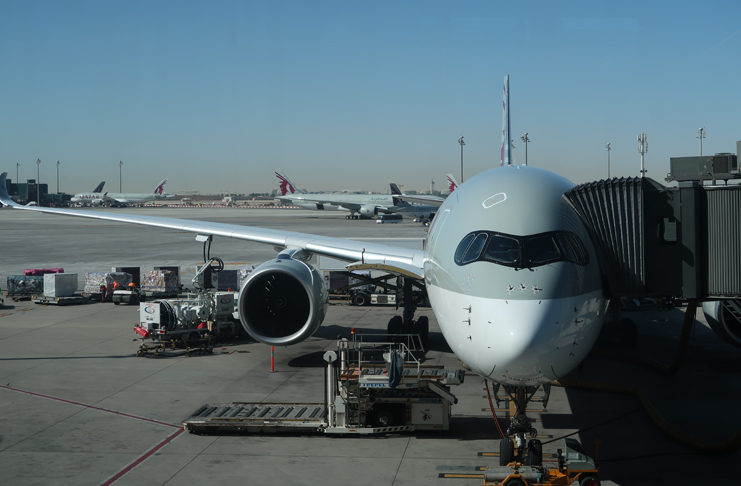 Qatar Airways Quisine
Economy Class passengers on long-haul and ultra long-haul flights are now being offered menu cards which, as well as showing what food they can expect to be served, also include a 'service timeline' giving details of when they can expect to be served.
On flights over 5 hours in length Economy Class passengers will be served with 'pre-dinner drinks' and 'refreshments & cocktail snacks' will be offered before the main meal is served.
Passengers are now being served appetizers which are 20% larger than before, main courses which are 25% larger than before and desserts which are a huge 50% larger than the desserts the airline served up until now…..and the old portions weren't particularly small (at least so I'm told).
Qatar Airways says that the meals will show a greater focus on the use of local, fresh and healthy ingredients that are in season and that passengers can expect to be served "individually-wrapped artisanal warm infused bread and an individual bottle of water".
Things don't end there.
There will also be a wider selection of mid-flight movie snacks which will include "a tantalising array of cheese and crackers, chocolate bar, potato crisps and popcorn, with innovative flavours such as Himalayan Salted Caramel and French Butter and Pink Salt"
The Qatar Airways CEO Akbar Al Baker had this to say about the roll out of Quisine:
"These latest on-board dining enhancements will undoubtedly provide our passengers with an even higher level of satisfaction and luxury. We have carefully crafted our new Economy Class experience to offer a proposition that ensures our passengers' journeys are best in class."
"In addition to our products, which showcase a new retail style of tableware, we have also focused on the reduction of single use plastics with the introduction of more sustainable products. Working with local companies, in addition to esteemed suppliers such as Godiva Chocolatier and 4700BC Popcorn, ensures that we are offering our passengers a premium service in Economy Class."
The first routes to get the new Qatar Airways 'Quisine' Economy Class meals and service are the routes between Doha and Brussels, Cardiff, Gothenburg, Moscow and St. Petersburg.
Bottom Line
I genuinely have no idea how good or bad the food has historically been in Qatar Airways Economy class and the polar differences of opinion I've seen on this subject elsewhere on the internet don't really help matters much.
For what it's worth the only first had accounts I've had of the Qatar Airways Economy Class product have all been very positive so, assuming that's the way things really are, the move to improve the dining yet further is impressive….and is in stark contrast to Etihad where the Economy Class service is taking a hit (more on that soon).
If any readers have experience of Qatar Airways Economy Class I'd be interested to hear what you think of the existing product and what you think of the changes being rolled out.