---
Some links to products and travel providers on this website will earn Traveling For Miles a commission that helps contribute to the running of the site. Traveling For Miles has partnered with CardRatings for our coverage of credit card products. Traveling For Miles and CardRatings may receive a commission from card issuers. Opinions, reviews, analyses & recommendations are the author's alone and have not been reviewed, endorsed or approved by any of these entities. For more details please see the disclosures found at the bottom of every page.
---
If there's one thing that domestic frequent fliers love it's the ability to book themselves on to a nice big wide-body aircraft even if they're only flying half-way across the country.
Widebody aircraft mean large premium cabins (good for upgrades from cargo class), large numbers of seats with extra-legroom (for when the upgrade doesn't clear) and lie-flat seats in the frontmost cabin (for when the upgrade does clear or for when you're paying to fly upfront) so it's always good news when we see Dreamliners and 777s scheduled to fly between various US cities.
Right now, with the spread of the coronavirus showing no signs of slowing down, airlines are cutting down their long-haul flying and they're finding themselves with more than the usual number of wide-body aircraft just sitting around.
Some of these aircraft are being put in for maintenance (scheduled maintenance being brought forward) and some are appearing on domestic routes around the US.
RoutesOnline recently drew my attention to four American Airlines routes on which wide-body aircraft are scheduled to operate (in the short-term) so I thought that I'd highlight them here in the hopes that a few readers can find a way to use them to their advantage.
Los Angeles – Miami
Between 29 March and 24 April, American Airlines has scheduled a Boeing 777-300ER (complete with international First Class cabin) on its LAX – Miami route but it looks like the flights that the aircraft will be operating vary from day to day.
In addition, the Los Angeles – Miami route is also seeing service from a Boeing 777-200 and an older Boeing 767 so there are days in the schedule where three of flights between the two cities are operating with wide-body aircraft.
Note: the Boeing 777-200 appears to be much more of a permanent fixture than then other two widebody aircraft as I can still see it in the schedules later this year.
Los Angeles – New York (JFK)
American Airlines already operates its best narrowbody aircraft (the A321T) between Los Angeles and New York but, between 7 April and 24 April, the airline will also be operating a daily service using a Boeing 777-200.
Here's the schedule for the 777 as it stands:
AA56 LAX 07:30 – 15:42 JFK
AA55 JFK 18:30 – 21:52 LAX
The A321T that dominates this route offers good First Class and Business Class cabins (by narrowbody standards) but the Business Class cabin and seats on the 777-200 are still considerably better.
San Francisco – Chicago O'Hare
Between 28 March and 24 April, American Airlines has scheduled a Boeing 787-8 Dreamliner to operate one of its daily flights between the two cities in place of a cramped 737.
The currently posted schedule looks like this:
AA1253 SFO 23:45 – 05:54+1 day ORD
AA2798 ORD 18:30 – 21:52 SFO
While American's smaller Dreamliners offer a Business Class cabin that I don't particularly like (some of the seats can feel very coffin-like) it still offers a vastly better experience than anything you'll find on the airline's 737s.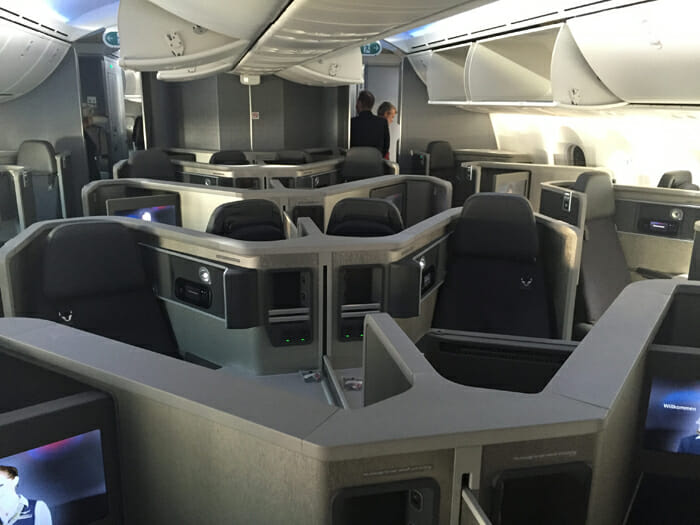 The 787-8 offers 4 more premium cabin seats than the 737 and, just as importantly, 28 Premium Economy seats (which will be sold as Main Cabin Extra) and 48 Main Cabin Extra seats (28 more than the 737).
It's a better aircraft than the 737 regardless of the cabin you're sitting in.
Los Angeles – Chicago O'Hare
American Airlines has had a 787-9 Dreamliner scheduled to operate between LA and Chicago from 30 March since December last year…
AA1598 LAX 06:03 – 12:00 ORD
AA245 ORD 20:55 – 23:15 LAX
….but a recent schedule change has seen this aircraft's time on this route extended through 3 June 2020.
Note: while the flight numbers remain the same the schedule changes slightly from 25 April.
American generally operates its route between Los Angeles and Chicago using a mixture of A321 and Boeing 737 aircraft and the 787-9 is a huge step up from either of those.
With an excellent 30-seat international Business Class cabin, 21 Premium Economy seats and 35 Main Cabin Extra seats this aircraft should make flying upfront a joy and give elites a lot more chance of snagging a seat with extra legroom if flying in the back. The very lucky ones will snag a Premium Economy seat for the price of a regular Economy Class seat.
Bottom Line
Wide-body aircraft on domestic routes are a treat because, on the whole, they offer considerably better premium cabins than we see on most domestic routes, they offer international Premium Economy seats for the price of Economy Class (for elites) and they generally offer a lot more Economy Class seats with extra legroom too.
Whether you're booking a premium cabin with cash, hoping to upgrade or just looking for more comfort when booking Economy Class, it's the widebody aircraft flying on domestic routes that you should be looking out for.