---
Some links to products and travel providers on this website will earn Traveling For Miles a commission which helps contribute to the running of the site – I'm very grateful to anyone who uses these links but their use is entirely optional. The compensation does not impact how and where products appear on this site and does not impact reviews that are published. For more details please see the advertising disclosure found at the bottom of every page.
---
British Airways has been updating the World Traveller Plus (Premium Economy) cabins in a number of its aircraft since the middle of 2018 and now the airline has revealed how it plans to refresh the soft product it offers to its Premium Economy passengers.
The first British Airways aircraft to receive the refreshed World Traveller Plus cabin have been the airline's Gatwick-based 777s and, so far, 6 have seen the new cabin installed with a further 3 getting the cabin by summer this year.
While I don't believe British Airways has announced specific timings, the airline has confirmed that its Heathrow-based 777s will be getting the new cabins as well….presumably starting this year.
The "new generation" World Traveller Plus seats aren't exactly ground breaking with BA installing larger entertainment screens, adjustable headrests and new footrests…but at least flyers will now be guaranteed USB ports and universal power outlets at every seat.
At the same time as it announced the new cabins British Airways also promised a refresh to what passengers are offered onboard….and now we know what that refresh will look like.
British Airways New World Traveller Plus Roll Out (Soft Product)
From 1 February 2019 British Airways will be rolling out a number of changes to the food it offers in World Traveller Plus and these include…
A redesigned menu….
…which will now offer a choice of three main courses for the main meal of the flight and, per British Airways these are the three meals the first new menus will feature:
Braised British beef with roast new potatoes, onion soubise and bourguignon sauce
Roasted guinea fowl with braised red cabbage, green beans, roast potato and mustard and chive jus
Rigatoni pasta in a creamy garlic and herb sauce with leek, pumpkin and baby spinach
The airline has also confirmed that the starters and desserts on offer with the main meal will now be unique to the World Traveller Plus cabin (not taken from Economy Class catering) and that both the first and second meals on a flight will now be presented on china tableware.
Speaking of the second meal, that's also getting an upgrade.
As things stand the second meal served in World Traveller Plus is usually nothing more than a selection of sandwiches but, from 1 February, the airline will be offering a "more substantial" hot meal.
That's not where the upgrades are ending.
According to BA it will be refreshing the amenities and bedding in World Traveller Plus "from the Spring" and the airline is hoping that the new additions will provide passengers with "added comfort and a touch of luxury"….I guess we'll have to wait and see.
Thoughts
These appear to be genuine improvements in the soft product that British Airways offers in World Traveller Plus and that's a big positive going forward.
The food upgrades look good and travelers on longer flights (like LA – London) will definitely appreciate a more substantial second meal when they're spending 10+ hours in the aircraft.
I can't pass comment on the bedding upgrades that are coming in a few months as they haven't been unveiled yet but, regardless of how good they are, British Airways is still going to have to rely on its schedule and worldwide network to persuade travelers to choose it over its closest rival – Virgin Atlantic.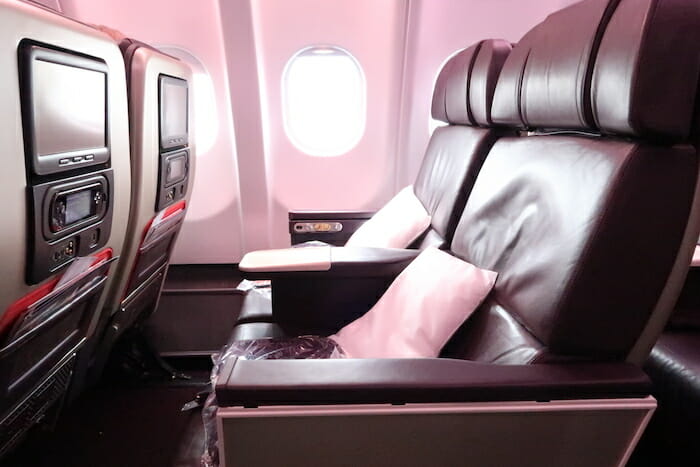 I'm a big fan of Virgin Atlantic's Premium Economy cabin – it has wider seats than BA and a dedicated crew (which BA doesn't offer) – and Virgin will be refreshing its cabin in the second half of the year (i expect it to be very good indeed).
As things stand I haven't seen anything from BA which should lead passengers to choose World Traveller Plus over Virgin's Premium Economy cabin on routes where both are offered.
Clearly this isn't an issue on most routes to Asia (where Virgin Atlantic's presence is almost non-existent) but on routes to the US things may be different.
Virgin Atlantic now flys to a considerable number of major US cities and, given the choice between BA World Traveller Plus or Virgin's Premium Economy cabin, most people should be choosing the Virgin option – it's just better.
The issue for travelers is that BA doesn't feel the need to match what Virgin offers too closely  because it offers so many more routes than its smaller competitor and because its cabin is probably good enough to match up with most of the other offerings you'll find across the Atlantic (American, Delta, United & Iberia).
Still, I'd like to end on a positive note…so here it is:
British Airways World Traveller Plus was well overdue for a makeover and now, finally, BA is giving us just that.
The changes being introduced appear to be real improvements over what's been on offer for a while so this is a nice positive step being taken by BA…let's hope there are more to come.
Featured image courtesy of British Airways