---
Some links to products and travel providers on this website will earn Traveling For Miles a commission that helps contribute to the running of the site. Traveling For Miles has partnered with CardRatings for our coverage of credit card products. Traveling For Miles and CardRatings may receive a commission from card issuers. Opinions, reviews, analyses & recommendations are the author's alone and have not been reviewed, endorsed, or approved by any of these entities. Terms apply to all credit card welcome offers, earning rates and benefits and some credit card benefits will require enrollment. For more details please see the disclosures found at the bottom of every page.
---
Recently, I found myself back in London and in need of a centrally located hotel that was an easy walk from an underground station and an easy walk a number of places that I needed to visit during my very short stay. Given that I had an IHG One Rewards certificate sitting in my account that was due to expire at the end of the year, this seemed like a good opportunity to save some money and take a look at a property that I hadn't stayed it in quite a few years.
Headline information
Stay length – 1 night (weeknight)
Cost to me – Free night certificate used*
Points cost of the same night (at the time of booking) – 72,000 points
Cash cost of the same night (at the time of booking) – £321/$442 (inc. taxes & fees)
Elite status held during the stay – Platinum Elite (courtesy of my card_name)
Does the property have an Executive Lounge or equivalent? – Yes, Club InterContinental on the 7th floor.
*This was a legacy free night certificate that could be used to book any IHG property regardless of the number of points that the night costs. These certificates are no longer issued.
Arrival & check-In
The closest underground station (subway) to the InterContinental Park Lane is Hyde Park Corner (a 5-minute walk away) but because of where I started my journey from, Green Park station was more convenient so I enjoyed a nice 15-minute walk along a (surprisingly) sunny Piccadilly before arriving at the doors to the InterContinental.
While the property overlooks Park Lane, the entrance to the hotel is actually on Hamilton Place – a parallel street that's much quieter than Park Lane (Park Lane is a major thoroughfare) and considerably more conducive to a relaxed arrival.
The hotel's reception area is directly ahead as you walk through the front doors…
… and with no one waiting to check in ahead of me, I was attended to immediately (I arrived around 15:00 as I had called ahead and confirmed that my room was ready).
Check-in was swift and the agent on the front desk remembered to ask if I preferred points or an amenity as the welcome "gift" that my Platinum status entitles me to. I requested the points (I didn't even hear what the amenity was!) and within minutes, I had received an email telling me that the points had posted to my account. That struck me as remarkably efficient…especially for IHG.
As the agent handed me the card key to my room she informed me I had been given a complimentary upgrade to a "superior" room (the entry-level room is a "classic" room) which, given that I rarely seem to receive any elite status benefits from IHG properties when I'm on an award stay, was a nice surprise.
A 'Superior' room
The InterContinental London Park Lane is a rectangular building built around a central courtyard and the key difference between a classic room and a superior room is that the former faces inwards into the courtyard…
… while the latter overlooks Hamilton Place and the Four Seasons that stands across the road.
That may not seem like a big difference, but it actually is. The superior room will get considerably more light and will almost certainly feel bigger (even if it's not materially larger) so even a 1-level upgrade is nice to get at this property.
Layout-wise, the superior room is set out like most other hotel rooms. As you enter, there's a closet to the right, the bathroom is to the left and the sleeping area (with king size bed) is directly ahead.
At 235 sq ft (22 sq m) the InterContinental's superior room isn't particularly large, but it's no smaller than most city-center European hotel rooms and for two people, it's should be more than adequate.
The room comes with a desk that has good access to a variety of power outlets and USB ports…
… and the good power options continue on either side of the king size bed where more outlets are to be found (considering the age of this property, that's good going).

Directly ahead of the bed is a large cabinet that houses a widescreen TV and plenty of space to store personal items.
In the room's small hallway is where you'll find the closet (complete with iron, ironing board, in-room safe, and miscellaneous other items that you'd expect to find in a hotel closet)…
… the room's empty minibar…
… as well as a kettle, a coffee maker, and all the accessories and ingredients that a guest may need to make a tea or coffee.
Amusingly, there didn't seem to be much correlation between the colored coffee capsules depicted on the coffee menu…
… and the plain white capsules provided.
Still, as issues go, that's hardly a big one.
The room's bathroom is accessed from the hallway and, well, there's no other way to put it… it's small. If it looks ok in the pictures, that's the camera and mirrors playing tricks.
The bath is like a lot of the baths we find in lesser properties in the US (i.e. not actually big enough for most people to have a bath), and the water pressure in the rain shower wasn't particularly good.
With a bathroom that is this small (it's not ridiculously tiny but it feels very tight) and as no one is going to enjoy a relaxing soak in a bath of this size, the InterContinental would do well to follow in the footsteps of a property like the Hyatt Regency The Churchill (review) and replace the bath with a large shower cubicle.
Communal areas, bar, & restaurant
The property's elevator lobbies look good…
… and the hallways are well lit (I hate darkened hotel hallways – they're depressing) and manage to make an old-world look work well.
The hotel's bar (the Arch Bar) is at one end of the entrance lobby and backs onto Park Lane.
There's a seating area directly ahead of the bar…
… and there's a further seating area to the left of the bar…
…  but with plentiful seating in the brighter and lighter Wellington Lounge to the right of the bar (which gets bar service as well as an afternoon tea service), that's where I'd choose to spend my time if I was enjoying a drink or some bar food.
At the opposite end of the lobby to the bar is where you'll find one of the InterContinental's three restaurants – Theo Randall at the InterContinental.
In the mornings, this is where breakfast is served. In the evenings, this is an Italian restaurant which also serves brunch on Saturdays.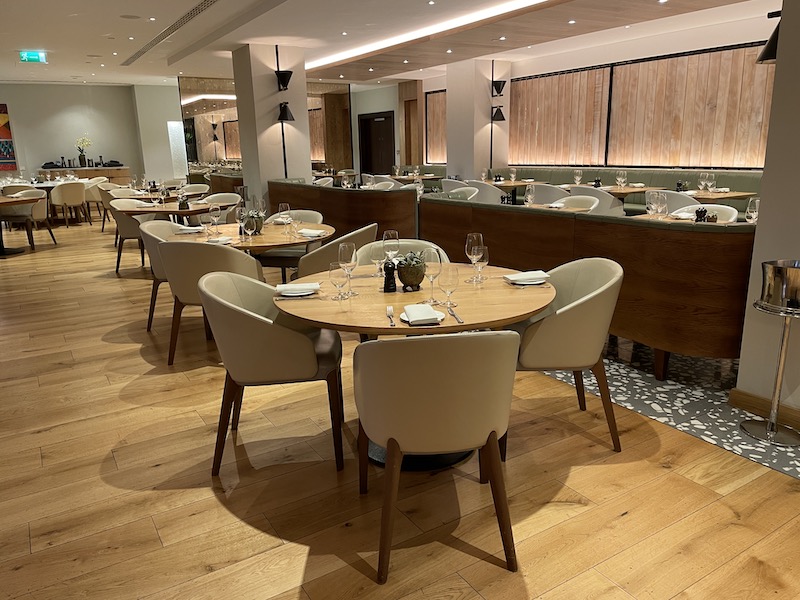 The only meal I usually have at a hotel at which I'm staying is breakfast… and then only if it's complimentary courtesy of my elite status (I much prefer to go out and to enjoy breakfast somewhere locally).
As IHG One Rewards doesn't offer complimentary breakfast to Platinum elite members, this was another visit to an IHG property at which I didn't sample the food.
The gym
The InterContinental's gym is situated on the property's first floor and seems to have just about all the equipment most people would need.
Free weights and a variety of weight machines are available…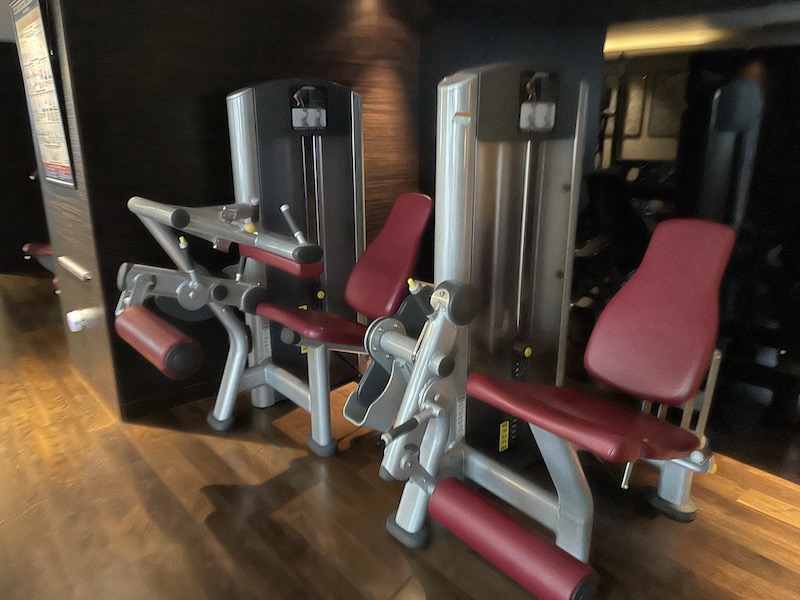 … and treadmills, cross-trainers, and rowing machines are all available for a cardio workout on days when a run in Hyde Park (across the road) is inconvenient or simply too wet!
The gym overlooks the hotel's central courtyard so if you're hoping for a view of the park you're going to be disappointed, but as city-center hotel gyms go, this one seems to be pretty well appointed.
In summary
The negatives
The bathroom in the superior room is small and the bath is not really big enough for what should be its primary purpose.
Whether you're paying with points or with cash, this is usually an expensive property and I can think of a few other properties that are just as good (or better), just as well located, and often more economical.
The positives
The staff members with whom I interacted were all charming and friendly. They represented the property admirably.
The hotel's location is excellent. Whether you're looking to walk around some of the more notable areas of London or if you're hoping to use public transport, this property is well situated.
It was nice to get a 1-level upgrade on an award booking and with only, relatively speaking, mediocre Platinum Elite status.
The bed was comfortable and the sleeping area was spacious enough – you won't find many noticeably bigger standard rooms in London's city center hotels.
The superior room is well equipped with power outlets. With multiple power options near the desk and with power outlets on either side of the bed, the InterContinental Park Lane passed one of my key tests.
I may not have used it, but the gym looks good. There's no view, but it's well equipped.
Bottom line
The InterContinental London Park Lane is a very well situated property where a superior room has a reasonably sized sleeping area, a disappointingly small bathroom, and external views.
The staff members of the property seem courteous and friendly and the gym is well equipped, but it's hard to get away from the feeling that the property is a little overpriced.
70,000+ IHG One Rewards Points or $400+ per night (which is what this property usually costs) is not an inconsiderable sum to pay and with Hilton offering the Conrad St James' and with Hyatt offering The Churchill at similar or cheaper rates, it's hard to consider the InterContinental Park Lane a "good deal" and it's not good enough to be considered "worth the expense".
Is the InterContinental a nice place to stay? Sure. But there are lots of "nice" places to stay in central London that are just as well located and which often cost less. The bare bones truth is that I'm struggling to think of a reason why anyone should pick the InterContinental Park Lane over any of those.