---
Some links to products and travel providers on this website will earn Traveling For Miles a commission which helps contribute to the running of the site – I'm very grateful to anyone who uses these links but their use is entirely optional. The compensation does not impact how and where products appear on this site and does not impact reviews that are published. For more details please see the advertising disclosure found at the bottom of every page.
---
In news that will surprise absolutely no one American Airlines is selling miles at a discount again and this time around the airline is offering up to 40% the standard rate to anyone prepared to buy miles in the latest promotion.
The Promotion
In the latest promotion American isn't offering buyers of its miles a bonus but rather a straightforward discount on the regular cost. Here's how this looks:
Headline Terms & Conditions
To be eligible for a discount AAdvantage members must purchase at least 11,000 AAdvantage miles or more in a single transaction from the Buy or Gift Miles program beginning on May 1, 2019 to 11:59:59pm CT on May 31, 2019.
The prices shown include the applicable discount.
The discount applies to the AAdvantage miles purchased and does not apply towards taxes.
Transactions are nonrefundable and nonreversible.
The miles successfully purchased usually post to the designated account right away, but please allow up to 8 hours for processing.
Each AAdvantage member is limited to purchasing or receiving in a calendar year, a combined total of no more than 150,000 AAdvantage miles.
Miles purchased through the Buy Miles program or received as a gift through the Gift Miles program count against this total.
The miles purchased with the Buy Miles program and received with the Gift Miles program do not count towards AAdvantage Gold, AAdvantage Platinum, AAdvantage Executive Platinum or AAdvantage Million Miler status qualification.
AAdvantage accounts less than 30 days old are not permitted to Buy or Gift Miles.
The price of your purchase is in U.S. dollars.
Your credit card company may add a currency conversion fee.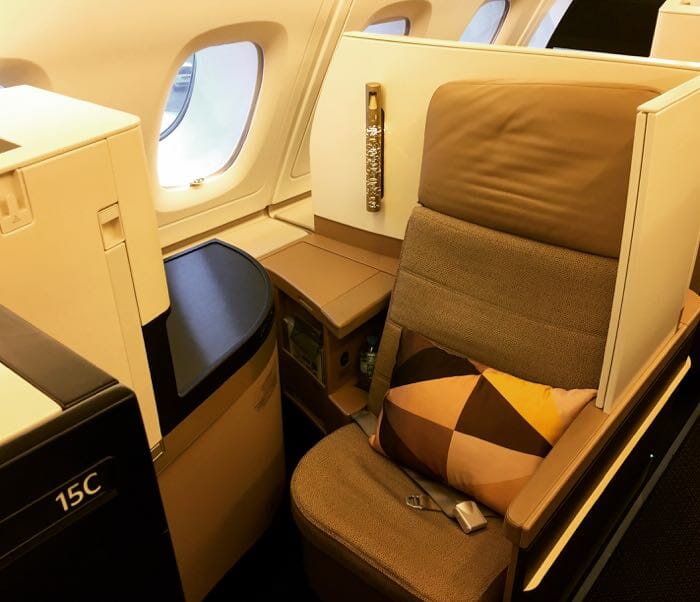 The Math
The biggest discount on offer is only available if you're prepared to purchase the maximum number of miles on offer so it's not surprising that the cheapest cost/mile is to be found when you buy 150,000 miles.
150,000 miles costs $2,876.70 in this sale….
…and that works out to a cost/mile of ~1.92 cents.
Is This A Good Deal?
This is one of the better deals we've seen of late but it's not one of the best deals that we know American Airlines likes to offer – those usually fall in the 1.72 – 1.85 cents/mile range.
Still, this doesn't mean that you should ignore this deal entirely as AAdvantage miles can often be put to very good use for premium cabin bookings on American's partners.
A few hours ago I wrote about the fact that it looks like Etihad awards are now bookable on AA.com and Etihad is a great example of an airline you can use to get a lot of value out of AAdvantage miles.
Earlier I put a LAX – Abu Dhabi Etihad Business Class award on hold at a cost of 70,000 miles + $7 in taxes….
….and, had I bought miles in this sale to cover the cost of that award, they would have set me back approximately $1,344.
That's not a bad price to pay considering the length of the journey involved and the quality of the Business Class cabin Etihad offers.
An example of an even better deal on Etihad would be the 62,500 miles it costs to book a one-way First Class award between Europe and Abu Dhabi.
Buying the miles for this award in the current promotion would cost approximately $1,200 and, even when you factor in the taxes and fees, that's a great deal.
Here's how much a few other awards would cost assuming you purchase miles at 1.92 cents each:
American Airlines Roundtrip Business Class awards (if you can find them!)
Contiguous 48 U.S. states – Europe: 115,000 miles at a cost of $2,208
Contiguous 48 U.S. states – Tokyo: 120,000 miles at a cost of $2,304
Contiguous 48 U.S. states – Hong Kong: 140,000 miles at a cost of $2,688
Contiguous 48 U.S. states – Brazil: 115,000 miles at a cost of $2,208
Partner Airlines Roundtrip Business Class awards from the US
JAL to Tokyo: 120,000 miles at a cost of $2,304
Cathay Pacific to Hong Kong: 140,000 miles at a cost of $2,688
LATAM to Brazil: 115,000 miles at a cost of $2,304
Partner Airlines Roundtrip Business Class Non US routes:
Europe – Japan: 150,000 miles at a cost of $2,880
Europe – India: 85,000 miles at a cost of $1,632
Europe – Middle East: 85,000 miles at a cost of $1,632
Europe – Hong Kong: 150,000 miles at a cost of $2,880
Hong Kong – Australia: 80,000 miles at a cost of $1,536
Note: Taxes and fees will need to be added to all the costs above
A Word Of Caution
I've already mentioned that the cost of miles in this promotion isn't as low as we know American Airlines is likely to go at some point this year but there's another reason why you may wish to think twice before buying miles in this sale.
In this promotion the maximum number of miles you can buy is 150,000 and that would see you max out your allowance for the year.
Most American Airlines mileage sales reduce the cost/mile by offering bonus miles on top of the ones you buy and, as those bonuses don't count towards the annual allowance, you can net significantly more miles in those sales than you can in this one – it's not unusual to be able to buy 250,000 miles.
If 150,000 miles will be more than enough for your needs this year then this sale may be a good time to buy miles (assuming you've already checked that the awards you'd like to book are available) but, otherwise, it may be worth waiting for a better offer.
Don't Forget
American Airlines processes its own miles transactions so, if you have a credit card that offers you a bonus for spending in with an airline or on travel in general, you can rack up a good number of bonus points/miles through this promotion.
With the Platinum Card from American Express and the Citi Prestige credit card offering 5 points/dollar spent with airlines those are the two cards I would choose to use if buying miles in this sale but the 3 points/dollar on offer from the likes of the Chase Sapphire Reserve and the Citi Premier ThankYou card all offer very good alternatives too.
Bottom Line
Deals like Europe to the Middle East for $1,632 and the US to Tokyo for $2,304 are very good value when booked on airlines of the caliber of Etihad, Qatar Airways and JAL (even after you factor in taxes and fees)….and even some of the American Airlines redemptions don't look too bad considering the good Business Class seats the airline offers (assuming you can find awards).
At 1.92 cents/mile there will definitely be occasions where buying miles in this promotion and using them to book an award will save you money (possibly even a lot of money) but the key here is to make sure awards are available before you dive in and buy miles.