---
Some links to products and travel providers on this website will earn Traveling For Miles a commission which helps contribute to the running of the site – I'm very grateful to anyone who uses these links but their use is entirely optional. The compensation does not impact how and where products appear on this site and does not impact reviews that are published. For more details please see the advertising disclosure found at the bottom of every page.
---
British Airways has been offering a non-stop service between London Heathrow and Nashville since May 2018 and up until now the route has been operated by one of the airline's 787-8 Dreamliners.
The BA 787-8 Dreamliner offers Economy, Premium Economy and Business Class cabins but, notably, doesn't offer a First Class cabin – historically, if you wanted to fly First Class between London and Nashville, you could only to do to a connecting city before being downgraded to a short-haul premium cabin.
Not for much longer.
Routes Online has reported that British Airways will be swapping the 787-8 Dreamliner which operates its Nashville route for the larger 787-9 Dreamliner from 31 March 2019 and the larger aircraft comes complete with an 8-seat First Class Cabin.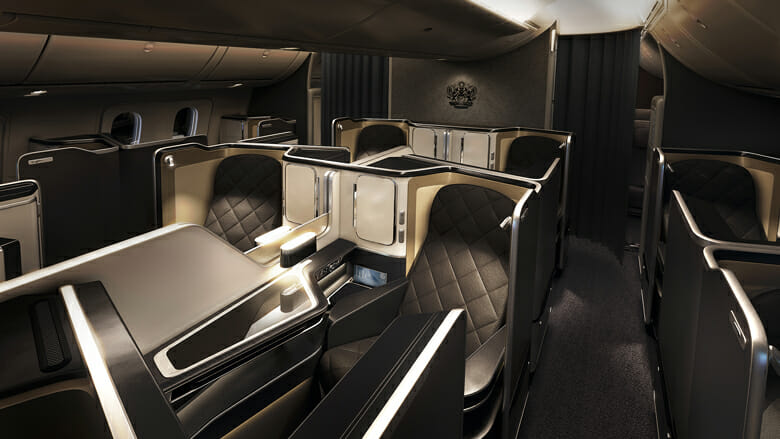 This is what the schedule will look like from 31 March 2019 onwards:
BA223 LHR 14:40 – 17:45 BNA (Thu)
BA223 LHR 14:45 – 17:50 BNA (Mon & Fri)
BA223 LHR 14:55 – 18:00 BNA (Tue, Wed, St & Sun)
BA222 BNA 20:20 – 10:25+1 day LHR (Daily)
Apparently this update was put through the reservations systems in late December so both Routes online and I appear to be a little late reporting this…sorry!
Fares
British Airways is part-way through its sale right now (for departures from London) and the Nashville route is one on which some of the airline's very best premium cabin deal are available.
Roundtrip Business Class fares on this route start at just £1,377/$1,750…..
….while roundtrip First Class fares start from just £1,782/$2,265…..
…which is less than the cost of most regular transatlantic Business Class flights out of London.
If you want to try out BA First Class then this is one of the best fares you'll find.
Check out all the BA premium cabin sale fares via this link
First Class Awards
I'm going to preface this paragraph by saying that I'm really not a fan of booking British Airways First Class awards because I find the number of Avios required high and the surcharges offensive but, if you happen to have a 2-4-1 voucher or more Avios than you know what to do with (as I know some readers do), here's what you need to know.
The easiest way to search for British Airways awards on British Airways flights is to use the BA Reward Flight Finder tool which can show award availability for a whole year (the image below shows availability for 2 people):
In this case the tool is showing that award availability for 2 people is best during the summer months and is scarce to non-existent for the rest of the year (it's better for solo travelers).
If you can find dates that work for you a roundtrip First Class award will set you back 185,000 Avios and £669/$850 in surcharges:
While the sale is on this would essentially mean that, unless you were using a 2-4-1 voucher, you would be getting approximately £0.006/$0.008 in value out of each Avios used….and that's quite a poor return.
Bottom Line
It's always good news when we get more premium cabin service across the Atlantic and the news is doubly good when there are some nice Business/First Class fares to go along with it.
If you're looking to cross the pond in a little bit of comfort or if you're looking to try out BA's First Class product then this could be the route to do it on….just don't expect BA First Class to be like Emirates/Singapore/Etihad or you may end up disappointed.
Link to the British Airways sale