---
Some links to products and travel providers on this website will earn Traveling For Miles a commission that helps contribute to the running of the site. Traveling For Miles has partnered with CardRatings for our coverage of credit card products. Traveling For Miles and CardRatings may receive a commission from card issuers. Opinions, reviews, analyses & recommendations are the author's alone and have not been reviewed, endorsed, or approved by any of these entities. For more details please see the disclosures found at the bottom of every page.
---
As most of us still can't travel internationally and as it's nice to be able to dream of visiting great places (and briefly forget about what's going on around us), I've been taking a look through some old trips and publishing pictures and flight reviews that should have been published some time ago.
Yesterday, I resurrected some pictures of a trip I took to Budapest, and today I'm taking a look at a transcon flight that I take more often than I care to admit – the Los Angeles to New York run on American Airlines. Note: this flight was pre-Covid.
American Airlines A321T Business Class
American Airlines operates its best narrowbody aircraft (complete with lie-flat seats in First & Business Class) on a few select transcontinental routes on which the airline feels that it needs to compete for premium passenger traffic. One of the routes on which these aircraft operate is the route between Los Angeles and New York (JFK).
The Cabin & Seat
The Business Class cabin in the American Airlines A321T is set out in a 2-2 layout with each pair of seats angled slightly towards the aircraft's windows.
The seats sit within their own shell and can be adjusted to most angles and will form a true lie-flat bed when reclined to their maximum.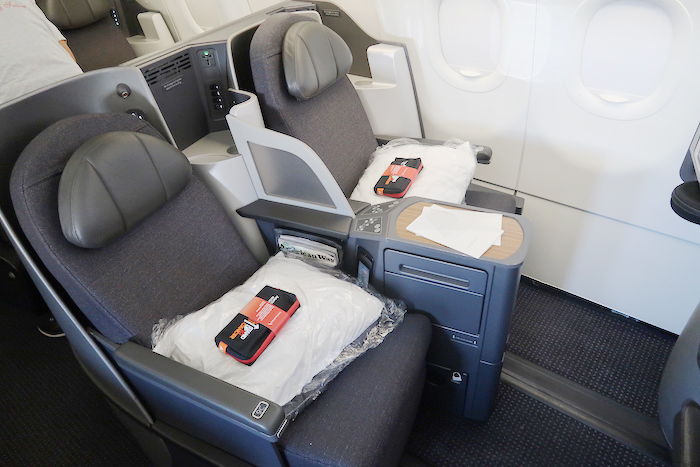 Once seated, a passenger faces a good-sized inflight entertainment screen under which is a small shelf that can be useful for storing electronic devices throughout the flight.
Underneath the IFE screen and shelf is a small (and narrow) ottoman/stool which is where a passenger's feet go when the seat is in lie-flat mode.
Each seat has a large comfortable and adjustable headrest…
…and to one side of the headrest is where you'll find a small shelf just ahead of a power outlet, USB port, and various audio inputs.
The easy-to-use seat controls are to be found by the fixed table that helps separate the two seats…
…and there's a housing for the IFE controls and a magazine pouch just under the seat controls.
For added privacy, there's a small divider between the two seats…
…and although it doesn't offer a passenger total privacy when they're seated upright, it adds quite a bit of privacy when the seat is in lie-flat mode.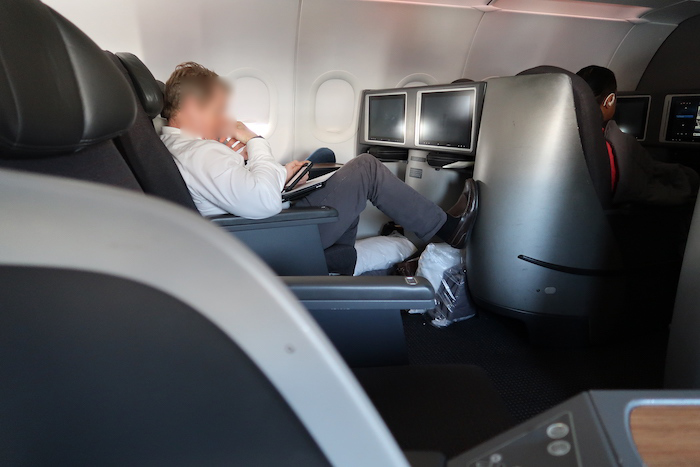 The seat's tray table deploys out of the center armrest…
… and can either be used as a small drinks table…
… or it can be opened fully for dining or if a passenger needs to get some work done.
The table is more than big enough to hold a 15″ MacBook with room to spare all around.
Above each seat-pair, you'll find individual air vents (so passengers are not beholden to the crew to keep them cool) and lights which can be controlled via the IFE remote.
Cabin & Seat Thoughts
The seats are comfortable and well-padded and are a good place to relax or to get some work done.
The location of the power outlet and the USB port means that devices can be charged on the shelf to the side of the headrest and out of a passenger's way, and the size and sturdiness of the table mean that it's possible to use a full-sized laptop with ease (and without the table bouncing around too much during turbulence).
In lie-flat mode, the seat cushions form a good base on which to get some sleep, and there's enough personal space in the head area to allow passengers with a variety of sleeping positions to get comfortable (I like to sleep on my front and I felt I had more than enough space). Unfortunately, the narrowness of the area housing the ottoman (where a passenger's feet go) causes an issue.
With very little space to move or position your feet, some passengers (especially those with larger feet) may struggle to find a comfortable position in which to lie for extended periods of time.
Also, on this particular aircraft, it was hard not to notice that it was starting to show signs of wear. Quite a bit of wear.
A lot of the edges around the armrests and seat controls were scuffed or scratched (as was the IFE control unit), and the controls of the seat next to me took a lot of encouragement before they worked.
These pictures below don't do a great job of showing the extent of the scratches or scuffing, but they'll give you an idea of what it was like.
The overall feel of this particular cabin was of a cabin that needed a bit of TLC – most things worked fine but a cabin feels and looks a lot less "premium" if it's scratched and looking the worse for wear.
The Amenities & IFE
At the time of this flight, American Airlines was using a limited edition "Stand up to Cancer" amenity kit which contained the usual eye mask, toothbrush, toothpaste, etc…, that you see in a lot of Business Class amenity kits.
As well as an amenity kit, each Business Class seat also had a large, soft pillow and a blanket waiting for passengers as they boarded.
American Airlines now offers Bang & Olufsen headphones in its transcontinental premium cabins (Bose was the brand of choice in the past)…
… but while I can confirm that the B&O headphones definitely look nicer than the Bose QC 15s they replaced, I can't say that I noticed much difference in sound quality or noise-canceling ability.
The IFE screens onboard the A321T are a very good size and, because they're touchscreens…
… the IFE remote is mostly redundant unless you're reclined away from the screen (or if you want to turn on a light).
American Airlines offers a good variety of movies, TV shows, and music entertainment options on its transcon aircraft (you'll find more information here) and it also offers up to 12 free live TV channels as well (although these only worked intermittently on this particular flight).
Crucially, for a lot of travelers, American Airlines offers high-speed Wi-Fi on its Airbus A321T aircraft, but if you don't have a subscription it can be pricey:
Amenities & IFE Thoughts
Compared to a lot of airlines, the inflight entertainment options on American Airlines are pretty good – there's a good selection of movies and TV shows (and a good number of episodes of a lot of TV shows), and some of the music offerings are pretty good too.
The "live TV" option is one I've found to be disappointing on every airline I've ever seen it offered, and this flight was no exception. It was almost impossible to enjoy any of the programming because it kept freezing or cutting out completely for significant periods.
The Business Class amenities on these transcon flights are pretty basic (there's certainly nothing upscale about them) but they do their job, and as long as you're not expecting to be offered something similar to what premium airlines hand out on their long-haul routes, you probably won't be disappointed.
Dining & Service
I'm terrible at remembering to pre-order my meals when I'm flying domestically so the menu is always one of the first things that I take a look at after I sit down. On this occasion, it wasn't the food options that I noticed first but the incredibly terrible presentation of the menu itself – it looked and felt like it had been printed out on a low-end 1990s copier.
To be clear, the poor quality of the images above has nothing to do with poor scanning on my part and represents the menus offered perfectly…right down to the lines through the left-hand page of the menu and the numerous blotches on every sheet.
Click the thumbnails to see photos of the menus as taken on board this flight:
I'm assuming that American ran out of menus at LAX and asked someone to run off 20+ copies in the staff offices, but this isn't what an airline should be presenting to premium cabin passengers on one of its most valuable routes – it looks amateurish and cheap.
Anyway…
Pre-departure beverages were served shortly after the Business Class cabin had boarded (sparkling wine was available as well as water and orange juice)…
…bottled water was brought around shortly after take-off…
…as were hot towels.
Hot nuts and another round of drinks were offered around 25 minutes into the flight…
…before meal orders were taken.
There's no dine-on-demand option on American's transcontinental service so passengers all get served at the same time – around an hour after take-off on this particular flight.
To get the meal started there was a "small plate" of burrata cheese with oregano & caper dressing with a segment of fried zucchini and a couple of peppers.
The salad offered was baby spinach, black radish and dried apricot with Parmesan shavings and a choice of dressings.
For my main course, I chose the lightest meal on the menu – a "grain and greens" bowl which contained lemon bulgur wheat, sautéed kale, carrots, chicory fisée, cherry tomatoes, chickpeas, cucumber, and feta cheese (I could have also added grilled chicken had I wanted too).
After a very pious opening two courses, I chose something a little more decadent for my dessert – raspberry swirl cheesecake and coffee.
An hour or so before landing, cookies and milk were served.
Dining & Service Thoughts
Leaving aside the abject state of the menus, things were mostly pretty good.
I genuinely enjoyed all the items I ate and although I'm as big a fan as anyone of steaks, pasta, and fish, it was nice to be able to have a substantial salad for my main course rather than anything heavier.
The wine list was a little disappointing.
Considering how many great white wines we have on the west coast, I'm not sure why American insists on serving the very mediocre South African and Italian white wines on this list (I could also name quite a few reasonably priced sparkling wines that come from the west coast that are considerably better than the Cava served here).
The service on board was nice, smiley and friendly.
I won the AA flight attendant lottery on this flight as all of the cabin crew I interacted with seemed happy, went about their work with a smile, and came through the cabin on a number of occasions to check that passengers didn't need anything.
If more American Airlines flights could be crewed like this one the airline wouldn't have nearly as many image problems it currently has – these guys were great.
Thoughts In Summary
Negatives:
The aircraft interior looked a bit battered and bruised and needed some TLC.
In lie-flat mode, not all passengers will be able to find a comfortable sleeping position thanks to the restricted room in the area around the ottoman.
The menus presented onboard looked terrible.
For a premium cabin on a premium route, the wine list was disappointing
The live TV channels may as well not have been on offer as they were unwatchable.
Positives:
As a place to sit, relax, read a book, do some work or watch some movies the seats are very comfortable.
The crew were friendly and efficient – I don't need any more than that
The positioning of the power outlet and USB port next to a small shelf is a nice design touch as it allows devices to be charged while out of the way.
The food was mostly very nice – fresh and flavorful – and it was great to have a healthy light option among the main courses.
Bottom Line
The American Airlines A321T Business Class cabin has its faults, but as a place to spend 5-6 hours, it's not bad at all. Yes, it's not going to offer the most comfortable sleeping position for all passengers, but in all other areas the offering is pretty good (it's also considerably better than any other narrowbody cabin that American Airlines offers domestically).
In summary: Unless you get lucky and find yourself flying on a widebody aircraft, you're not going to find a better domestic American Airlines Business Class cabin.