---
Some links to products and travel providers on this website will earn Traveling For Miles a commission that helps contribute to the running of the site – I'm very grateful to anyone who uses these links but their use is entirely optional. The compensation does not impact how and where products appear on this site and does not impact reviews that are published. For more details please see the advertising disclosure found at the bottom of every page.
---
Alaska Airlines added Aer Lingus as a partner airline at the end of March but it's taken the airline until today to publish award charts for Aer Lingus and to get around to adding the Irish flag carrier to its award search engine.
Still, we can finally now see just how good or bad the new Alaska/Aer Lingus partnership will be for the miles & points community.
Alaska Airlines Aer Lingus Award Charts
There are only two relevant award charts for Aer Lingus (from an Alaska Mileage Plan point of view). There's the chart for flights between the 48 contiguous states + Alaska and Europe…
…and the chart for intra-Europe short-haul flights:
How Much Do Awards Actually Cost?
Award charts really only tell part of the story as it doesn't actually matter what the theoretical cost of an award is if that award is never really bookable.
I performed a few searches on the Alaska website and this is what I found:
Long-Haul
Economy Class fares between North America and Ireland generally price out at the lower end of the award chart spectrum (30,000 miles one-way) but there are days where the fares are ridiculous (like 60,000 miles one-way).
Business Class award costs between North America and Ireland look monstrous.
On the whole, they're pricing up at an incredible 280,000 points…and that's just one-way!
Here's example availability out of Chicago…
…and here's example availability out of New York:
When you delve into the available flights its nice to see that the award flights are non-stop…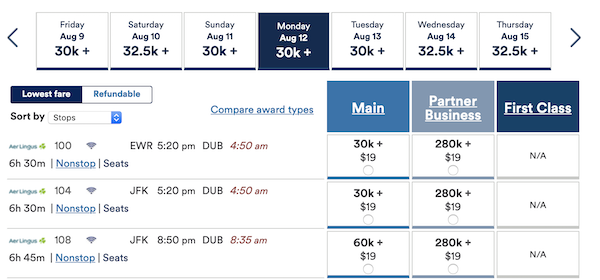 …but who in their right mind would pay 280,000 miles for a one-way Business Class award?!
There's better news for anyone happy to fly out of Toronto as you'll occasionally find availability at the 60,000-mile level:
Note: The 60k awards shown with the inflated surcharges are for British Airways awards
Still, even when there's a Business Class award available at 60,000 miles (one-way) that's not the end of the craziness with award availability.
Take a look a this:
Why would you price up an Economy Class award at the same rate as a Business Class award? Who's going to go for the Economy Class option?!
Short-Haul
Aer Lingus flys quite a few routes within Europe and this is where Alaska Miles may come in useful.
From what I've seen in my searches, Aer Lingus Economy Class short-haul awards start at 8,000 miles for a one-way fare….but that's the cost on every route the airline flys.
Here's the cost for a short-hop between London and Dublin (a flight of under 300 miles)…
…while here's availability for Dublin – Tenerife (a flight of approximately 1,800 miles)…
…and here's availability for Dublin – Athens (a flight of approximately 1,800 miles):
The award costs on these longer routes come with higher surcharges than the equivalent awards booked with Avios on British Airways but, during peak season, these awards cost 2,000 miles less (in either direction) than Avios awards so they may offer a nice alternative.
Bottom Line
I have no idea why Alaska Airlines is pricing up most Aer Lingus Business Class awards between the US and Ireland at 280,000 miles (one-way) but, if that situation continues, I suspect we'll all be left scrabbling around for the occasional Business Class award out of Toronto because you'd have to be certifiable (or massively points rich) to splash out that many miles to fly on Aer Lingus…or on any other carrier for that matter.
The long-haul Economy Class awards don't attract high surcharges but 60,000 miles for roundtrip travel between North America and Europe isn't cheap. Still, if awards can be found when cash prices are high this may be an option to check out.
Overall, it's nice to be able to use Alaska miles on Aer Lingus but I'm not seeing too much to get excited about here.
Some of the intra-Europe short-haul awards may represent good value in the busier months of the year but, as long as Business Class awards across the Atlantic remain ludicrously expensive, I don't see any added reason here that would make me inclined to collect yet more Alaska miles.