---
Some links to products and travel providers on this website will earn Traveling For Miles a commission which helps contribute to the running of the site – I'm very grateful to anyone who uses these links but their use is entirely optional. The compensation does not impact how and where products appear on this site and does not impact reviews that are published. For more details please see the advertising disclosure found at the bottom of every page.
---
It has long been suggested that American Airlines would have to reduce the number of Business Class seats it offers on some of its long-haul aircraft as it introduces its Premium Economy product on more routes, so it comes as no surprise that that's exactly what the airline is doing.
Some of American's 777-200 aircraft have already seen the size of the Business Class cabin shrink from 45 to 37 and now the hatchet is being refocused on the American Airlines 787-8 aircraft.
[HT: JonNYC]
While American's 787-9 aircraft were the first to get the airline's new Premium Economy cabin the 787-8s have so far gone without…but not anymore.
As things stand, American's 787-8 Dreamliners offer 28 Business Class seats….
…but, going forward, that's being reduced to just 20.
From 2 May 2019 this is the Business Class seat map ExpertFlyer is showing for most American Airlines 787-8 routes:
Rows 6 & & are missing…and that's because they now house the Premium Economy cabin.
Here's the new Premium Economy seat map:
That's a very disappointing 28.5% drop in the number of Business Class seats in the 787-8 Dreamliner.
Thoughts
I'm trying to remember a recent change that American Airlines has made that has actually benefitted a large percentage of the frequent flyer community rather than making travel that little bit more miserable (if anyone can remember one please let me know in the comments).
Top-tier elites have seen the number of systemwide upgrades cut, premium cabin award availability has become almost non-existent, minimum spend criteria for elite status have been introduced, aircraft have been fitted with miserably tight cabins, Basic Economy fares are a reality and now it will be even harder to score Business Class award seats or upgrades to Business Class on yet more routes.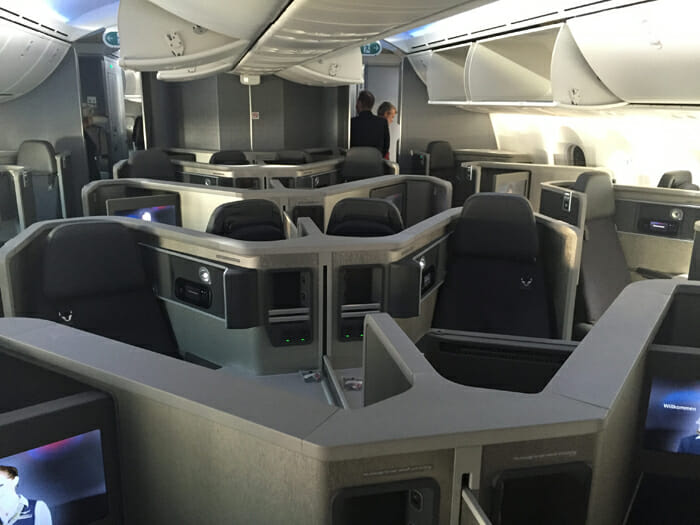 On top of that we can't be all that far away from American announcing that an upgrade from Economy Class will only move a passenger to Premium Economy and not Business Class on aircraft where a Premium Economy cabin is offered.
I realise that American needs to focus on profitability and on the numbers it reports to Wall St. but management genuinely doesn't appear to understand how loyalty works.
A large number of people fly American Airlines week in and week out because they feel that their loyalty will be rewarded with the one elite perk most seem to care about – upgrades.
Sadly, the more Business Class seats American rips out of its aircraft the less chance frequent flyers will have of scoring those upgrades and it won't take long for them to question why they're flying with American in the first place.
If upgrades become even harder to get and award availability doesn't get any better you really have to ask yourself if there's any point in being loyal to American any more.
I suspect a lot of people have already been asking themselves that question and this latest move will just see that group increase in size.