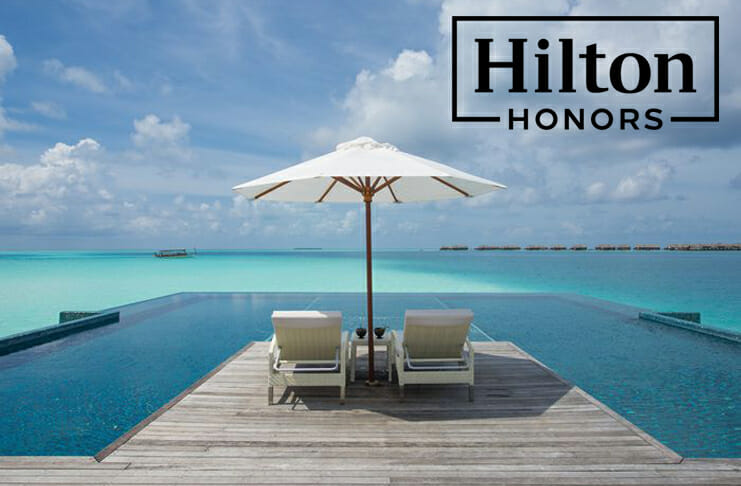 ---
Some links to products and travel providers on this website will earn Traveling For Miles a commission that helps contribute to the running of the site – I'm very grateful to anyone who uses these links but their use is entirely optional. The compensation does not impact how and where products appear on this site and does not impact reviews that are published. For more details please see the advertising disclosure found at the bottom of every page.
---
In April 2017 Hilton revamped its Honors loyalty program and, as part of the revamp, Hilton added a points pooling feature which is remarkably easy to use. There's no fee to pool Hilton Honors points and up to 11 people can participate so this is definitely something all Hilton Honors members should be aware of.
Who Can Transfer/Pool Hilton Honors Points?
Anyone with an active Hilton Honors account that's at least 30 days old and has a balance of at least 1,000 points can participate in points transfers/pooling.
Anyone with a Hilton Honors account that's at least 90 days old can participate in points transfers/pooling even if the account hasn't seen any activity.
There's no limit to the number of pools a Hilton Honors member can take part in.
Up to 11 people can take part in a single Hilton Honors pool with up to 10 accounts transferring points into an 11th account.
The people participating in a pool do not have to be related or share an address
How Many Hilton Honors Points Can You Pool?
The minimum number of points which can be transferred is 1,000.
A single account can transfer out a maximum of 500,000 Hilton Honors points in a calendar year.
A single account can receive a maximum of 2,000,000 Hilton Honors points in a calendar year.
Each Hilton Honors Member is limited to making 6 transfers to other member accounts and 6 Hilton Points Pooling transactions per calendar year.
How To Pool & Transfer Hilton Honors Points
Hilton Honors has a dedicated page where you can set up your points pools….and it looks like this (click to enlarge):
You can find this page by logging in to your Hilton Honors account and clicking the 'more ways to use points' link in the menu on the left of the page:
This menu opens up the options to begin the pooling process or to transfer points outside of a pool.
Once a Hilton Honors member has received an invitation to join a points pool they have to use the dedicated "pool your points" link within the invitation email to access the transfer page.
Hilton Honors members who with to transfer points to an account outside of a points pool can use the dedicated transfer page set up on the Hilton Honors website….which looks like this:
All points transfers are managed by Points.com and are usually instantaneous.
Note: Hilton doesn't classify points pooling or points transfers as account activity so the act of pooling points or transfering points in or out of an account will not extend the expiration of an account balance.
Why Pool Points?
There are a few reasons why you may wish to pool points into a single account:
To move small points balance (which isn't big enough for an award booking) into an account with a bigger points balance where, combined, an award booking is possible.
To transfer points that are about to expire into an account with a balance that's not going to expire.
To build up a balance of points in one account that's big enough to book a 5-night stay (and to make the most of the 5th night free benefit that Hilton Honors offers).
To ensure that a booking is made by the member of the traveling party who has the highest Hilton Honors elite status (therefore maximising that status).
To maximise Hilton points sales where the number of points an Honors member needs exceeds the maxinum number of points that can be purchased in a calendar year – multiple accounts can maxinimze theor allowance and pool the points into the account that needs them most.
Bottom Line
Hilton makes transfering points and pooling points just as easy as it can possibly be so this is a feature that all Hilton Honors members should know about and use (when the time is right).