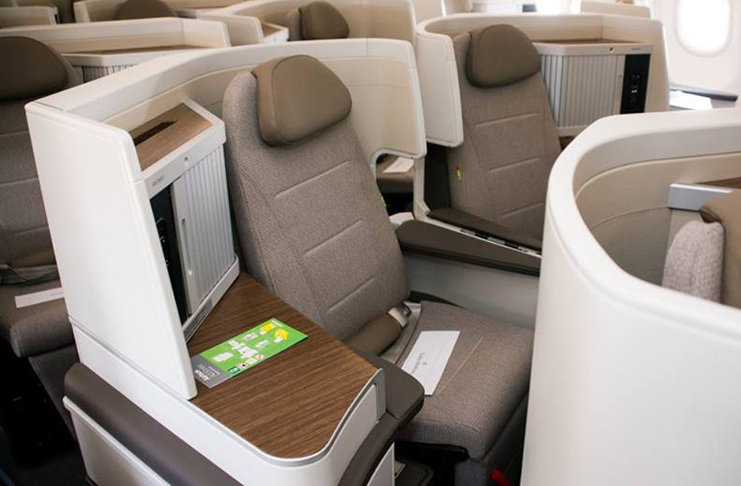 ---
Some links to products and travel providers on this website will earn Traveling For Miles a commission that helps contribute to the running of the site – I'm very grateful to anyone who uses these links but their use is entirely optional. The compensation does not impact how and where products appear on this site and does not impact reviews that are published. For more details please see the advertising disclosure found at the bottom of every page.
---
TAP Air Portugal has been a Traveling For Miles partner since the beginning of June, but I'd been writing about the airline for quite a few months before then thanks to TAP's new long-haul Business Class cabins and the fact that TAP frequently offers great Business Class fares across the Atlantic.
Of late, we've seen TAP offer quite a few good discounts but the latest 10% discount offer for TAP bookings made in the US, the UK, or Brazil ended yesterday and, as far as I'm aware, there are no further public discounts on offer…but TFM has been given a special discount code for readers to use.
TFM Readers Get 10% Off TAP Air Portugal Flights
Here's what you need to know:
The discount code is ZIG10FLY0707 (no, I had no input into what the code looks like!) Clicking the code will lead you to a search page in which the code is pre-applied. You can also choose to visit

the FlyTAP webpage

and enter the code manually.
The discount code is valid for flyers based in the United States, the United Kingdom, & Brazil.
The TAP discount code will work for any route that TAP Air Portugal serves regardless of the country or region.
The code will not work for TAP's 'Discount' Economy Class (hand baggage only fares)
The code is valid for bookings made on or before 7 July 2019 (the code will cease to work after 23:59 GMT+1 on 7 July 2019).
There are no blackout dates and the code will work for flights through the end of the current booking period (June 2020).
Why TAP?
One of the big selling points for TAP is that it often offers very good Business Class fares across the Atlantic (and, recently, between Europe and South America) and, when such deals are being promoted, TAP also offers very good one-way fares too (usually half the price of a roundtrip fare).
This can be particularly useful to flyers who only have enough miles/points for a one-way award and who don't want to pay the outrageous prices that most legacy airlines charge for long-haul one-way fares.
Right now I can't see any particularly amazing fares for readers originating in the US….but there are some great deals on offer if you're looking to start your journey in Europe (don't forget, for this code to work you simply have to use TAP's US/UK/Brazil websites – the flights can start and end at any city TAP Air Portugal serves).
London is well known to be a high-cost city from which to start any kind of premium cabin fare and yet, right now, these are just some of the roundtrip Business Class fares you can book with TAP (and these don't include the 10% discount!):
Boston from £1,445 / $1,851 (with no overnight layovers)
Chicago from £1,486 / $1,902 (with no overnight layovers)
Miami from £1,505 / $1,927 (with no overnight layovers)
New York from £1,297 / $1,660 (with no overnight layovers)
San Francisco from £1,486 / $1,902 (with no overnight layovers)
These would be good fares for departures out of the Nordic countries or continental Europe so to find them available out of the UK is fantastic.
It'd also worth pointing out that, although you have to route through Portugal for the fares mentioned above, these fares are cheaper than the British Airways sale fares that are running right now (especially after you get a further 10% discount) and, in most cases, the TAP Business Class cabin will be considerably nicer.
How To Use The Code
You can either follow the direct Promo Code link to the TAP website (doing so will lead you to a search page where the code is already loaded) or you can choose to visit the TAP airfare search page and enter the code manually from there.
I suggest you give the main TAP homepage a wide berth as it isn't particularly user-friendly when it comes to applying a discount code so the options listed above are the better way to go.
If you decide to manually enter in the code this is how to go about it.
Head to the TAP airfare search page (see the screenshot below).
Populate the search boxes in the usual manner and then scroll down the page where you'll find the box giving you the option to add a promotion code (the text box for the code opens up when you place a check mark in the small box).

Note: Don't attempt to add the ZIG10FLY0707 code to your airfare search as a voucher as that will just result in you getting an error message.
You'll know that the promo code has been successfully applied as the website will confirm as much when you price up a fare:
Bottom Line
The TAP discount code may be limited to users in the US, UK, and Brazil but at least the flights can originate and terminate anywhere TAP flies.
If you're not based in one of the three countries targeted for the discount code it's entirely possible that you may be able to get around this restriction simply by using the US/UK/Brazilian TAP Air Portugal websites.
I have no idea if you'll be required offer up a US, UK, or Brazilian address when making your booking but it's definitely worth a try.
If anyone makes good use of this code it would be great to know (in the comments section) as, if this promo goes well, TFM will (hopefully) be able to get a few more codes like this to share with the readership.