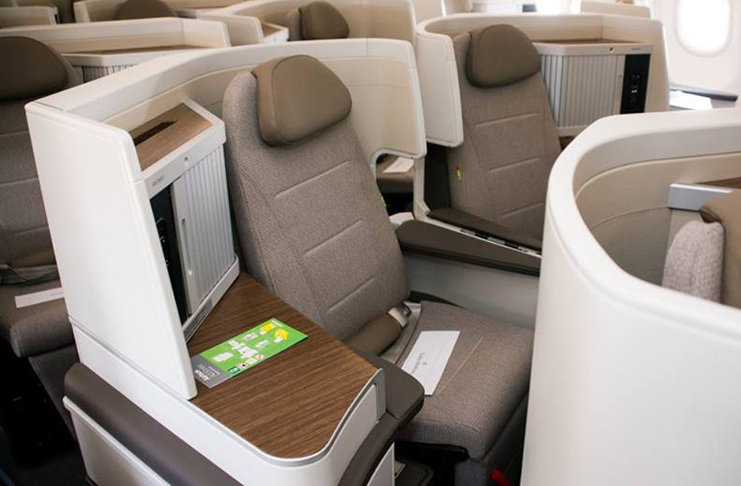 ---
Some links to products and travel providers on this website will earn Traveling For Miles a commission that helps contribute to the running of the site – I'm very grateful to anyone who uses these links but their use is entirely optional. The compensation does not impact how and where products appear on this site and does not impact reviews that are published. For more details please see the advertising disclosure found at the bottom of every page.
---
At the beginning of December 2018 TAP Air Portugal became the first airline to take delivery of the Airbus A330-900neo and this was big news for transatlantic flyers – the introduction of the A330-900neo to the TAP fleet meant that we now had another airline offering a new (and much improved) Business Class cabin across the pond.
Historically TAP has used its older A330s to serve its various North American destinations and these aircraft offer an old fashioned 24-seat Business Class cabin with a 2-2-2 layout.
These older Business Class seats are angle-flat rather than true lie-flat and, although they're reasonably comfortable, they're more than a little out of date and nowhere near as good as what a lot of other transatlantic airlines offer.
The new A330-900s which TAP has been bringing into its fleet are home to the airline's new Business Class cabin which features 36 Recaro CL6710 seats:
These seats are true lie-flat seats and are set out in a 1-2-1 cabin layout giving all passengers direct access to an aisle.
These seats are a big step up from what the airline has been offering in Business Class to date and that's why it was great news when TAP started scheduling its new A330-900neo to fly between Lison and Madrid….and now the news has got a little better.
Right now TAP offers a daily non-stop A330-900neo service between Lisbon and Miami but, for winter 2019, TAP will be adding a further 2 weekly flights to this route.
Here's the schedule for winter 2019 (from 30 October 2019):
TP233 LIS 10:35 – 14:55 MIA (Daily)
TP235 LIS 16:45 – 21:05 MIA (Wed & Sat)
TP224 MIA 16:45 – 05:45+1 day LIS (Daily)
TP226 MIA 22:55 – 11:55+1 day LIS
As things stand, it looks as if the supplementary Wednesday flights will be operated by the new A330-900neo aircraft while the Saturday supplementary flights will be operated by older A330-200s….but with TAP expecting more A330-900neos to be delivered later this year this may change.
What You Should Know About The TAP A330-900 Business Class Cabin
Here's what every seat in the TAP A330-900neo Business Class cabin offers:
Adjustable headrest
Movable large tray table
Multiple storage compartments including one for shoes
Power outlet
USB port
HD screen
All the seats in the TAP A330-900neo Business Class cabin may offer the same features and all may form part of a 1-2-1 cabin layout but not all seats in the cabin are equal.
The Single Seats On Either Side Of The Aircraft
The nature of the Recaro seats being used means that some of the single seats on either side of the aircraft are positioned closer to the aircraft window than others (like, for example, on the Qantas 787-9) and the seats closer to the windows are considerably more private and more protected from the aisles than their counterparts.
Also, while the seats closer to the windows are slightly angled towards the aircraft walls, the seats closer to the aisle are actually angled towards the aisle which will almost certainly make them feel quite exposed.
What this means:
The best and most private seats are in the even-numbered rows (2, 4, 6 & 8).
The Center Two Seats
As with the Etihad A380 Business Class cabin (and a number of other Business Class cabins) there are two different arrangements for the center two seats depending on the row you select (the arangement alternates by row).
The first arrangement has the two center seats positioned quite close together with fixed tables protecting them from the aisles and a moveable seat divider between them.
The second arrangement has the two seats set further apart with fixed tables between the two seats giving a bit more privacy….but this privacy is at least partly offset by the fact that these seats are open to the aisle.
The first arrangement is best for couples who want to be able to talk to each other during the flight while the second arrangement is best for solo travelers who failed to snag one of the single seats on either side of the aircraft.
Bottom Line
TAP Air Portugal's new A330-900neo Business Class cabin looks very nice, I've heard some very positive reviews from people who have actually tried it out, and TAP is prone to publishing some very, very good Business Class fares for travel across the Atlantic…and all of that makes me very happy to see more service being offered between Lisbon and Miami in winter 2019.
More service means more seats to sell and more seats to sell often means more sales….and there are few things I enjoy more than a good Business Class sale 🙂
Featured image courtesy of Airbus