---
Some links to products and travel providers on this website will earn Traveling For Miles a commission which helps contribute to the running of the site – I'm very grateful to anyone who uses these links but their use is entirely optional. The compensation does not impact how and where products appear on this site and does not impact reviews that are published. For more details please see the advertising disclosure found at the bottom of every page.
---
Iberia has launched its second Avios sale of the year (is it me or are they becoming more frequent?) and, as last time, this is a sale that's worth considering if you haven't already reached the maximum number of Avios you can purchase in a year.
Latest Iberia Plus Avios Sale
Promotion is valid through 24 April 2019
Promotion is open to all Iberia customers
Payment will be taken in Euros
You can buy a maximum 200,000 Avios per calendar year (excluding bonuses)*
*Iberia has raised the limit for this promotion so it's now in line with the limit the British Airways Executive Club sets.
The promotion is simple:
Buy between 2,000 and 200,000 Avios and get a 50% bonus
The Math
Even though you'll earn a 50% bonus just by purchasing 2,000 Avios, the cost of each Avios will still decrease the more you buy.
For example:
Buying just 2,000 Avios will see you net 3,000 Avios (after the bonus) at a cost of €54:
This works out to a price of ~€0.018/$0.020 per Avios
Buying the maximum permissible 200,000 Avios will see you net 300,000 Avios (after the bonus is accounted for) at a cost of €3,601:
This works out to a price of ~€0.012/$0.014 per Avios
In both cases you'll get a 50% bonus but, because of the pricing structure, buying more Avios gets you a better deal.
Why Iberia Plus?
I've mentioned Iberia Plus before as it's a loyalty program to which everyone who collects Avios should belong – there are 3 main reasons for this:
Lower fees added to reward flights booked using Iberia Plus Avios (compared to British Airways)
Fewer Avios needed on some long haul routes when compared to the British Airways Executive Club
Different peak and off-peak seasons to British Airways Executive Club
What all this means is that Avios in an Iberia Plus account can often be put to better use than a similar number of Avios in a British Airways Executive Club account.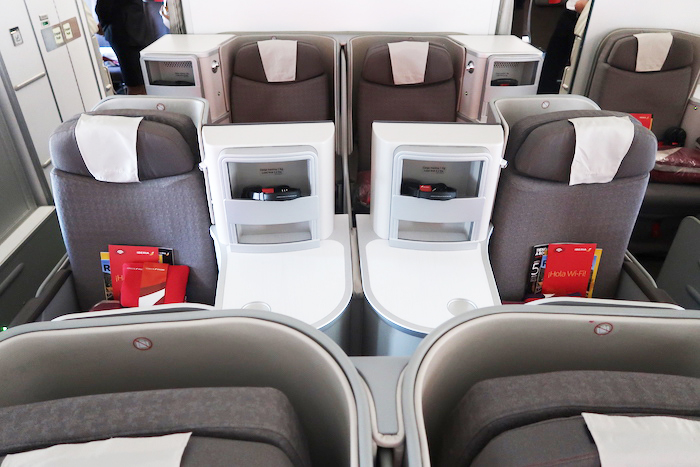 Is This Points Sale A Good Deal?
€0.012 per Avios is approximately equivalent to $0.014 and because Iberia Avios bookings attract lower surcharges than British Airways Avios redemptions this makes them more valuable than BA's version of the currency.
During off-peak season you can book an Iberia Plus Business Class redemptions for travel from the US to Europe from 85,000 Avios + taxes of ~$229….
…and, if you're using Avios bought in this sale to book this award, that's can be a very good deal.
At $0.014/Avios, an off-peak Miami – Madrid roundtrip Business Class redemption would cost approximately $1,419 including all taxes and fees and you're unlikely to find many Business Class non-stop cash fares on full-service carriers that can compete with that price.
The further you fly the less good the deal becomes as the number of Avios required for the redemption increases disproportionately to the cash price you'd have to pay for the same flights….but there are still other good deals to be had if you put in a bit of time to find them.
Short-haul routes can be where Avios really shine – especially at $0.014 each and especially on traditionally expensive routes.
Very short routes (600 miles each way or under) cost 15,000 Avios roundtrip and, at $0.014/Avios that comes to a little under $210…and that's a lot less than you'll often have to pay for routes like Dallas – Austin or New York – Washington D.C.
Bottom Line
As usual it's all about the math.
If you fly a lot of short-haul flights that are often expensively priced then buying Avios at $0.014 each can be a very good deal.
If you can find Business Class award availability across the Atlantic (preferably in Iberia's off-peak season) then buying miles in this promotion can be a fantastic deal.
The best way forward is to work out on which routes you're likely to use Avios, check out how many Avios you'll need and then check how easy it is to find award space. If things line up then it's probably safe to buy in this promotion and you're probably getting a very good deal…otherwise just move on.