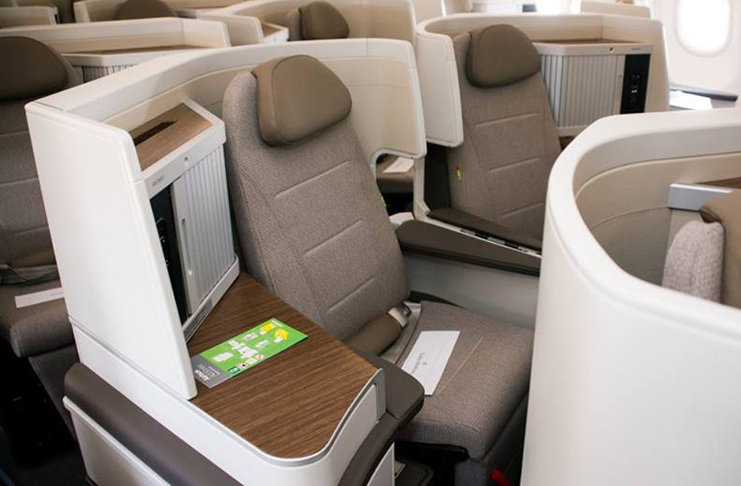 ---
Some links to products and travel providers on this website will earn Traveling For Miles a commission that helps contribute to the running of the site – I'm very grateful to anyone who uses these links but their use is entirely optional. The compensation does not impact how and where products appear on this site and does not impact reviews that are published. For more details please see the advertising disclosure found at the bottom of every page.
---
TAP Air Portugal is currently offering a number of truly fantastic Business Class fares for travel between the UK and New York. The fares offer flights departing out of Heathrow, Gatwick, London City or Manchester and travelers can choose to arrive into New York JFK or Newark airport.
Headline Fare Rules
From what I can see there aren't very many rules to consider:
No set minimum stay criteria
No set maximum stay criteria
2 stopovers are permitted – 1 free and 1 at a cost of £75.00
Accompanied children with their own seat cost 75% of the adult fare
Infants (under 2) traveling without his/her own seat costs 10% of the adult fare
There is no specified end date for this sale so the fares may be around for a while or may disappear at any time without notice.
Pricing
Three of the more important things you need to know about these fares are…
The cheapest fares on offer require an overnight layover in Portugal on the outbound flight
The fares on offer for itineraries without long layovers are still excellent
You should make sure you use the promo code TAP10 to get 10% off the quoted fare.
Here's an example of a cheap fare out of London which requires an overnight layover on the way out and a long layover on the way back…
…and here's an example of a slightly more expensive fare, this time out of Manchester, with considerably more favorable timings:
Routing & Aircraft
TAP is offering these Business Class fares out of London Heathrow, London Gatwick, and Manchester…and there are a few flights available out of London City Airport too.
The itineraries on offer will route through Lisbon or Porto and will terminate in Newark or at New York JFK so there's an incredible choice of flights and routings on offer.
The key to getting the very most out of your flight experience will be to try to book flights operated by TAP's new Airbus A330-900neo aircraft which have a great new Business Class cabin…
…although the TAP A321LR which operates some of the transatlantic flights being offered shouldn't be too bad at all (it offers true lie-flat seats despite being a narrowbody aircraft).
Fare Availability
Note: The fares and availability you see below are for itineraries out of London which do not require an overnight layover in Portugal. Availability for departures out of Manchester and availability for the cheapest fares (which require an overnight stop) look very similar to what you'll find below.
These fares are available starting from July but availability is best from August through to the beginning of December:
The great fares disappear part-way into December…
…but reappear again in the second week of January and carry on through to the end of the current booking period:
Finding The Fares
I used the Matrix ITA Airfare Search to find this deal – here's an example set of parameters I used:
If you want to search for the very cheapest fares which will require an overnight stop in Portugal make sure you remove the "maxdur" commands from the search parameters (they limit journey time to 14 hours or less).
Booking The Fare
You can't book the fares via the Matrix search so, once you've found dates that work for you, head over to the TAP Air Portugal booking page and proceed from there.
Make sure you remember to use the TAP10 promo code to get an extra 10% off your booking (see this post for more info).
Here's an example of an 'no stopover' itinerary priced up:
If you're looking to book a stopover to see a buit of Portugal (or if you're just happy to take a cheaper fare and overnight in Portugal on the way out) you should use the stopover option you'll see appear on your screen when you search for fares.
Here's an example of the sort of price you can expect to find:
TAP displays the results of a stopover search in price order so you'll have to scroll quite a way down the results page to find the 'Executive' (Business Class) fares.
Note: The 10% discount that the TAP10 code gives you will not be included in the search results but, once you select a fare that you like, the discount will be applied.
Where To Credit The Flights
TAP Portugal is a member of the Star Alliance so there's a wide choice of loyalty programs to which its flights can be credited….but you need to be careful – you get a lot more credit with some programs than you do with others.
To give yourself all the information you need to make the best decision I suggest using the Wheretocredit tool and, just to give you an idea of the kind of options open to you, here are a few examples of what some of the loyalty programs will offer you.
Aeroplan – 200% of distance flown
Emirates Skywards – 150% of distance flown
Miles & More – 200% of distance flown
Singapore Airlines KrisFlyer – 150% of distance flown
United MileagePlus – 125% of distance flown
Crediting these business class flights to one of the programs offering miles at a rate of 200% of the distance flown would see you earn over 17,000 miles – that's why I would probably credit to Aeroplan or Singapore Airlines (but those are personal choices and you should bear in mind that Singapore Airlines has recently devalued its KrisFlyer program).
Bottom Line
Even if we ignore the very cheap fares which require a stopover there are some fantastic deals to be had here.
A sub £1,300 transatlantic Business Class fare for travel departing the UK is almost always a going to be a great deal…and when you can book a brand new Business Class cabin like you can here) the deal just gets even better.