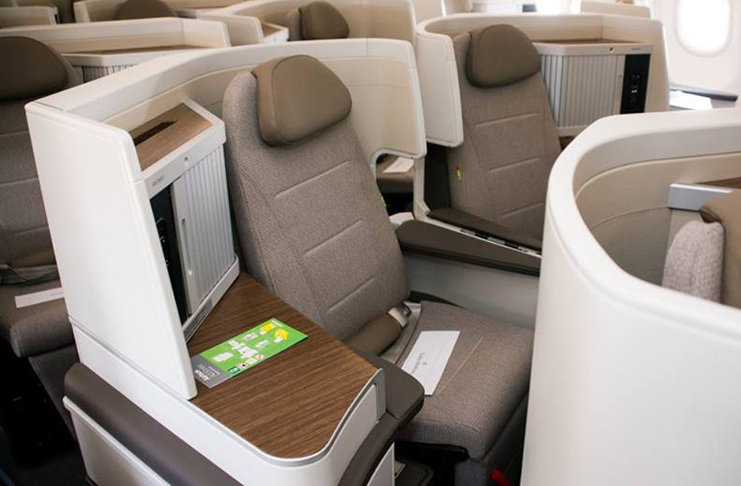 ---
Some links to products and travel providers on this website will earn Traveling For Miles a commission that helps contribute to the running of the site – I'm very grateful to anyone who uses these links but their use is entirely optional. The compensation does not impact how and where products appear on this site and does not impact reviews that are published. For more details please see the advertising disclosure found at the bottom of every page.
---
TAP Air Portugal has once again loaded up some fantastic Business Class fares for travel from London to four major US cities. The fares are available on a wide variety of dates between August 2019 and June 2020 and a 5% discount code you'll find in this post will make any bookings that little bit cheaper.
Roundtrip Business Class Fares On Offer
Chicago – from £1,499
Miami – from £1,519
New York – from £1,303
San Francisco – from £1,499
Note: These are the fares being offered before the 5% discount code has been applied
Routings
The fares all originate from London Heathrow or London Gatwick and will route through either Lisbon or Porto.
Stopovers are available should you want them but it's also easy to find fares where the layovers in Portugal are of a very reasonable length.
Some flights to New York will arrive in Newark while others will arrive into JFK.
Aircraft
On the short-haul sectors between London and Portugal, you'll be faced with a standard intra-Europe Business Class cabin which isn't anything special at all.
On most of the long-haul sectors, you'll be flying in TAP's new Airbus A330-900neo aircraft complete with a great-looking Business Class cabin.
Readers looking to fly to/from New York should be aware that TAP offers a mixture of A330 and A321 aircraft on its routes between Portugal and New York.
This is important because, although the A321 offers a perfectly nice Business Class cabin, the A330's offering is in a different class – that's the aircraft you should try to book.
Fare Availability
As I'm currently in an area with no Wi-Fi and no mobile phone service (and as I have to drive down a mountain to get all this info and post articles such as these) I haven't had time to take screenshots of the availability for each of the 4 destinations…but availability is pretty similar for all 4.
Here what availability looks like for the London – New York route
The excellent deal first appears around 14 August but isn't particularly easy to find in either August or September.
There are fantastic deals available throughout October and November…
…and availability is then fantastic through to the end of the current booking period in June 2020.
Finding The Fare
As is usually the case, I found these fares using the Matrix search and an example set of parameters is set out below.
If you're looking for a trip with a stopover in Portugal make sure you remove the "maxdur" commands from your searches.
The fares can also be found with quite a lot of ease on Google Flights…
….but you'll have to make sure you book through the TAP website if you wish to apply the 5% discount code I'm about to discuss below.
Applying TAP's 5% Discount Code
You can either follow the direct Promo Code link to the TAP website (doing so will lead you to a search page where the code is already loaded) or you can choose to visit the TAP airfare search page and enter the code (TAP5FLY3007) manually from there.
I suggest you give the main TAP homepage a wide berth as it isn't particularly user-friendly when it comes to applying a discount code so the options listed above are the better way to go.
If you decide to manually enter in the code this is how to go about it.
Head to the TAP airfare search page (see the screenshot below).
Populate the search boxes in the usual manner and then scroll down the page where you'll find the box giving you the option to add a promotion code (the text box for the code opens up when you place a checkmark in the small box).

Note: Don't attempt to add the TAP5FLY3007 code to your airfare search as a voucher as that will just result in you getting an error message.
You'll know that the promo code has been successfully applied as the website will confirm as much when you price up a fare.
The TAP discount code is limited to users in the US, UK, and Brazil and can be applied to all fares except hand baggage only fares.
Bottom Line
As far as Business Class fares out of London are concerened these are very good deals indeed…especially once the 5% dicount is added in. Personally I think the deal to San Francisco looks the most tempting but the fares to Chicago, NYC and Miami aren't exactly bad either 🙂