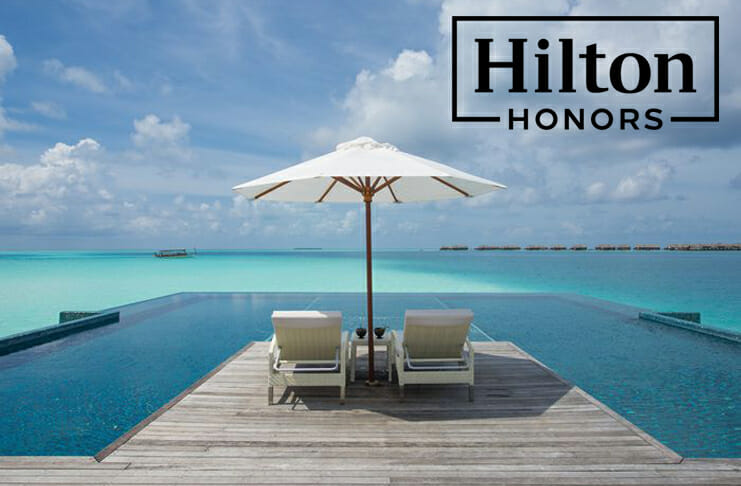 ---
Some links to products and travel providers on this website will earn Traveling For Miles a commission which helps contribute to the running of the site – I'm very grateful to anyone who uses these links but their use is entirely optional. The compensation does not impact how and where products appear on this site and does not impact reviews that are published. For more details please see the advertising disclosure found at the bottom of every page.
---
Right now American Express appears to be offering bonuses of between 20% and 40% on transfers into the Hilton Honors program but the question is just how good of an incentive is this and is it worth transferring points at all?
Amex To Hilton Transfer Headline Terms & Conditions
There's no end date for this transfer bonus set in the terms and conditions but the following basic rules apply:
You must be enrolled in Hilton Honors in order to participate in this offer.
American Express is not responsible for availability, accommodations or any other rewards in the Hilton Honors program.
Once you have transferred Membership Rewards points, they become subject to the Terms and Conditions of the Hilton Honors program and cannot be transferred back to your Membership Rewards program account.
This offer is non-transferable and may not be combined with other offers.
American Express in its sole discretion reserves the right to alter and or terminate these offers at any time.
To be eligible to receive these offers, all Card accounts linked to an enrollee's Membership Rewards program account must not be canceled, past due or have a returned payment outstanding at the time of point redemption.
Minimum transfer is 1,000 Membership Rewards points.
The additional Hilton Honors Bonus Points will be awarded at the time of transfer.
Hilton Honors Bonus Points do not count towards elite tier qualification.
Is This A Good Deal?
I've only been targeted for a 20% transfer bonus but I've seen reports online of people seeing 30% and 40% bonuses on offer too (I've yet to hear of a 50% bonus being available but that doesn't mean that it's not out there).
Amex Membership Rewards points ordinarily transfer over to Hilton in the ratio of 1,000 : 2,000 so, under the terms of these transfer bonuses, this is how things look now:
20% bonus: 1,000 : 2,400
30% bonus: 1,000 : 2,600
40% bonus: 1,000 : 2,800
The key to seeing where the better deals are often lies with the value of the individual currencies.
I value Hilton Honors points at just 0.4 cents each while I value Amex Membership Rewards at 1.5 cents each and, based on those valuations (your may differ) this is how the transfer bonuses look:
20% bonus: 1,500 cents : 960 cents
30% bonus: 1,500 cents : 1,040 cents
40% bonus: 1,500 cents : 1,120 cents
Even with a 40% transfer bonus this doesn't appear to be a good deal…and my Membership Points valuation would be considered conservative by some so the deal may be even worse.
However, having said that, that's not necessarily the end of the story and it doesn't mean that there isn't a time when making a transfer between Amex and Hilton makes sense.
When hotel prices are particularly high a transfer between Amex and Hilton (with a bonus) can look a lot more appealing.
Take the Grand Wailea property in Hawaii as an example.
On a random night in March this property can be booked for $597 + taxes and fees or 95,000 points:
$597 + taxes and fees translates to a total cost of almost $730 for the night.
The same room can be booked for 95,000 points + a resort fee of $40 which would means that, by using points, a Hilton Honors member could get ~0.7 cents of value out of each Hilton point…which isn't bad when they're really only worth around 0.4 cents in the first place.
If you've been targeted for a 40% transfer bonus 95,000 Hilton Honors points can be had for 34,000 Amex Membership Rewards points…which are worth $510 (based on a 1.5 cent valuation).
In this instance a transfer of Amex Membership Rewards points to Hilton would see you effectively pay $510 + $40 resort fee for a night which would otherwise have cost ~$730…and that's a pretty good deal.
Things can look even better on stays of 5 nights thanks to the fact that Hilton Honors members get the 5th night free on award bookings.
A 5 night stay at the Grand Wailea in March will set you back 380,000 points (plus the resort fee)…..
….or ~$3,370 if you're paying with cash.
If we strip out the resort fee (because you have to pay it on award bookings too) this deal sees a Hilton Honors member paying 380,000 points for a $3,170 room which is the equivalent of getting ~0.83 cents/point in value….or over double what I think Hilton Honors points are worth.
380,000 Hilton Points can be had for just 136,000 Amex Membership Rewards points (if you've been targeted for the 40% bonus) which I value at $2,040.
What this means is that, essentially, you can get a hotel reservation costing $3,170 for the equivalent of $2,040 by transferring Amex Membership Rewards points to Hilton in this transfer promotion.
Bottom Line
A lot of the time the math will dictate that transferring Membership Rewards points to Hilton is a poor value proposition regardless of what transfer bonus you've been targeted for…but there will be times when a transfer makes sense.
If you're topping up an account or booking a standard room at a property where prices are high (especially if you're booking a 5-night stay) then a transfer from Amex may save you quite a bit of cash….but make sure you do the math before you enact any transfer as there's no going back!