---
Some links to products and travel providers on this website will earn Traveling For Miles a commission that helps contribute to the running of the site – I'm very grateful to anyone who uses these links but their use is entirely optional. The compensation does not impact how and where products appear on this site and does not impact reviews that are published. For more details please see the advertising disclosure found at the bottom of every page.
---
This Deal Has Now Ended
TAP Air Portugal is on a generous streak right now as it has just released its second discount code in two weeks. At the beginning of the month, TAP was offering an impressive 20% off almost all of its fares and now the airline back with a 2-day promotion (for Valentine's day) in which it's offering 10% off most fares (including Business Class for flights across its route network.
Get 10% Off TAP Air Portugal Flights
Here's what you need to know:
The discount code is LOVE20. Clicking the code will lead you to a search page in which the code is pre-applied. You can also choose to visit

the FlyTAP webpage

and enter the code manually.
The discount code is valid for flyers worldwide.
The TAP discount code will work for any route that TAP Air Portugal serves regardless of the country or region (short-haul and long-haul)
The code will not work for TAP's 'Discount' Economy Class (hand baggage only fares) but is valid for Business Class bookings.
The code is valid for bookings made on or before 14 February 2020 (the code will cease to work at after 23:59 GMT+1 on 14 February).
Travel 1 March through 30 April 2020
Blackout dates 4 – 18 April
Note: The promotion page is working fine for me here in the US but I get an error message when I attempt to access it (via VPN) in the UK. I've let TAP know so, hopefully, this will be fixed very soon (and you should still be able to apply the code manually as outlined later in this post)
Why TAP?
One of the big selling points for TAP is that it often offers very good Business Class fares across the Atlantic and, when such deals are being promoted, TAP also offers very good one-way fares too (usually half the price of a roundtrip fare).
This can be particularly useful to flyers who only have enough miles/points for a one-way award and who don't want to pay the outrageous prices that most legacy airlines charge for long-haul one-way fares.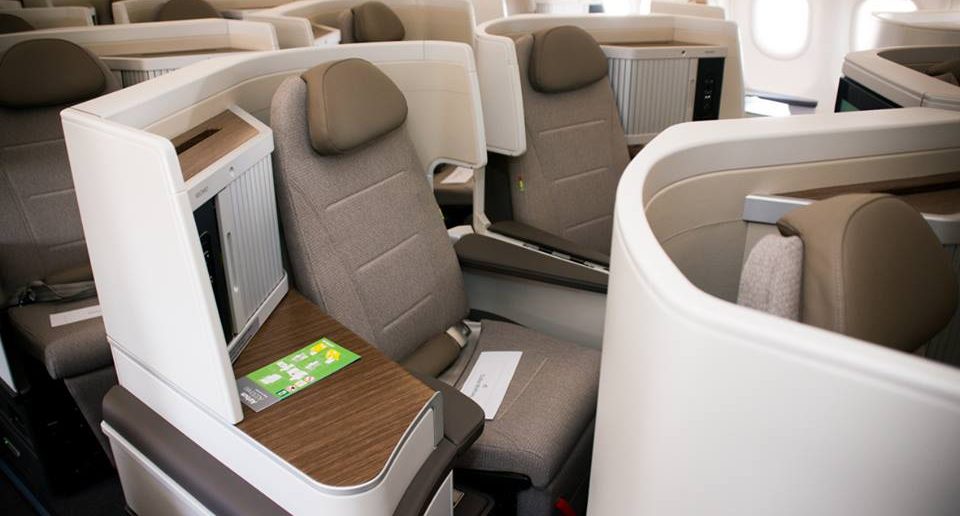 How To Use The Code
You can either follow the direct Promo Code link to the TAP website (doing so will lead you to a search page where the code is already loaded) or you can choose to visit the TAP airfare search page and enter the code manually from there.
I suggest you give the main TAP homepage a wide berth as it isn't particularly user-friendly when it comes to applying a discount code so the options listed above are the better way to go.
If you decide to manually enter in the code this is how to go about it.
Head to the TAP airfare search page (see the screenshot below).
Populate the search boxes in the usual manner and then scroll down the page where you'll find the box giving you the option to add a promotion code (the text box for the code opens up when you place a checkmark in the small box).

Note: Don't attempt to add the LOVE20 code to your airfare search as a voucher as that will just result in you getting an error message.
You'll know that the promo code has been successfully applied as the website will confirm as much when you price up a fare.
Don't Forget
Make sure you get an even better deal out of whatever trips you book by using a credit card that gives you a good return on your travel spending and, preferably, one that also comes with good travel protections (just in case!)
The Platinum Card from American Express and the Business Platinum Card from American Express both earn 5 points/dollar for spending made directly with airlines while the Chase Sapphire Reserve card earns 3 points/dollar for just about all travel spending and, very importantly, all three of these cards offer good trip delay, interruption, and cancellation protections.
The Amex Green Card earns 3 points/dollar for just about all travel spending but doesn't offer the same level of protection as the Platinum Card or the Sapphire Reserve, and although the Citi Prestige Card matches the Platinum Card with its earnings of 5 points/dollar on spending made directly with airlines, the fact that it offers no travel protections at all makes it a considerably less appealing option.
Bottom Line
While clearly this isn't as good of a promotion as the one offering a 20% discount a couple of weeks ago, 10% is still pretty good and it could still save you quite a bit of cash if you're looking to fly during the somewhat restrictive time period that this deal covers.
Remember, TAP Air Portugal is a Star Alliance member so any flights you book through this promotion can be credited to the likes of United MileagePlus, Aeroplan, Singapore Airlines KrisFlyer, Miles & More, etc…
Let me know if you score any good deals.
Link to the TAP Valentine's Day Promotion