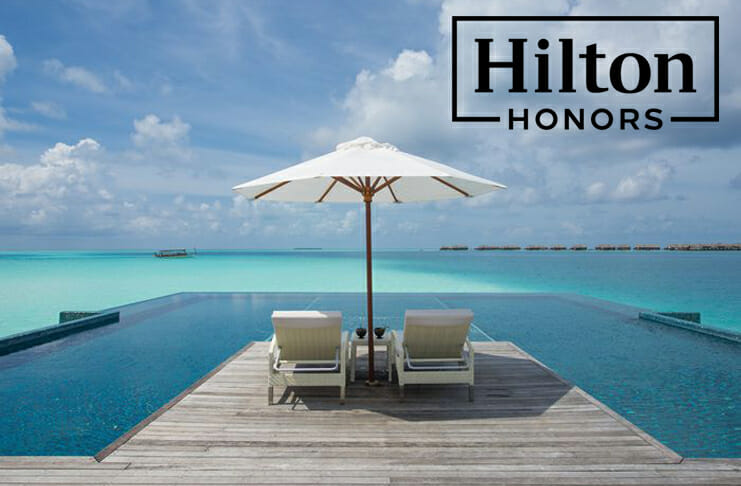 ---
Some links to products and travel providers on this website will earn Traveling For Miles a commission which helps contribute to the running of the site – I'm very grateful to anyone who uses these links but their use is entirely optional. The compensation does not impact how and where products appear on this site and does not impact reviews that are published. For more details please see the advertising disclosure found at the bottom of every page
---
Hilton has been running its first points sale of the year since mid-January but, as with all good things, the sale is coming to an end and it's ending tonight at 11:59pm Eastern – if you haven't  purchases the points you need you have just a few hours left to do so.
Headline Terms & Conditions
Here are the important parts from the Terms and Conditions which you'll find in full at the bottom of the "purchase points" page after you log in:
Points purchased do not count towards elite tier qualification.
Get a 100% bonus when you buy 10,000 or more Hilton Honors Points in a single transaction by February 26, 2019, at 11:59pm ET.
Members may purchase a maximum of 80,000 points per calendar year.
Bonus points do not count towards the yearly points purchase limit
Members will only receive bonus on Points that are purchased through the Purchase page on HiltonHonors.com.
All purchases are non-refundable.
Offer is subject to change.
Offer cannot be combined with any other offer.
Points will be posted to the member's Hilton Honors account within 24 hours of the completed transaction.
Price includes all applicable fees.
GST/HST will be charged to Canadian residents.
Purchased points do not count towards Honors status upgrades.
Note: In the past some members have been offered an increased annual purchase limit of 100,000 points so check your individual T&Cs to see if this has been offered to you.
The Math
On of the big positives of how Hilton sets out its point sales is that it doesn't vary the cost per point within each of its bonus tiers so, as long as you buy 10,000 points or more in this promotion, you'll be buying points at the best available rate.
Here's what the pricing looks like in this sale:
Buy 1,000 to 10,000 points at 1.00 cent each
Buy 10,000 to 80,000 points at 0.50 cents each
Buying the full 80,000 point allowance costs $800…..
…and will net you 160,000 points after accounting for the bonus.
160,000 points at a cost of $800 works out to 0.5 cents/point.
Should You Buy Hilton Points At 0.5 Cents Each?
0.5 cents/point is the cheapest rate at which we usually see Hilton points being sold so if this offer doesn't work for you (which it may not) there isn't another offer that we've seen that's going to make things any better.
I value Hilton points at around 0.4 cents each so you may be expecting me to say that this is a deal that doesn't really interest me…but that's not actually the case.
If you're thinking of buying points in the hope of finding a use for them somewhere down the line then you should know that that's a fundamentally bad idea….but there's definitely value to be had here if you know what you're doing.
Take the Conrad New York as an example.
On a random night in June the cheapest room at this property currently costs $574 + taxes or 80,000 Hilton Honors points:
$574 + taxes works out to a cost of $664.80 for the night:
In the current sale the 80,000 points needed to book this award would set you back $400 which would save you over $260 on the best available cash rate.
You could do the same at the Waldorf Astoria Beverly Hills.
A randomly selected night here currently costs $633 + taxes or 95,000 Hilton Honors points:
$633 + taxes works out to a cost of $767.09 for the night…
…while the 95,000 points needed to book the same room on the same night would cost just $475 saving you over $290.
If you have Hilton Honors Elite status you get the fifth night free on all award stays of 5 nights or more and this leads to another example of where this sale can be useful.
The Hilton Park Lane in London will cost £386/~$490 per night or 80,000 points/night for a five night stay in September (for example):
The full 5-night stay will cost £1,932.56/~$2,470 when you pay with cash…..
…and 320,000 points if you pay with points.
Clearly you cannot buy 320,000 points in this sale but, as the value you'd be getting from each point on a booking like this one would be 0.77 cents, it's worth buying points at just 0.5 cents if you need to top up an account to book an award like this.
Link to purchase Hilton Points
Bottom Line
It's always worth remembering that the maximum number of Hilton HHonors points you can purchase in a year is 80,000 excluding bonuses (unless you've been targeted for an increased allowance this time around) so you're not going to be able to buy a lot of cheap nights at high-end properties with a "buy points promotion".
It's also worth remembering that the hotels I've discussed above are just examples so there may be cheaper properties available on the same nights that suit you just as well….but that doesn't make the deals I've highlighted bad.
The most important things to do are to….
Work out what you'd like to do with your points, where you'd like to visit and when
Perform similar calculations to the ones I've shown above.
If the math works then buying points in this promotion is probably a good idea (go for it), if not then you should move on.
If you only need a few more thousand points (to add to your existing Hilton Honors points balance) for an award you've been looking to book then paying a little more for the points than you would otherwise be happy to pay would also be ok….just don't go crazy.
You can access the latest Hilton Points Promotion via this link.