---
Some links to products and travel providers on this website will earn Traveling For Miles a commission that helps contribute to the running of the site – I'm very grateful to anyone who uses these links but their use is entirely optional. The compensation does not impact how and where products appear on this site and does not impact reviews that are published. For more details please see the advertising disclosure found at the bottom of every page.
---
I've held a Chase/Marriott co-branded credit card for years, and when Chase refreshed its Marriott credit card offering my card (the Marriott Rewards Premier card) was closed to new applicants and renamed the Marriott Bonvoy Premier Card. At the same time, Chase also released the new Marriott Bonvoy Boundless credit card.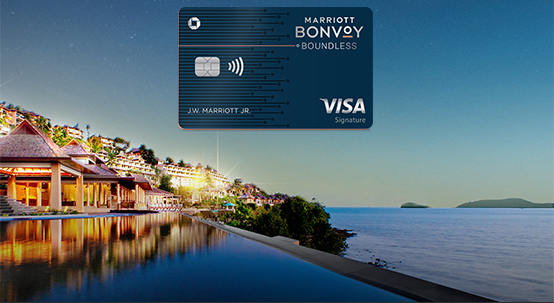 At the time of its Marriott credit card refresh, Chase was offering a number of Marriott Bonvoy Premier cardholders an opportunity to upgrade to the Boundless card, and it was offering up to 50,000 points as an incentive.
I was targeted for one such upgrade offer but declined to take it and now Chase is back with another offer to see if I've changed my mind.
I don't see an option to upgrade my Marriott Bonvoy Premier card in my Chase online account, but I've received an email from Chase offering me the following deal if I upgrade to the Marriott Bonvoy Boundless card:
Very helpfully, Chase also included a brief comparison of the two cards in the same email:
Here are the more important terms and conditions that come with the offer:
To be eligible for this bonus offer, you must click the link referenced in this offer and upgrade by 09/30/19 11:59 p.m. E.T.
You will qualify for and receive your bonus if you make a Purchase with your new credit card during the promotional period.
Purchases posted to your account with a transaction date during the offer period are eligible for this offer.
Please allow up to 8 weeks after qualifying for your Free Night Award E-Certificate to be automatically deposited into your Marriott Bonvoy™ Account.
E-Certificates are valid for a one night hotel stay at a property with a redemption level up to 35,000 points.
E-Certificates may not be combined with cash or other Marriott Bonvoy points when redeeming for your free night, and may not be transferred, extended beyond expiration date, or re-credited for points.
All E-Certificates issued will have an expiration of 12 months
Thoughts
I have to confess that I laughed a little when I saw this offer as it's actually a worse deal than the one I turned down when the credit card refresh took place.
I was offered 35,000 points to upgrade to the Marriott Bonvoy Boundless card the last time Chase tried to tempt me into paying a slightly higher annual fee, while now I'm being offered a free night at a property valued at up to 35,000 points.
No thanks.
If I wasn't tempted by 35,000 points I'm definitely not going to be tempted by a free night certificate (worth up to 35,000 points).
As long as I keep my Marriott account active (not a hard thing to do) any points I would have received with the first upgrade offer would never expire, while the free night certificate this upgrade deal is offering will expire in just 12 months.
Also, any points I would have received with the first upgrade offer could have been pooled with the rest of my points and used for a variety of redemptions. The free night certificate from this upgrade offer cannot be pooled with anything and is therefore considerably less useful to me.
Bottom Line
I'm not tempted to take up this upgrade offer but I really do have to do something about my Marriott Bonvoy Premier card because I'd not really putting it to much use – my Marriott Bonvoy Amex card gets all my Marriott spending.
I've managed to use this year's 25,000 free night certificate that the Premier card gives me so I've covered the annual fee, but I'm not sure I'll be able to do the same next year.
When I'm back home (and not up a mountain with minimal contact with the outside world) I'll probably give Chase a call to see if they can sweeten the upgrade deal or, if not, it may be time to cancel the card – I'll have to give this some thought.