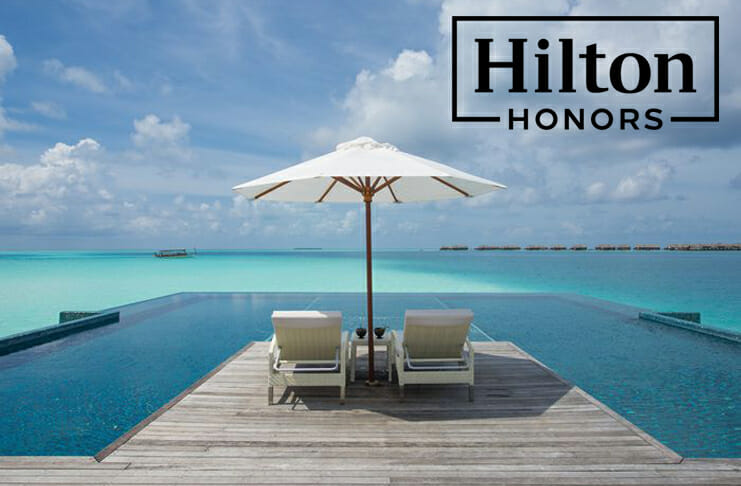 ---
Some links to products and travel providers on this website will earn Traveling For Miles a commission which helps contribute to the running of the site – I'm very grateful to anyone who uses these links but their use is entirely optional. The compensation does not impact how and where products appear on this site and does not impact reviews that are published. For more details please see the advertising disclosure found at the bottom of every page.
---
Hilton is back with a new points sale and this one is slightly more interesting than normal.
There are three pieces of good news in this promotion:
The first bit of good news is that Hilton's latest offer is for bonuses of up to 100% as long as you buy at least 10,000 points – that's the most generous offer we ever see from Hilton. Unfortunately it looks like this may be a targeted so if you don't see the full 100% bonus in your account consider yourself unlucky.
The second bit of good news is that Hilton has doubled the number of points each Honors account is allowed to buy in a calendar year – historically the maximum allowable purchase (before bonuses) has been 80,000 points but this promotion sees that raised to 160,000. This means that you can buy up to 320,000 points (including the bonus) in this promotion.
The third (and last) bit of good news is that the cost per point works out at 0.5 cents regardless of how many (or how few) points you buy as long as you've been targeted for the 100% bonus and buy at least 10,000 points – this promotion doesn't force you into buying a lot of points just to get the best price.
Link to Hilton Honors Points Sale
Here's what the promotion looks like:
Buy Hilton Points With A 100% Bonus – T&Cs
Points purchased do not count towards elite tier qualification.
Points.com and Hilton Honors reserve the right to terminate bonus promotions at any time.
All purchases must be made through the Purchase page on HiltonHonors.com.
The 100% Bonus with a minimum 10,000 Points purchase campaign is available for purchases made between November 6, 2018, at 12:01am ET and December 18, 2018, at 11:59pm ET.
Through December 18, 2018 members may purchase a maximum of 160,000 points per calendar year.
All purchases are non-refundable.
Offer is subject to change.
Offer cannot be combined with any other offer.
Points will be posted to the recipients Hilton Honors account within 24 hours of the completed transaction. All Hilton Honors program Terms and Conditions apply.
Hilton HonorsTM membership earning and redemption of Points are subject to Honors Terms and Conditions, available at HiltonHonors.com/terms.
Price includes all applicable fees.
GST/HST will be charged to Canadian residents.
Email address is required and will only be used for transaction and marketing communications related to this purchase.
Purchased points do not count towards Honors status upgrades.
Buy Hilton Points With A 100% Bonus – The Math
The math is very simple in this promotion – buy at least 10,000 points and you'll get a 100% bonus.
Whether you buy 10,000 points…..
…or whether you buy the full allowance of 160,000 points….
….you'll always be buying points at a cost of $0.005/point.
Link to to buy Hilton Honors Points
Is This Offer Worth It?
If you're a few points short of what you need to book an award then this is probably about as good as it will get for you – you shouldn't go too far wrong topping off an account in this promotion.
If you're looking to buy a lot of points the plan you have for those points will determine how good or bad of a deal this is.
The first thing to note is that it's nice to be able to buy up to 320,000 point in this promotion rather than the standard 160,000.
The majority of Hilton's top properties cost at least 80,000 points/night so you can buy enough points in this promotion to book one of those properties for up to 4 nights with whatever points you buy AND, if you have Hilton Honors status, you'll get a fifth night thrown in for free.
There will be occasions where this will get you a very good value redemption indeed.
Here's an example of what I mean:
A 5-night stay at the Conrad London St James can set you back £355/$462 per night including taxes during the less rainy months of the year…..
….and that comes to a total of £1,779 or $2,313 for the stay.
This is for an advance purchase booking which is not cancellable more than 24 hours after it has been made – once you book you can't change your mind.
The same property can be booked for 80,000/night (for the exact same dates) and, as the 5th night of a 5 night award stay is free if you have Hilton status, that will come to a total of 320,000 points.
320,000 Hilton points in the current promotion would cost $1,600 and, not only would this save over $700 (in this example), it would also get you a fully flexible reservation which can be cancelled up to 48 hours before arrival.
That's a fantastic deal!
I should temper any excitement at this point with a warning which should be obvious but may not be – just because the example I gave above means this can be a fantastic time to buy some points it doesn't mean that buying points will give you a great deal in all other instances. Be careful.
Bottom Line
This is one of the best opportunities to buy Hilton points that we've seen in a while and it's the increased limit that's making the difference.
If you're considering buying points in this promotion don't just dive in and splash the cash – do your homework.
The most important things to do are to…
Work out what you'd like to do with your points, where you'd like to visit and when
Perform similar calculations to the ones I've shown above.
If the math works then buying points in this promotion could definitely save you some money but, if the math doesn't work, you should move on.
Personally I can see myself buying some Hilton points in this promotion and, if I do, it will be the first time I've ever purchased Hilton points in my life – they'll work very well for a trip I'm planning for 2019.