---
Some links to products and travel providers on this website will earn Traveling For Miles a commission that helps contribute to the running of the site. Traveling For Miles has partnered with CardRatings for our coverage of credit card products. Traveling For Miles and CardRatings may receive a commission from card issuers. Opinions, reviews, analyses & recommendations are the author's alone and have not been reviewed, endorsed, or approved by any of these entities. Terms apply to all credit card welcome offers, earning rates and benefits and some credit card benefits will require enrollment. For more details please see the disclosures found at the bottom of every page.
---
On exactly the same day as last year, IHG One Rewards has brought back the very best version of its points sale in which it's possible to buy up to 500,000 points at just 0.5 cents each. This sale may be targeted so it's possible that not everyone reading this will have access to the deal that's discussed below.
I'll go over the numbers and the merits of this sale a little later in this post but first, here are the basics of the offer together with the headline terms and conditions.
Key terms
This Offer is available to IHG One Rewards members for qualifying purchases of IHG One Rewards points made during the period from 12:00 AM ET on November 16, 2023 through 11:59 PM ET on December 30, 2023.
In order to qualify for this 100% Bonus Offer a member must make a minimum purchase of 5,000 points per transaction.
For this Offer, members may purchase a maximum of up to 250,000 points during the Offer Period, depending on how many points the member had already purchased during the same calendar year. For example, if a member had previously purchased 150,000 points in 2023, then the member could only purchase up to a maximum of 100,000 points during the Offer Period and would be eligible to receive the applicable percentage of additional bonus points under this Offer based only on the number of points purchased during the Offer Period.
Purchased points, as well as any bonus points awarded under this Offer, do not count towards IHG One Rewards Elite status.
This is an exclusive, non-transferable offer for intended recipients only and may not be forwarded.
Offer is subject to change and cannot be combined with any other offer.
Purchased points are not refundable and are applicable toward all rewards available through the IHG One Rewards program.
Please allow up to 72 hours for points to post and appear in the recipient's account.
Full terms and conditions can be found on the sale page
The numbers
As is the case with a lot of IHG points sales, you have to be a little careful here because while any purchase of 5,000 points or more will trigger a 100% bonus, only purchases of 26,000 points and more (before accounting for the bonus) will see you buying points at the cheapest possible rate.
Whether you buy 26,000 points…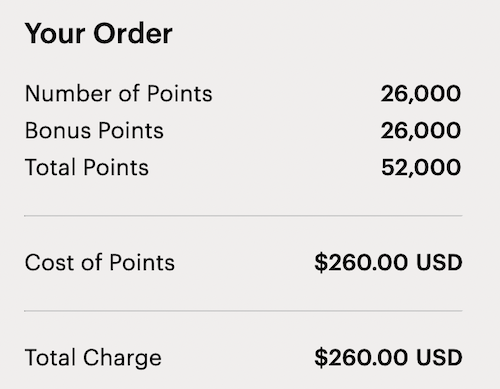 ….or 250,000 points (the maximum allowed in this promotion)…
…you'll pay just 0.5 cents/point.
Click To Buy IHG One Rewards Points
Does this represent a good deal?
Yes, it can do, but some thought is needed.
The key to ensuring that any points you buy end up saving you money is to have a plan for how the points are going to be used and to compare the cash rate to the price you'll end up paying with points.
If you do your homework, this sale could save you quite a bit of cash.
For example…
If you want to stay at the Kimpton La Peer in West Hollywood on a random night in December, you may be offered the choice of paying $432 including taxes (the best cash rate) …
… or 49,000 points.
49,000 points can be purchased in the current sale for $245, so using points purchased in this sale to make this reservation rather than paying with cash would see an IHG Rewards member saving over $185 … and that's just on a single-night stay.
Here are two more examples…
This is the cash cost of a random night in May at the two InterContinental properties in New York:
And here's the cost of those same nights in points:
Once again, purchasing points in this sale and using them to book these stays would see an IHG One Rewards member making some nice savings. This time between $167 and $208.
Keep in mind that what I've done here is compare the cost in points to the cheapest rates being offered by the properties shown above, but because IHG's cheapest rates are often non-refundable while points bookings are, that's not really a like-for-like comparison.
In many cases, a flexible cash rate will be more expensive than the cheapest rate available and so the savings offered by a booking paid with points purchased in this sale can be even greater.
Having said all of that, it's important to point out that just as these examples shows how easily cash can be saved by buying points in this sale, it's equally easy to throw cash away by not doing the math and by not checking prices so please be careful.
Following the steps below should help you make the right choice when it comes to deciding whether or not you should buy points in this sale.
Work out where you'd like to visit
Check that your chosen IHG property has award availability for the dates you'd like to visit
Check the cash rates for the nights you'd like the visit
Carry out a similar comparison between the cash rate and the cost to buy the points as I illustrated above.
Only if the math dictates that you'll be making a saving by buying points in this sale should you reach for your credit card and hand over your cash. There are some great savings to be made by buying points today, but you'll have to put a little work in to make sure that you're getting genuine value.
Bottom Line
For most of the rest of the year, IHG Rewards is selling points with a 100% bonus. Members can buy up to 500,000 points at 0.5 cents each in this sale and with a bit of effort and research, those points can be used to make significant savings on their future stays. No one, however, should be buying points without first making sure they know how and when they'll be using them or before checking that buy buying points, they'll be able to make genuine savings.