---
Some links to products and travel providers on this website will earn Traveling For Miles a commission which helps contribute to the running of the site – I'm very grateful to anyone who uses these links but their use is entirely optional. The compensation does not impact how and where products appear on this site and does not impact reviews that are published. For more details please see the advertising disclosure found at the bottom of every page.
---
As it's based in South America Avianca probably isn't the first airline that springs to mind when planning a trip between the US and Europe but, for those who don't mind taking a slightly circuitous route across the Atlantic, the airline is currently offering a Business Class fare that may be worth considering.
Headline Fare Rules
Reservations needed a minimum of 21 days before departure
No minimum stay criteria
Maximum stay is 365 days
Unlimited stopovers allowed (1 free and $65/stopover thereafter)
Accompanied infant/child with own seat – 75% of the adult fare
Accompanied infant (<2 years old) without a seat – 10% of the adult fare
There doesn't appear to be an end date associated with this fare so it may be around for a while or it could disappear within a few hours – if you like what you see don't wait too long to book.
Fare Routing
As I suggested in the opening paragraph, this fare isn't for the most direct of routes to Europe from the East Coast…..
….but that doesn't make it a bad fare 🙂
If you're interested in this fare you're going to have to be careful to avoid unnecessarily long trips courtesy of long stopovers in Bogota….but I'll show you what search parameters you can use to avoid those a little later in this post.
Fare Availability
The fare availability shown below represents availability for trips that don't require a very long layover in Colombia – if you're happy to have a long layover (perhaps to explore Bogota) availability will look better.
The $1,897 roundtrip Business Class fare first appears towards the end of January (courtesy of the 21 day advance purchase rule)….
….and is widely available through February….
…and March….
…..but availability drops off a little in April (coinciding with Spring/Easter break):
More dates are available once again in May…..
….but the fare appears to disappear completely from June through September…..
….before reappearing in October….
…and continuing into November:
The Flights & Cabins
A lot of the trips I've priced up include travel on three different Avianca aircraft….
…all of which will offer different Business Class cabins.
The transatlantic flights are all on Avianca's new 787 Dreamliners complete with excellent reverse herringbone Business Class cabins….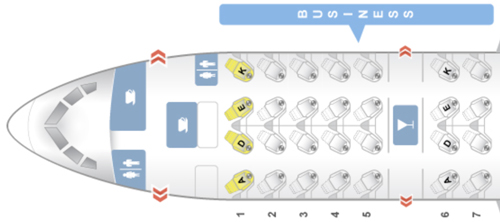 …while the US – Colombia flights are operated by a combination of Airbus A319 and A330 aircraft.
The Avianca A319 aircraft all offer a Business Class cabin with a 2-2 layout and, if the pictures on Avianca's webpage are anything to go by, the cabin looks like a pretty good place to pass a 5 – 6 hour flight:
With the Airbus A330 aircraft things are a little less clear.
The Avianca webpage suggests that at least some of its A330 aircraft come equipped with a nice reverse herringbone Business Class cabin similar to the one installed on its Dreamliners but a look at the seat maps offered up by Expert Flyer (for the aircraft flying between JFK and Bogota) suggests that we should expect an older cabin with a 2-2-2 layout….
…and Seatguru.com tells a similar story:
Still, regardless of the cabins on offer between JFK and Bogota, I consider the considerably longer flights the more important ones and for those there's no doubt – the 787 Business Class cabin is very good indeed.
Searching & Booking
If you're looking to minimise travel time I suggest finding dates that work for you via the Matrix search tool first and moving on to a site like Google Flights (or any other OTA) after that to make your actual booking.
Here's an example of the search parameters I used when searching for trips without incredibly long layovers….
….and here's an example of a trip priced up on Google Flights:
Earning Miles & Elite Credits
Avianca is a member of the Star Alliance (which includes the likes of United and Singapore Airlines) so there's a very broad choice of loyalty programs to which these flights can be credited…..and most will credit you with miles based on the distance traveled.
I suggest using Wheretocredit.com to check what earnings each of the various loyalty programs are offering (remember that these flights booking into fare code "D")
Note: Don't forget that Singapore Airlines is devaluing its award charts in a few weeks time so bear that in mind if you're considering crediting these flights to the KrisFlyer program.
Bottom Line
The unorthodox routing that this fare offers means that this deal won't be for everyone…but I'm sure some readers will be tempted.
Any roundtrip transatlantic Business Class fare under $2,000 is worth a second look and, when you factor in the quality of the Avianca 787 Business Class cabin, this one could be a very nice option for travelers who aren't time constrained.