---
Some links to products and travel providers on this website will earn Traveling For Miles a commission that helps contribute to the running of the site. Traveling For Miles has partnered with CardRatings for our coverage of credit card products. Traveling For Miles and CardRatings may receive a commission from card issuers. Opinions, reviews, analyses & recommendations are the author's alone and have not been reviewed, endorsed, or approved by any of these entities. For more details please see the disclosures at the bottom of every page.
---
Club Europe is the name that British Airways gives to the short-haul Business Class product that it offers on flights within Europe and earlier this year, I got to find out what Club Europe is like on the British Airways A320 on flights to and from Sofia.
Usually, the only time you'll find me in the Club Europe cabin is when I'm flying the short-haul leg of long-distance Business Class booking (e.g. Stockholm – London – Los Angeles where the Stockholm – London segment is flown in Club Europe) because I'm more than happy sitting in an Economy Class exit row on most short-haul flights.
On this occasion, however, I had a standalone booking for Club Europe because I had managed to find a very good roundtrip fare for travel between London and Sofia that couldn't be missed – £235/$295 for a trip that earns 160 Tier Points is not something that I find easy to pass on.
The A320 Club Europe cabin
The seats in most British Airways Club Europe cabins are no different from the seats that you'll find elsewhere on the same aircraft and this allows British Airways to use a curtain to increase and decrease the size of its Club Europe cabins as and when it needs to.
The only difference between the seating in Club Europe and the seating in the rest of the aircraft is that British Airways blocks the middle seat in Club Europe so all Club Europe passengers have an empty seat next to them.
The width of the Club Europe seats and the legroom offered by most Club Europe seats matches the width and legroom offered by the standard Economy Class seats.
Passengers seated in the front row, have a little more legroom than passengers seated elsewhere in the Club Europe cabin…
..and the best front row seat is 1C as the bulkhead doesn't extend all the way across the three seats.
As the standard seats in the British Airways Club Europe cabin have exactly the same amount of legroom as the standard seats in the Economy Class cabin (30″ of pitch), space is at a premium.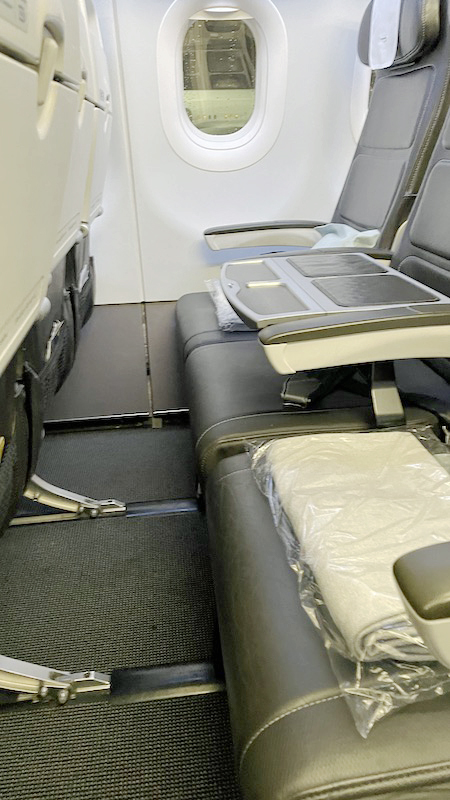 The seats on this particular British Airways A320 could be made to recline…
…but some of BA's short-haul fleet now have "pre-reclined" seats which cannot be moved.
Aside from the overhead bins, the only other place to store personal items that you may need to have easy access to during the flight is behind the netting in the seatback directly ahead…
…and because the Club Europe seats are just Economy Class seats installed towards the front of the aircraft, the tray table on offer is no better than something that you'll find on a low-cost carrier.
These tray tables are quite flimsy and because there's so little space between the seat rows, if the person in the row ahead chooses to recline their seat, someone trying to work on anything larger than a regular iPad in the row behind will struggle for room.
I've faced this issue so many times that I've purchased an iPad cover that comes with a small keyboard to ensure that I don't have to stop working when the person in the seat ahead of me decides that it's time for a nap.
It's not a perfect solution but it's better than having to work on a partially closed laptop screen.
Power and Wi-Fi
Most (possibly all) British Airways A320s now offer Wi-Fi and power onboard.
Universal power outlets together with a single USB port are located under the seats ahead…
…and three different Wi-Fi packages are offered giving passengers a good set of options.
While connectivity on BA Wi-Fi can be a little hit and miss (I've been disconnected more times than I care to remember), the download speeds are usually pretty good and I find the service to be better than most services offered domestically in the US.
Dining and drinks
My outbound flight was in the morning so breakfast was on offer and was served 30 minutes into the 3+ hour flight.
No menus were provided but there was a choice to be made:
Cheddar Cheese and tomato omelet
Cold meat and cheese plate (continental breakfast)
Traditional breakfast (English breakfast)
Mini croissants were also offered and the drinks selection included champagne, juices, tea, and coffee.
The traditional breakfast was fine and the eggs were better than what usually passes for scrambled eggs at 36,000 ft but I can't say that there was much to get excited about.
The return flight took place in the afternoon so lunch was served 45 minutes into the 3+ hour flight.
Once again, no menus were offered but there was a choice of two main courses…
Lamb shepherd's pie
Spinach gnocchi
…and there was a Do&Co dessert.
The shepherd's pie was quite nice and the dessert was pretty good too, so as short-haul airline food goes, this meal was a winner. It was certainly a lot better than some of the appalling offerings that I've been handed on American and United Airlines recently.
As you'd expect, drinks were freely available on both flights with the crew doing a very good job of making sure that top-ups were frequent and that passengers weren't waiting around to be served.
Overall, the food served on my two British Airways Club Europe flights was ok – I didn't have any complaints – but anyone hoping for anything special will be disappointed.
In summary
Club Europe fare gives passengers access to airport lounges, a guaranteed empty seat next to them, complimentary food and drinks onboard, boosted Avios and Tier Point earnings, and not much else.
The seats in Club Europe offer the same legroom as the standard Economy Class seats and they offer the same amount of width so anyone looking for extra space would do better to book an Economy Class exit row seat instead of Club Europe.
For infrequent flyers who don't hold elite status and who are looking to "treat" themselves, the combination of lounge access, dedicated Business Class check-in desks, priority boarding, and attentive onboard service are probably enough to justify paying for Club Europe every now and again but for a lot of people, I suspect the value simply isn't there.
Personally, I find it incredibly hard to justify paying the premium that BA charges for Club Europe because I don't need access to airport lounges (my elite status gives me that anyway), I don't place a lot of value on airline meals or the drinks served on board (I usually have to drive after I land so I don't have more than one drink), and I'd much rather have more legroom than an empty seat next to me.
Yes, if there's a great sale on and if I can load up on Tier Points I'll happily get my credit card out and pay for Club Europe but more often than not, an extra legroom seat in the Economy Class cabin is good enough for me.